MAC Toledo – swatches and review
This post may contain affiliate links, which means I may receive a small commission, at no cost to you, if you make a purchase.
I'll admit, I didn't know much about Isabel and Ruben Toledo before the announcement of the MAC Toledo launch. I knew that Isabel had designed the dress that Michelle Obama wore at the first presidential inauguration; a gorgeous, textural lemony-green ensemble. But turns out that unexpected shade would give me a great head start on reviewing the collection, as it plays a big part in the products I got to check out and a glimpse into the Toledo esthetic.
photo: MAC Cosmetics
But before I get into this ode to chartreuse, how adorable are Isabel and Ruben? She's a fashion designer, he's an artist (illustrations, paintings and sculpture) but both are said to influence each other so much that it's hard to separate what they do. Which brings us to their gorgeous MAC collection…
photo: MAC Cosmetics
The illustrations are Ruben's, but are they of Isabel? And who picked the shades? Both a fashion designer and an artist would have a keen eye for color. I believe the collection is a beautiful marriage of the two of them, just as is everything they do.
This is one of my favorite MAC launches ever. Yes, ever. Toledo covers all of my trigger points: artistic packaging, nudes, reds and chartreuse! It's not often a collection covers all those bases for me. Let's look at the pieces that have me all a-flutter.
Within this graphic plastic compact lies my favorite piece of the launch!
Click here immediately to get Ripe Peach Ombré Blush ($32). This has been sold out since pretty much the moment it came out. But for some reason, Nordstrom has it. Seriously, go buy it, I'll wait.
Did you get it? Good, let's continue…
The blush gradiates from an orange coral to a bright pink, with a fine gold shimmer. The shades can be applied separately, the pan is big enough to pick them up singly, but swirled gives you this bright pigmented pink grapefruit that is just perfect. The blush is finely milled and builds color well.
Ripe Peach Ombré Blush swatches
The Bellgreens palette ($44) is also a must-have in my eyes. Whenever I see a palette with chartreuse, it has to be mine. And it's the star of Bellgreens. But versus every bright variation I currently own, chartreuse takes a moodier turn here.
Fresh Blade – golden white-yellow (veluxe pearl)
Gorgeous Gold – light green-tinged gold (veluxe pearl)
Vicuña – light olive-tinged nude (frost)
After Savant is:
Charcoal Brown – medium brown based taupe (matte)
Sushigreen – the MAC description is spot on: charcoal olive with multidimensional pearl (velvet)
All shades, with the exception of Sushigreen, have a buttery finish, good color payoff and dreamy blendability. Sushigreen is a stiff and stubborn, all or nothing sort of shade that destined to be a liner. But a pretty liner it is! The palette packaging is metal with a plastic inset for the art and a large interior mirror (which we last saw in the Simpsons launch.)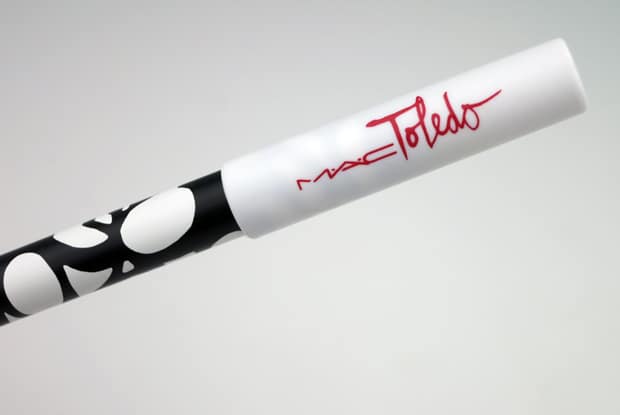 Chlorafill Pearlglide Intense eye liner ($17.50) is more what I'm used to seeing with chartreuse. It's a bright yellow green with a fine pearl shimmer. It's totally opaque and uber pigmented, with a creamy finish. It's currently sold out online, but try your local counters to find it, it's worth it.
Chlorafill liner, Bellgreens palette: Fresh Blade, Gorgeous Gold, Vicuña, Charcoal Brown and Sushigreen
I think I like the packaging the most on the Lipstick ($17.50), it's stark and understated. Until you twist the lipstick up for the pop of rich color…and BAM!
Barbeque – bright and rich orange-red (matte)
Oxblood – medium peachy-nude (matte)
Oxblood is the only lipstick in the all matte launch that isn't in the red family. (A spicy lipstick collection if there ever was one, a nod to the couple's Cuban heritage?) It's also not the burgundy shade you expect to see when you hear "oxblood." It's a pretty play on color. Both shades are creamy and long wearing, just as I've come to know MAC mattes are.
Barbeque and Oxblood swatches
Isabel and Ruben Toldeo's MAC collection makes an artistic statement, just as the couple does with everything they create. Is it inspiring you?
photos: we heart this, swatches shown on NC25/30 skin tone
Stef is many things. Amongst them: co-editor of we heart this, photographer, condiment connoisseur, Philly girl in the California desert, borderline hoarder and a hardcore beauty junkie.
skin tone: NC 25/30
skin type: oily with a fear of rosacea
favorite beauty product: high end skincare and lip products
Eye Shadow Palettes
$44 US/$53 CAD
Bellgreens
Fresh Blade – pale frosted yellow (veluxe pearl)
Gorgeous Gold – muted yellow gold (veluxe pearl)
Savant – mid-tone mustard lime (satin)
Vicuña – light neutral olive (frost)
Charcoal Brown – muted taupe brown (matte)
Sushigreen – charcoal olive with multidimensional pearl (velvet)
Violentwink
Sweet Allure – soft light pink (satin)
French Clay – white grey (frost)
Stars 'N' Rockets – purple with pink pearl (veluxe pearl)
Tendersmoke – muted silver lilac (frost)
Frizzyplum – dark violet with multidimensional pearl (frost)
Overnight – cool black (matte)
Moodyblu
Midnight Snow – pale silver (frost)
Idol Eyes – silver violet with gold (lustre)
Deep Truth – true dark blue (frost)
Knight Divine – black with silver pearl (veluxe pearl)
Exotic Purple – dark navy (satin)
Indigogo – blackened navy with multidimensional pearl (veluxe)
Modern Twist Lash
Vynil – black
Caligrafy – navy
Tarot – purple
Chlorafill – lime
$24 US/$29 CAD
Pearlglide Intense Eye Liner
Designer Purple – iridescent violet
Chlorafill – green line with pearl
Petrol Blue – deep navy with pearl
$17.50 US/$21 CAD
Lipstick
Oxblood – light peachy nude (matte)
Barbeque – vivid orange red (matte)
Victoriana – mid-tone pink red (matte)
Tenor Voice – true classic red (matte)
Opera – dark red (matte)
Sin – deep blood red (matte)
$17.50 US/$21 CAD
Lipglass
Oxblood – light peachy nude
Barbeque – vivid orange red
Victoriana – mid-tone pink red
Tenor Voice – true classic red
Opera – dark red
Sin – deep blood red
$16.50 US/$20 CAD
Blush Ombre
Ripe Peach – light coral
Azalea Blossom – light cool pink
Kindergarten Red – crimson into pale nude
$32 US/$39 CAD
Nail Lacquer
Faint Of Heart – palest milky nude (cream)
Venus Red – clean true red (cream)
Vixen – deep burgundy red (cream)
$13.50 US/$16 CAD
Brush
Isabel And Ruben Toledo 129se Powder/Blush Brush
$38.50 US/$46 CAD
Isabel And Ruben Toledo Makeup Bag
$35 US/$42 CAD (Select M·A·C Stores Only)