This post may contain affiliate links, which means I may receive a small commission, at no cost to you, if you make a purchase.
MAKE UP FOR EVER Artist Palette – 30 Years. 30 Colors. 30 Artists.
Let's just get this out of the way….SQUEE!
(Proceeds to run around in excited circles like Grover the Pug until I tucker myself out)
All right, now that I've composed myself, let's get right into talking about the new and magnificent – and limited edition too – MAKE UP FOR EVER Artist Palette.
What is this exciting collection about?
"In celebration of their 30th anniversary, MAKE UP FOR EVER partnered with 30 elite makeup artists from all areas of the industry including celebrity, fashion and beauty, TV film and theater as well as Brand Creator & Artistic Director Dany Sanz. The brand's unique story is shared through the eyes of these artists who helped shape it into a cult favorite for professionals and the public."
As a beauty blogger for over a decade, I admit I can be a little jaded when it comes to the latest must-have product – but the moment I laid eyes upon this gorgeous little package I could feel my heart race and my eyes pop with excitement. Inside this compact, black faux-leather case awaits 30 exquisite eye (and cheek) colors, curated by living legends of the beauty world.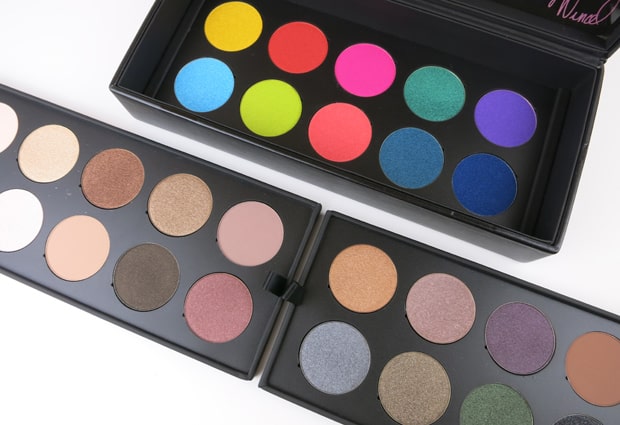 From Anthony Nguyen to Debbie Zoller, MUFE has gathered the creme de la creme of beauty experts to curate a shade for this palette celebrating 30 years of color cosmetics. Inside is a fold out fact sheet offering details on the artists, and each beauty guru shares their beauty advice and tells us why they chose their shade for the collection.
The Make Up For Ever Artist Palette ($250 – gulp) is divided into three black trays, each holding ten shades, and separated into three distinct categories: Neutral, Smoky and Artistic.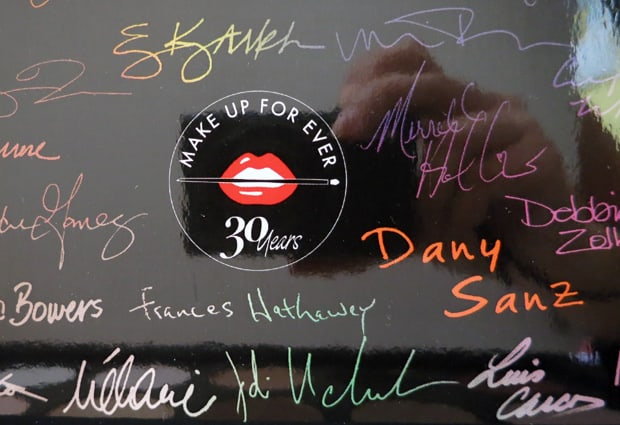 And not just any shadows – MUFE has just reformulated their shadows, introducing 210 new shades to their Artist Shadow Line. This formula was over five years in the making and uses a "pigment atomization and water-blend technology" that gives each shade up to 88% more pigment than any shadow on the market today.
Staying true to their style, the 30 shadows inside this palette are in a variery of 5 finishes: matte (M), satin (S), metallic (ME), iridescent (I) and diamond (D). Now let's get to swatching!
MAKE UP FOR EVER Artist Palette – Neutral Swatches
Neutral Palette Top Row: I-550, M-548, M-536, M-532, ME-122
Bottom Row: M-636, I-1662, D-640, ME-512, D-868
I-550; Greg Wencel – Olive Gray
M-548; Pati Dubroff – Pink Gray
M-536; Jo Baker – Milk Tea
M-532; Joyce Bonelli – Oat
ME-122; Anthony Merante – Snow
We heart: M-532, which is pretty much the perfect nude. Joyce Bonelli says "I love this color because it's universal. Absolutely everyone person's skin tone can use it and it's going to look great."
M-636, I-1662, D-640, ME-512, D-868
M-636; Roshar – Cappuccino
I-662; James Vincent – Amber brown
D-640; Melanie Inglessis – Golden Snake
ME-512; Anthony Nguyen – Golden Beige
D-868; Charles Porlier – Crystalline Pink
We heart: I-662, a beautiful bronzey light brown. We agree with James Vincent (as we usually do) who said "I use this color all the time." So do we, James!
MAKE UP FOR EVER Artist Palette – Smoky Swatches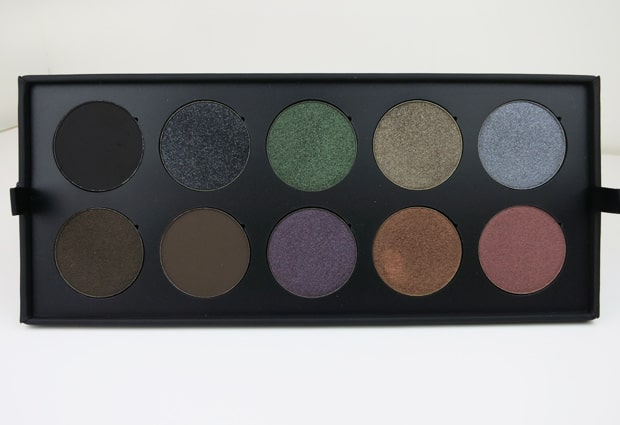 Smoky Palette Top Row: M-100, D-104, ME-310, D-320, ME-108
Bottom Row: ME-624, M-618, ME-930, ME-654, I-606
M-100, D-104, ME-310, D-320, ME-108
M-100; Dany Sanz – Black
D-104; Debbie Zoller – Black Diamond
ME-310; Ricky Wilson – Fir Tree Green
D-320; Jackie Gomez – Golden Khaki
ME-108; Viktorija Bowers – Steel
We heart: ME-310, a blackened shimmery emerald stunner. Ricky Wilson said "It's the most beautiful shade of deep, dark green. I love this shadow because it's universally flattering on everyone." It's the kind of shade we'd pick an outfit around!
I mean, how can you NOT love ME-310?
ME-624, M-618, ME-930, ME-654, I-606
ME-624; Ve Neill – Black Gold
M-618; Craig Lindberg – Espresso
ME-930; Stephen Sollitto – Black Purple
ME-654; Mai Quynh – Cauldron
I-606; Darcy Gilmore – Pinky Earth
We heart: ME-930, a blackened grape. We're with Stephen Sollitto, who says "I loved this shadow from the second I saw it."
MAKE UP FOR EVER Artist Palette – Artistic Swatches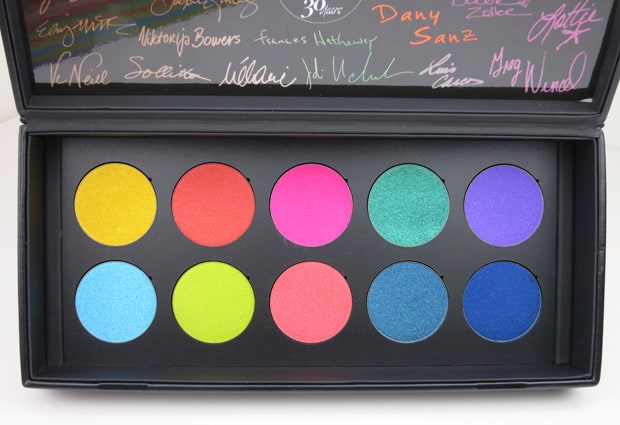 Artistic Palette Top Row:ME-400, S-742, S-852, ME-304, I-922
Bottom Row: D-206, I-340, I-746, ME-230, I-220
ME-400, S-742, S-852, ME-304, I-922
ME-400; Luis Casco – Buttercup
S-742; Lottie – Tomato
S-852; Frances Hathaway – Neon Pink
ME-304: Merrell Hollis – Emerald
I-922; Kabuki – Electric Purple
We heart: S-852, the hottest pink you've ever seen. Frances Hathaway said "I wanted something that's very bright, very deliberate and very bold to actually express my minimalist makeup style." We get that. This shade smudged across the lid or used as a liner, with nothing but a coat of extra black glossy mascara would be divine.
D-206, I-340, I-746, ME-230, I-220
D-206; Eryn Kruger Mekash – Celestial Blue
I-340; Elizabeth Cohen – Lime Green
I-746; Angelina Avallone – Watermelon Pink
ME-230; Jodi Urichuk – Peacock Blue
I-220; William Lemon III – Sapphire
We heart: I-746, a shimmering pink grapefruit. We also heart Angelina Avallone's description of it "It reminds me of a luxurious flight to Paris."
If you are an eye shadow addict or in need of a beauty splurge, I can't recommend this palette enough! There is a shadow for every person and every occasion. Can't justify the expense? Make sure to check out the individual Artist Shadows ($21 each) for the 30 colors above as well as 180 more stunners!
we heartsters – Go ahead and pick JUST ONE. Which is your favorite shade in the MAKE UP FOR EVER Artist Palette?
photos: we heart this, swatches shown on NC25/30 skin tone
Tyna, co-founder and co-editor of wht, worries about becoming a crazy cat lady, reads at least a book a week, checks in at a Flyers fan forum every morning and is forever (some say obsessively) organizing her closets and drawers.
skin tone: NW 20/25
skin type: combination
favorite beauty product: eye shadows and lip balms