This post may contain affiliate links, which means I may receive a small commission, at no cost to you, if you make a purchase.
Our beauty scientist puts these liners to the test – 3 of them!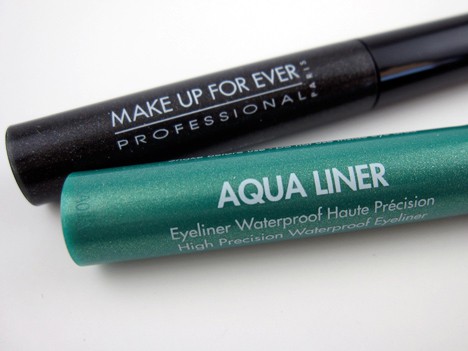 photos: we heart this
Smudged eyeliner is only sexy when it's intentional, otherwise it's the bane of my existence. As a Texan, I deal with hot, humid days and sweaty skin for about nine months out of the year. Finding waterproof makeup with staying power is super important to me, especially in the summer. Lucky for me, I got to try two Aqua Liners
from the legendary Make Up For Ever just as the temperature started to creep up above 100 degrees on a daily basis.
Beauty scientists will appreciate that the Aqua Liners ($23) are created with hydrophobic macromolecules called acrylic coploymers containing essential amino acids (from apple juice!!) And these liners are designed to stay put withstanding not only normal daily wear, but sweat and even water. Surely, such a high tech product needed a serious scientific study. Well, as scientific as you can get from someone who's biggest science influence is Mr. Wizard.
Test #1 – Daily Wear
I expected Aqua Liner to excel in this, and it definitely did. The applicator on the wand is a tapered foam tip, that makes it almost impossible to apply too much color, so getting a thin or thick line is a breeze. And makes cat eyes so easy you'll want to do them all the time!
My eyeliner went on smoothly even as I hastily applied it in the car and lasted all day, even through sweat from a workout, without a smudge, smear or fade in sight.
The two colors I tested, Diamond Multicolor Black (black with multicolor sparkles) and Diamond Lagoon Green (sparkling blue green), looked almost as vivid as the moment I put them on. Both have itty-bitty glitter flecks in multi-colors; heavy on the pink and purple for the Black, and silver and greenish-teal for Lagoon.
Test #2 – Wearing to bed
I know, I know, you should never wear your makeup to bed. But this is science, remember? Applied to clean skin right before bed, Aqua Liner pulled through, with only a little wear at my inner corners.
As for removal of this liner – it is super easy; the liner balls up and peels off in pieces rather than dissolving, similar to Blinc eyeliner.
Test #3 – Water
A quick jump in the shower and my Aqua Liner
was still there! Of course, I ruined that by rubbing my face dry with a towel, but until then, Aqua Liner stood up to my very hot shower. Still, very impressed.
Next, in order to test Aqua Liner against my waterworks, I applied and watched an episode each of my worst crying culprits; Grey's Anatomy and Private Practice. Two hours later, Aqua Liner was still hanging in strong.
A few days later I tested both colors against a Buffy marathon, but after six hours there was some peeling and wear. But in Aqua Liner's defense, there was copious amounts of sobbing, eye rubbing and fist shaking at the sky at Tara's death. No makeup could withstand such conditions.
Finally, the best praise I can give is that I'm already planning on buying Mat Black (matte black) and Diamond Black Purple (deep violet sheen). If you long for a waterproof eyeliner with great color, Make Up For Ever Aqua Liners are your new best friend.
Pro's:
• Intense, bold and vivid colors
• Formula – Super staying power
• The tapered foam applicator picks up just the right amount of product
Con's:
• Price, a bit more than I like to pay for eyeliner
In conclusion to my super scientific analysis; Make Up For Ever's Aqua Liner
is one of, if not THE, best waterproof eyeliners I've ever tried and receive 5 stars from me.
we heartsters – have you put Make Up For Ever's Aqua Liners to the test? Share your results in the comments!
Disclosure: This review includes products that were provided by the manufacturer/PR firm for our consideration. It also contains an affiliate link, a link that gives us a small commission if you purchase the item. For more info, or any questions, please see our disclosure policy.
Latest posts by lyssachelle
(see all)