This post may contain affiliate links, which means I may receive a small commission, at no cost to you, if you make a purchase.
An Inspiring Collection from the Beauty Masters
Every great work of art starts with the stroke of a brush. It then makes sense that great art is created with great brushes, each crafted for a specific purpose by the artists who use them. The Renaissance Masters made their own tools, just like the Modern Day Masters at MAKE UP FOR EVER
are making theirs. Now, MUFE is seeking to make a master out of you with their Artisan Brush Collection, and your face is the canvas.
The combined terms makeup + artist have a literal manifestation in MUFE's Artistic Director, Dany Sanz, whose roots as a painter and sculptor bring her artist's passion to the makeup world. Ms. Sanz has created an astounding seventy-six innovative brushes for the Artisan Brush Collection.
All brushes in the Artisan Brush Collection are hand crafted with synthetic fibers. Each fiber is made with a special technology that creates different diameters and types of fiber (straight or wavy) while still feeling soft and like natural hair. These fibers are each placed and bound in a gunmetal ring and do not shed.
Love the beech wood handles that have a weathered look, like they've been in an artist's tool kit for years!
Straight fibers are used for heavier and precise applications, while wavy ones are used for a lighter, more carefree application. Some brushes use a combination of the two for ultimate artistic creativity, juxtaposing the precise with the unbridled. Each brush is meticulously made and comes with a tapered beech wood handle with a beveled tip designed to help retrieve product and place false eyelashes. How's that for multi-tasking?
Each brush is assigned a number with anything in the 100s being for complexion, 200s for eyes, 300s for lips, and 400s for artistic purposes specifically for professionals. WHT received a generous supply of these extraordinarily well-crafted brushes so let's take closer look!
100 Series Brushes – Complexion
140, 146, 148, 160, 174
#140 Highlighter Brush, Small
($34) – Wavy fiber for highlighting brow and cheekbones. (Light as a feather, I love using this with loose mineral pigments.)
#146 Flat Blush Brush
($37) – Straight and wavy fiber for precise powder application.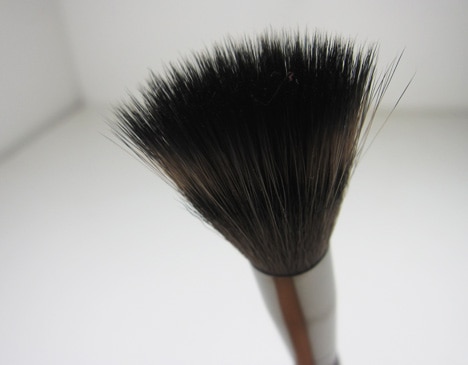 #148 Blending Blush Brush
($37) – Straight and wavy fiber for a light finish.
#160 Blush Brush
($44) – Straight and wavy fiber in a tapered, pointy-tipped brush to blend, lift or create designs on the face and body.
#174 Concealer Brush, small
($21) – Straight fiber firm, flat fiber for applying and blending concealer.
200 Series Brushes – Eyes
216, 222, 224, 228, 230, 250, 272
#216 Precision Blender Brush, medium
($25) – Straight fiber, rounded brush for smudging and blending in the crease of the eye. (The dense, compact, rounded head of this brush picks up an enormous amount of product and blends it with precision in the crease of the eye. The density of the bristles keeps the product on the brush and where you want it, not on your cheeks below.)
#222 Sponge Applicator
($13) – Oval-shaped sponge that applies pigment with no fallout. Refillable.
#224 Silicone Applicator
($16) – Flat, pointed applicator for collecting and applying shimmery powders and glitter precisely and without fallout.
A closer look at the tip of #224
And look how nicely it deposits glittery color!
#228 Precision Shader Brush, medium
($25) – Straight fiber, dense, rounded paddle-shaped brush for applying, blending and smudging any eye product.
#230 Shader Brush, large
($31) – Straight fiber, large, flat, tapered brush for lightly applying, blending and smudging eye products.
#250 Extra Fine Eyeliner Brush
($18) – Straight fiber with firm, fine bristles for controlled, precision eyeliner application.
#272 Eyelash Brush
($12) – Spiral brush for styling eyebrows and separating lashes.
300 and 400 Series Brushes – Lips and Artistic
300, 304, 402
#300 Lip Brush
($21) – Straight fiber, flat rectangular head for shaping and filling lips.
#304 Lip Brush with Cap
($25) – Straight fiber, retractable brush for purse or travel.
Most artists I know repurpose so, coming from someone who uses Home Depot as an art supply store, it should not surprise you that I did not use my favorite brush for its intended purpose. The #300 Lip Brush is intended to precisely define lip shape and blend lip pencils. I, however, found this to be the perfect brush for my gel eyeliner. Most eyeliner brushes are small and precise, great for thin lines or wispy "sketching" but not so great for a thick, bold line on the upper lid. This smallish brush makes a perfect bold line. I'll bet it will be great for lips, too, though.
#304 ready for travel!
and ready for use
#402 Artistic Fan Brush
($20) – Straight fiber, pre-cut, fan-shaped brush with 8 sections to create multi-line effects.
A closer look at #402
Whew. That's a lot of brushes – and there's plenty more where these came from! Stop by MAKE UP FOR EVER at Sephora and check them all out in their glorious detail! The Artisan Brush Collection has definitely fired up my creative juices in a masterful way. You could be next.
we heartsters – Do the right brushes make an artist out of you?
photos: we heart this
Sherri is co-author of What Would You Do With This Room?
My 10 Foolproof Commandments to Great Interior Design, and of course, a wht writer!
Latest posts by sherrishera
(see all)