This post may contain affiliate links, which means I may receive a small commission, at no cost to you, if you make a purchase.
Safety first! Remember to protect your skin this summer.
With the upcoming Memorial Day weekend, summer is officially here! Time for swimsuits, flip-flops and days spent lounging by the water. And while we want you to enjoy some time under the sun, we also want you to be careful when exposing yourself to the sun's harmful rays. In fact, as Brand Ambassadors we've teamed up with Eucerin Skincare to help spread the word (and the sunscreen) during Skin Cancer Awareness Month.
Did you know more than two million people per year are diagnosed with skin cancer? And while it is one of the most common forms of cancer, it is also one of the most preventable. That's why Eucerin in asking you make skin health a priority and take their Skin First Pledge.
Just head on over to Facebook, take the pledge and you will receive a Free Eucerin sample. And don't forget that sunscreen, shade and awareness can help you stay safe this summer and all year long. A few tips to keep in mind while enjoying the summer days:
• Skin Cancer doesn't discriminate, it can affect anyone. Head to toe annual skin checks can help catch melanoma early – when it's most curable.
• You can decrease your UV exposure by wearing protective clothing, sunglasses and avoiding the sun between the hours of 10:00 a.m. and 4:00 p.m.
• Always remember to apply sunscreen 20-30 minutes before going outside and make sure to reapply it every two hours.
• Don't forget to use SPF on days when it's cloudy because the sun's harmful UV rays can still cause damage and increase your risk of developing melanoma
Speaking of SPF, Eucerin has an array of affordable and effective sunscreen lotions to help keep you safe while enjoying the outdoors. I've trusted and used Eucerin products for years, so I was happy to have the chance to test two products from their Daily Protection line:
Eucerin Daily Protection Moisturizing Body Lotion Sunscreen SPF 15 – This dermatologist recommended and fragrance-free lotion is specifically formulated to moisturize and protect skin from daily sun exposure.
What I love most about this generously sized bottle is the pump dispenser for quick and easy application every morning. The lightweight formula absorbs almost instantly, so I can slather it on my body, get dressed and go. Plus since it is fragrance free, I never worry about my sunscreen clashing with my favorite perfumes and oils.
Eucerin Daily Protection Moisturizing Face Lotion Sunscreen SPF 30 – Just like the body lotion the face lotion is dermatologist recommended and fragrance-free, plus it is non-comedogenic, and clinically proven safe for sensitive skin. This feather light lotion offers a broad spectrum SPF 30 formula with UVA/UVB sunscreens including zinc oxide and titanium dioxide – that means it can help defend against long-term sun damage while keeping skin soft and supple.
Once again, Eucerin make things easy with a handy pump applicator to dispense my daily SPF. I've been using this lotion every day before I apply my makeup, and love the results. It's non-scented, but there is a teeny hint of SPF at first, but it fades after a few minutes.
The lotion is the perfect formula for me – not too light and not too heavy – and gives my skin some all-day moisture while acting as a nice base for easy makeup application. After a few weeks of use, my skin is looking good – no reaction to the active ingredients (not a hint of splotchy skin) and not a pimple in sight. I do believe I may have found my new daily face lotion!
Also included in my pack of Eucerin goodies? This fun UV bracelet that turns blue when exposed to the sun's UV rays!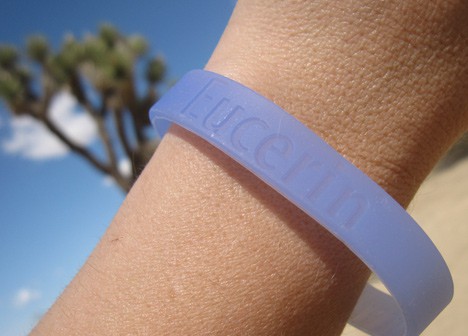 When I was outside, even in the shade or under overcast skies, this little baby would turn a pretty periwinkle blue – reminding me that sunscreen is a MUST everyday – no matter the weather.
we heartsters – Are you ready to take the Skin First Pledge and join me in making skin health and sun protection a priority?
photos: we heart this
Disclosure: This is a we heart this Sponsor Feature; a post highlighting an advertiser. For more info, or any questions, please see our disclosure policy.