An ancient skin savior, snail serum, brings new life to the face
photos: we heart this
I've always been a little bit of a nature nerd, which is how I know that snails are amazing creatures. Not only do they carry their houses on their backs, they also possess a mechanism that keeps their skin soft and moisturized no matter how dry their climate becomes. If only our skin could be so adaptable…
Maybe wht favorite Michael Todd True Organics had the same thought as they set out to achieve a skincare miracle: harnessing the moisturizing and healing properties of snail serum to create a unique skincare product for people. Say hello to the anti-aging face lift KNU (pronounced "new you"), that has the perfect name for a product that really can bring new life to our complexions.
The topical use of snail serum is nothing new. Way back in Ancient Greece, Hippocrates, the father of Western Medicine, used snails to treat inflammations of the skin. The snail serum in KNU ($150), however, is something entirely modern; combined with organic sugar cane and maple, alpha hydroxy acids and a blend of organic fruit stem cells, the serum exfoliates dead skin cells for optimal cell turnover.
In other words, KNU works hard to make skin appear younger. Michael Todd True Organics calls KNU a "miracle serum, Botox in a jar," explaining that snail serum is a South American beauty secret long prized for its lifting and tightening effects. KNU is packed full of this humanely harvested, bio-active snail serum (Helix Aspersa Müller), a substance rich in protein, lipids, trace minerals, enzymes, copper, peptides, amino acids and more.
The KNU jar was my first clue that this cream means business. Chunky and solid, its lid twisted off to reveal a pure white, heavy duty cream that can be used as a day or night cream, or even as a moisturizing treatment mask.
I quickly figured out it only takes a tiny dab of product to cover the entire the face and neck. At first, I used too much and the lifting sensation was amplified. Just a little bit of cream, and my skin looked immediately revived and felt great.
I'll admit I initially rolled my eyes a tiny bit when I saw this KNU billed as having an "anti-aging facelift formulation." Then I tried it and felt the immediate lifting sensation and saw the visible tightening of my skin from the very first use.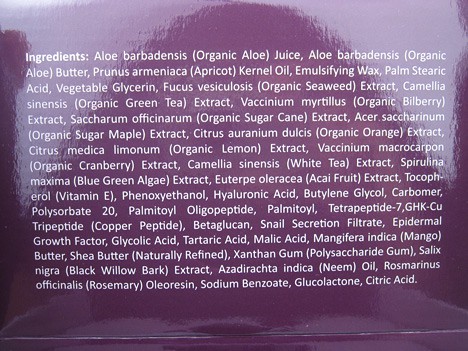 Pros:
• Contains a unique blend of snail serum, stem cells, peptides and proprietary ingredients
• No snails are harmed by the humane serum harvesting process
• Appearance of lifting and tightening of the skin is immediate
• Long-lasting improvements to the complexion are evident with longer use (in my case, it took about two weeks to start seeing a general improvement in skintone and texture)
• Can multitask as a day cream, night cream or treatment mask
• Only takes a tiny dab per use
Cons:
• Pricey – $150 for a three-month supply, which is still cheaper than Botox!
Although the lifting effect is temporary, the long term benefits of KNU are also becoming clear as I continue to use it: bright, radiant skin. I'm absolutely a KNU believer!
we heartsters – if your complexion is in need of new life, you just may find it in a jar of Michael Todd's KNU Anti-Aging Face Lift!
Melissa loves road trips, bargain shopping, drive-in movies, lip gloss and rock 'n' roll. She lives in Baltimore with her precious pup Zeus.
Disclosure: This is a we heart this Sponsor Feature; a post highlighting an advertiser and includes products that were provided by the manufacturer/PR firm for our consideration. For more info, or any questions, please see our disclosure policy.
Melissa loves road trips, bargain shopping, drive-in movies, lip gloss and rock 'n' roll. She lives in Baltimore with her precious pup Bellarina.
skin tone: NC20
skin type: dry to normal
favorite beauty product: skincare
Latest posts by turboterp