This post may contain affiliate links, which means I may receive a small commission, at no cost to you, if you make a purchase.
photos: we heart this
Dodgy mince pies – it's a term that once I heard, I never forgot (and it has nothing to do with a spoiled Christmas treat). It's Cockney rhyming slang for "wrinkly old eyes". I heard a British male friend use it to describe a woman who visibly hadn't taken very good care of her skin. And while I was horrified for her, I made a secret vow to take care of my own pies. And so, my eye cream obsession was born.
But when searching for the perfect eye cream, we know that wrinkles aren't the only offenders. There's puffiness, dark circles, and just general aging to contend with (crepiness, sagginess, and all sorts of bad-ness). What's a girl to do? Try INTENSIVE Organic Cream Eye Treatment, the latest from Michael Todd True Organics, that's what!
True to its name, INTENSIVE ($38) intently targets just about everything that can go wrong with your eyes. (Well, the skin around your eyes at least – it won't make you see better!) Fine lines and wrinkles are put on notice with Copper Peptide and antioxidants, which work to repair sun damage and encourage elastin and collagen production (the lack of which are culprits for sagginess).
It also contains an herb called Rhodiola Rosea, a plant that manages to flower despite residing in some of the coldest regions of the world. It can also be taken in a supplement form and is described as "nature's antidepressant" (though Michael Todd doesn't promise you'll feel better for any reason other than your eyes looking great).
For dark circles, INTENSIVE has Haloxyl, which works by "absorbing and eliminating colored blood pigments in the skin". Ok, that excites me.
Puffiness has Eyeliss to deal with, a cocktail of three protein peptides that "increase lymphatic drainage, reduce inflammation and swelling in the under eye area". Eyeliss is paired with a unique tip applicator, which can be used to massage the cream in and further its effects. And the combo is magical, my puffiness disappeared in front of my eyes.
Also true to its name, INTENSIVE uses organic olive and jojoba oils in a base of 100% certified organic Aloe Vera juice (the base for all of their products). It even has one my favorite ingredients; organic calendula extract, my nomination for best soothing herb ever.
Want to know how I know all the organic ingredients that are in INTENSIVE? They list them on their website in plain view. I LOVE a company that lists its ingredients on their site. I once asked a "green" company for ingredients to include in a post and they told me they didn't share them online because the properties were so special. Um, ok…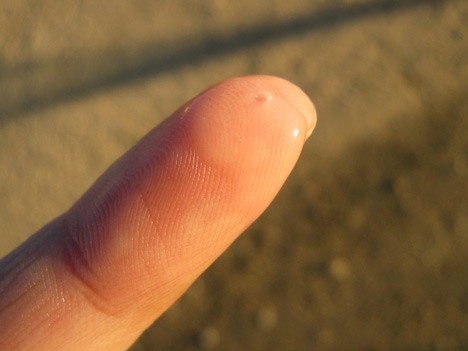 INTENSIVE feels and looks more like a serum to me than a cream, and I'm ok with that. It's light and absorbs quickly, leaving behind no greasiness.
Pros:
• Reasonably priced at $38
• 90% organic, certified vegan and cruelty free
• Air tight bottle to protect the formula from light, bacteria and fingers
• Good for all skin types, especially dry and sensitive
• Tall container stands out in a sea of jars
• Its effects on puffiness are instant
Cons:
• Applicator can spurt a bit, so dispense carefully
• An opaque bottle won't let you see usage
High end, drugstore, organic, DIY, creams, serums, patches; I've tried them all. And I am really glad to add INTENSIVE Organic Cream Eye Treatment into my Dodgy Mince Pies arsenal.
we heartsters, what's your #1 eye woe?
Disclosure: This is a we heart this Sponsor Feature; a post highlighting an advertiser. It also includes products that were provided by the manufacturer/PR firm for our consideration. For more info, or any questions, please see our disclosure policy.