This post may contain affiliate links, which means I may receive a small commission, at no cost to you, if you make a purchase.
Press Sample
Find Your New Favorite Nail Color From Your Old Favorite Drugstore Beauty Brand
One of the most fun parts about being a beauty junkie is the thrill checking out a new collection from one of your favorite lines. It's even better when it's a huge new collection, and better still when it's one of your most beloved type of product in the whole wide world.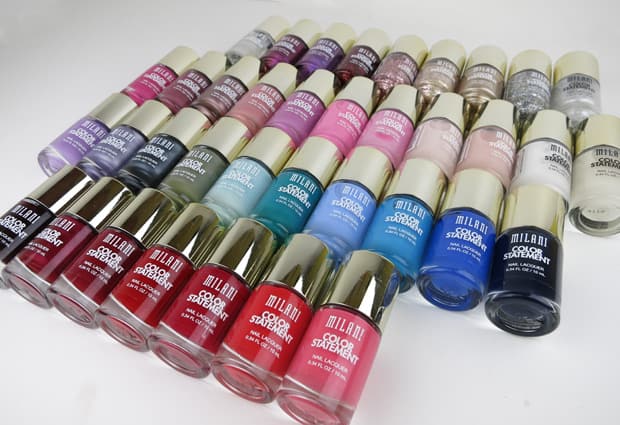 So opening up my we heart this review box and seeing the Milani Color Statement Nail Lacquer collection had me swooning in happiness. The latest drugstore makeup must haves from Milani will set you back just $4 a bottle and features a rainbow of colors in a variety of finishes.
We tested all 37 new shades, and I tested 12 myself. I can say with certainty that you WILL find your favorite among the Color Statement collection, possibly in this post! (But you can't have mine. I'm not sharing.)
I paired Crimson Jewel with Iconic Red for a sexy manicure that would pair with either your office power suit or a little black dress. Or sweatpants and flip-flops, no judgment here…
Tattle Teal is one of my favorites; it's described as a "bright teal blue," but I think it's more muted than most teals. Maybe it doesn't read quite as bright when paired with the other two shades: Blue Print, a blue creme that looks very close to the beloved original formula of Sally Hansen's Pacific Blue, and Mango Tango, an eye-popping orange-red.
If Silhouette is any indication, greige is back! (Did it ever leave?) It never worked well with my skintone so I wasn't a greige fan, but I really like it when I used the shimmery grape Ultra Violet as an accent nail.
Cupcake Icing paired well with Ultra Violet as well. The purple glitter made the the orchid pink a little less bright, while still keeping it fun.
Lovely Amethyst was my least favorite of the bunch; a frost that shows off every brushstroke. However, as you can see in my accent nail, a coat of Pearl-plexed Sheer solves that problem and gives it a fun sparkle.
The shade may be called Pearl-plexed Sheer, but this reads as less pearl and more sugar frosted to me! I topped Tattle Teal, Cupcake Icing, Blue Print, Mango Tango and Iconic Red with the topcoat to show how it give an iridescent sparkle to each shade. This would be a good product to get a few more days out of a favorite mani as the tiny glitter would cover up any minor dings or chips.
Vintage Lace Sheer needed SIX coats to be opaque, so I'd try pairing it with a light colored basecoat if you're not that patient. But if you are, the pretty light peachy-pink is lovely and would work well with if you're looking to do an update on the typical french manicure. I wore it as a glitter gradient with Glided Rocks, a clear with mixed rose and gold glitter, and my absolute favorite. I was excited because it looks VERY similar to one of my biggest indie wants, A-England's She Walks in Beauty.
As far as formula goes, all the polishes were quick drying with great color payoff; each shade except Vintage Lace Sheer was almost opaque in one coat and dried with high shine. Lovely Amethyst is one of those tricky frosts that needs a lighter touch, just to avoid drag marks. Ultra Violet had more of a suede finish which contrasted nicely with its shimmery glitter, but that was solved with a top coat. The only real issue I had was with Tattle Teal, it was the only stainer of the bunch.
If these shades from the Milani Color Statement Nail Lacquer Collection didn't tickle your fancy, don't fret. There are twenty-five more colors in the collection, to swoon over. Make sure to check the comments, where our review team will be chiming in with their thoughts on this huge new collection.
Enchanting – Deep Bordeaux Red
Ruby Stone – Shimmering Deep Red
Iconic Red – Deep Cherry Red
Modern Rouge – Fuchsia Red
Red Label -True Red
Mango Tango – Orange-Red
Corrupted Coral – Bright Coral
Imperial Purple – Purple Violet
Lovely Amethyst – Shimmering Amethyst Purple
Charcoal Charm – Dark Charcoal Sheen
Silhouette – Grey Beige
Mint Crush – Light Mint Green
Tattle Teal – Bright Teal Blue
Peri-wink – Periwinkle Blue
Water Front – True Blue
Blue Print – Deep Blue
Ink Spot – Deep Navy Blue
Hot Pink Rage – Hot Pink
Mauving Forward – Purple Mauve
Bronze – Pink Bronze Sheen
Pink Beige – Nude Rose Pink
Cupcake Icing – Orchid Pink
Bombshell – Bright Pink
Doll Face – Light Blue-Pink
Vintage Lace Sheer – Sheer Light Pink
Lady-like Sheer – Sheer Antique White
Frenchie Sheer – Sheer Off-White
Spotlight White – Bright White
Sugar Plum – Shimmering Fuchsia Purple
Ultra Violet – Bright Purple Shimmer
Crimson Jewel – Red with Red Glitter
Club Lights – Clear with Pink & Fuchsia Glitter
Gilded Rocks – Clear with gold and rose glitter
Gold Plated – Metallic Gold Sheen
Rainbow Prisms – Clear with Silver & Holographic Glitter
Pearl-Plexed Sheer – Clear with Iridescent Shimmer
By now I'm sure the Milani Color Statement Nail Lacquer line has made it to your list of drugstore makeup must haves, so check them out the next time you stroll the beauty aisles. Just make sure you don't hit the store while I'm there. I have five more shades I want to get and if they're nearly sold out, things could get ugly.
we heartsters – What is your have-to-have shade from the Milani Color Statement collection?
photos: Alyssa and Stef for we heart this
Latest posts by lyssachelle
(see all)