This post may contain affiliate links, which means I may receive a small commission, at no cost to you, if you make a purchase.
Like You Just Stepped in a Big Pile of Sassy!
Sass. I've got it and I'm going to let you all know how to get it – on the cheap! Milani Cosmetics once again delivers bewilderingly great product at an affordable price with their new Lip Intense Liquid Color ($6.49 each).

Here's the lowdown. There are four wickedly great colors (I won't say "to choose from" because, c'mon, they're less than seven bucks a pop – just spring for all of them.)
Red Extreme 01 – a vibrant, true-blue red
Pink Rave 02 – hot pink
Fiery Coral 03 – bright yellow pink
Violet Addict 04 – bright magenta with a hint of violet
These extraordinary colors are housed in brightly colored, flattened tubes and have sponge applicators. They apply like a gloss but dry like lipstick – slightly matte but with noticeable sheen so that lips appear moist but not glossy. The color is intense (heck, it's in the name) and has some serious pigment. Sass.
I tried all but the Pink Rave and found them surprisingly easy to wear. These are bright colors but they are far from garish or clownish. The wear time is comparable to a good lipstick; for me that's about three hours of intense color plus a couple more of faded stain. Also, these wear evenly and don't pill or peel like some other long-lasting liquid lip colors at this price point.
Milani Lip Intense Liquid Lip Colors: Red Extreme, Pink Rave, Fiery Coral, Violet Addict – in sunlight
Milani Lip Intense Liquid Lip Colors do feather a bit more than I notice with most of my lip colors but, since these are both liquid and intense, it isn't surprising. As luck would have it, I was also sent an amazing Milani Anti-Feathering Lipliner ($4.49), a colorless liner that fills in lines and keeps your amazing color from bleeding.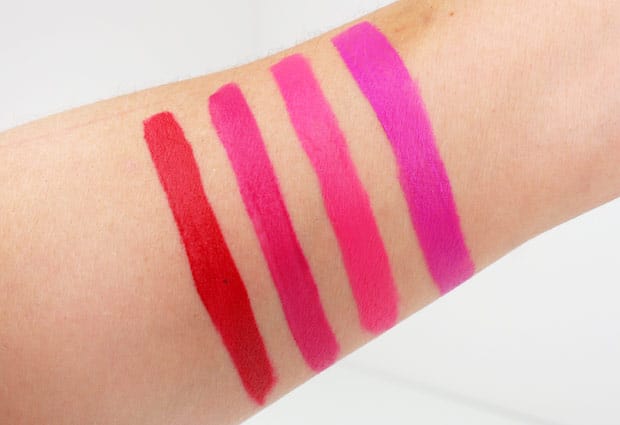 Milani Lip Intense Liquid Lip Colors: Red Extreme, Pink Rave, Fiery Coral, Violet Addict – indoors
The only thing I'm not in love with about Lip Intense Liquid Color is the scent. They smell kind of like Pixie Stix taste: sweet and unnatural. The scent disappears, however, as soon as the pigment dries—so no worries here, they're still wonderful! Sass.
So, what's up with all that SASS? A girl of maybe 9 or 10 said it to me today as I burst through the doors of local juice joint in my long, flowy dress and Fiery Coral Lip Intense Liquid Color. It all seems so dramatic now. SASS. Darn right. (And we can't help but think of this classic SNL sketch starring the much missed Phil Hartman! ~ wht editors)
we heartsters – Do you think Milani Lip Intense Liquid Color can up your Sass appeal?
photos: we heart this, swatches shown on NC25/30 skin tone
Sherri is co-author of What Would You Do With This Room?
My 10 Foolproof Commandments to Great Interior Design, and of course, a wht writer!
skin tone: NC 25
skin type: oily/sensitive
favorite beauty product: anti-aging anything
Latest posts by sherrishera
(see all)