This post may contain affiliate links, which means I may receive a small commission, at no cost to you, if you make a purchase.
New Shades for Spring 2012 – Milani Nail Lacquers and High Speed Fast Dry review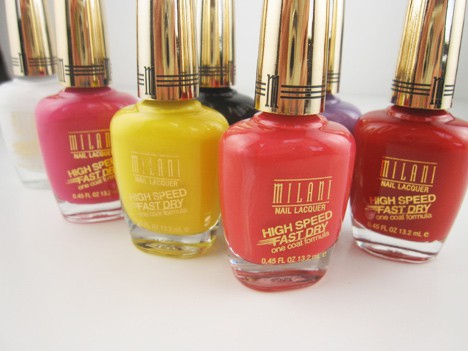 photos: we heart this
Our case of Milani Madness is still strong! Yesterday, we wowed you with a look at some of their super sparkly, glittering polishes and today we're taking a look at a few brand new lacquer shades for Spring 2012. And make sure to check back on Wednesday for our Milani Spring 2012 Giveaway – it's your chance to win 48 pieces introduced this season! Now on to the review…
We've often discussed the virtues of nail polish here at wht, from the ease of exploring trends and bold colors to how the right nail color can complete an outfit, and I freely admit to having a love affair with perfectly painted nails.
During a recent visit with my sister I decided it was a good time to redo my manicure. I pulled out my stash and my sister gasped. "How much nail polish do you have?!" A quick tally later (my husband insisted) revealed 108 bottles. Okay, I know, that seems like a huge number, but here's the thing- no two bottles are alike and seeing all those beautiful colors lined up fills me with joy.
So imagine my utter bliss when I received 17 of the new lacquer shades from the folks at Milani Cosmetics! With new colors in both the traditional Nail Lacquer and the High Speed Fast Dry line, there is something to please everyone.
Don't believe me? Let's go to video! Check out this little film highlighting 25 shades (from four collections) of the new spring 2012 Milani Nail Lacquers. Just hit play to feast your eyes on the polish eye candy (while enjoying the music of Derwood Andrews, Stef's Hub!):
As your eyes can see, Milani Cosmetics is a company that prides itself in having fantastic, high quality color cosmetics – and they do it without the high-end price tag. While using a base and top coat I easily get 4 days of wear with no chips, and I'm rough on my nails! I should also mention that all Milani nail lacquers are DBP, toluene, and formaldehyde free. At the average price of $5 a bottle, what's not to love?
Jiffy Orange High Speed Fast Dry
First up is the High Speed Fast Dry ($4.99) line. These claim to dry in 60 seconds, with the help of a new flat brush made for the line.
Mandabear reports this: Did they dry in a minute? Two minutes perhaps. They do dry fast though, that's for sure. I felt that in order to achieve that one good solid coat, you need to brush on more than just your standard layer of nail polish…and that may add on drying time. It's worth it though!
Here's the color low down on the High Speed Fast Dry Shades (all of which are a cream finish, except for Hot Pink Frenzy, which is shimmer):
Fast Fuchsia – Hot pink mama! What a wonderful summer color. Opaque in one coat (two for perfection) and dries super fast, so work quickly.
Black Swift – A true vinyl black. Needs two coats to be completely opaque. Dries with a high shine and without dulling the color.
White on the Spot – A bright, true white. One coat is okay, but two is perfect. Would look great with a tan! It's a little goopy, so be careful with your application.
Rapid Cherry – A true cherry red, just like it says. Very smooth formula and easy to apply. Dries slightly cooler than what is seen in the bottle.
Yellow Whiz – A whitened banana yellow, not quite pastel but not super bright. Definitely needs two coats!
Hot Pink Frenzy – Finally, a warmer hot pink! This has shimmer, but it's very hard to see unless viewed in the direct sunlight. Needs two coats to be totally opaque.
Violet Dash – A slightly greyed out purple. This shade is totally opaque in one coat but can bubble if you're not careful.
Jiffy Orange – A coral orange- Color of the year anyone? The formula is almost opaque with one coat, but needs two just in case.
Black Swift High Speed Fast Dry
Next up, we got a look at nine of the 22 new for spring Nail Lacquer ($4.49) shades, all with a super glossy finish and a long lasting, chip resistant formula:
Teddy Brown – A neutral, creamy camel brown. This polish is on the thin side, requiring two coats to be opaque.
Signature Gold – A bright dark metallic finish gold, with just a tinge of orange.
Juno – A delicate, ballerina milky pink. Nearly opaque in one coat, two for good measure.
Dark Coffee – Beautiful! Looks like perfectly roasted coffee beans. Opaque in one coat.
Beach Front – A soft baby blue with silver shimmer. Two coats to be opaque, and with no streakiness. Can be hard to blend as it dries, so work quickly!
Orchidia – A pink based purple shimmer. This has a thin formula that will need at least three coats to cover.
Deep Thoughts – A deep and majestic blackened purple shimmer.
Silver Stilettos – A great neutral sliver metallic. Needs two coats to be fully opaque, but has zero streaks.
Sail Away – A "gunmetal Navy" according to my husband, with silver shimmer. Nearly opaque in one coat but needs two for perfection.
Teddy Brown Nail Lacquer
Deep Thoughts Nail Lacquer
Orchidia Nail Lacquer
Silver Stilettos Nail Lacquer
Don't forget to check tomorrow for your chance to win all 25 shades seen in the video – plus 23 additional Milani goodies!
So confess- how big is your polish collection? And which shades of Milani Lacquers need to be added to it immediately?
Disclosure: This review includes products that were provided by the manufacturer/PR firm for our consideration. For more info, or any questions, please see our disclosure policy.
Latest posts by mandaleem