This post may contain affiliate links, which means I may receive a small commission, at no cost to you, if you make a purchase.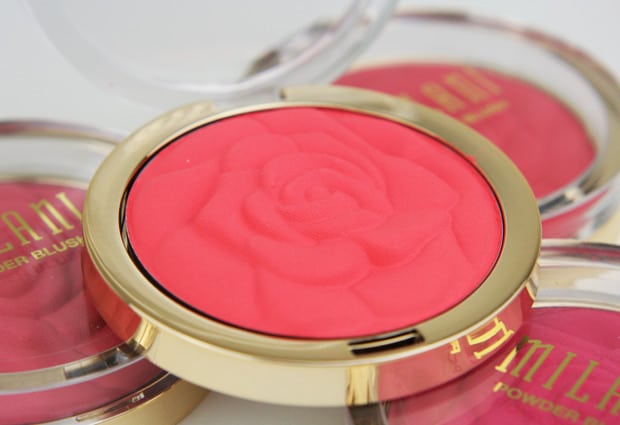 Press Sample
These blushes are blooming with beautiful bright color
The arrival of Spring weather may be dragging for some of us, but seeing the latest Milani blushes on my vanity make me feel very very hopeful. Now, I've seen and experienced lots of blushes, but when these Milani Rose Powder Blushes came my way I knew I was in for something special. I mean, look at them!
Need I say more? Before receiving them to review, I had heard a bit of buzz about the Milani Rose Powder Blush ($7.99). After finally trying them, I think it's safe for me to say that you should hunt these down and buy them now ASAP. Let me explain why…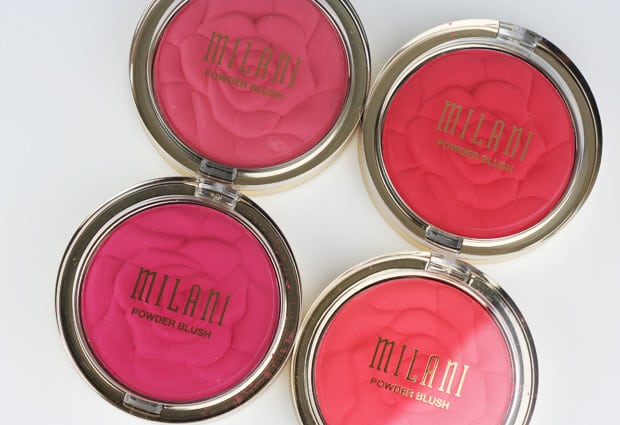 The packaging of these blushes is already enough to gather some interest. The pretty gold compact and raised rose detailing is beautiful. It's quite luxurious for a drugstore product. I've felt cheaper packaging from higher end brands, trust me on this one. If you are familiar with the compacts of their Baked Blushes, it's very similar…but bigger.
There are four shades in this line and they are all matte:
Tea Rose – mauve pink
Coral Cove – bright coral
Love Potion – hot pink
Lady Rouge – watermelon pink
Milani Rose Powder Blush in Tea Rose, Coral Cove, Love Potion and Lady Rouge
I received and tested both Coral Cove and Tea Rose. Holy moly, the pigmentation on these is pure, smooth and gorgeous. No shimmer. What you see is what you get. You actually have to be careful with these blushes, believe it or not. A tap or two is all you need for a perfect pop of color.
Milani Rose Powder Blush in Tea Rose
The best thing about the high pigmentation is that you are using less product each time, leaving the pretty flower design in tact for way longer. That's beauty blogger logic for you. These are going to last forever. Milani even says that you can use them to contour and highlight. I, personally, would stick to using them as cheek blushes only, but whatever floats your boat!
Milani Rose Powder Blush in Coral Cove
These blushes lasted all day for me. I love Coral Cove on its own and Tea Rose layers beautifully over bronzer. At first I thought Tea Rose would be too cool toned for my warm tone skin, but it works! Even for a small launch, Milani offered a well rounded range of cool and warm tones that are fun for Spring.
Milani Rose Powder Blush Love Potion
For the price, you are getting a heck of a lot of product, so whatcha waiting for? I almost forgot to mention the bad news – these are limited edition. The good news? Though these new shades are sold out on their website, you can track them down in store. Don't sit on it for too long though!
Milani Rose Powder Blush in Lady Rouge
we heartsters – What are your top blushes for spring? Will Milani make the cut?
photos: we heart this, swatches shown on NC25/30 skin tone
Latest posts by mandabear
(see all)