This post may contain affiliate links, which means I may receive a small commission, at no cost to you, if you make a purchase.
press sample
The Parenthood Star Shows Us Her Down-To-Earth Side
I first met Monica Potter over a dozen years ago in Beverly Hills, where one might expect to find a star. She was (and is) stunning to behold, with perfect skin, creamy blonde hair and clear, soulful eyes. Yep, she's a glamorous screen queen for sure. And if I were to say that to her face, she would probably snort milk through her nose.
Monica is an easy, natural born comedian who never met a stranger. I remember introducing her to my now-husband, Greg, as we were about to move in together. She said we needed a sofa—one that we should buy together because it would be the center of our home. It seems home is never far away from the mother of three's thoughts. It is quite natural then that this earth mother/actress created a line of reasonably priced, quality products for the home, with the intent (and added awesomeness) to give back to her own hometown.
Isn't it refreshing to know that there are down-to-earth celebrities who are willing to take their blessings and give back to the community that launched their dreams?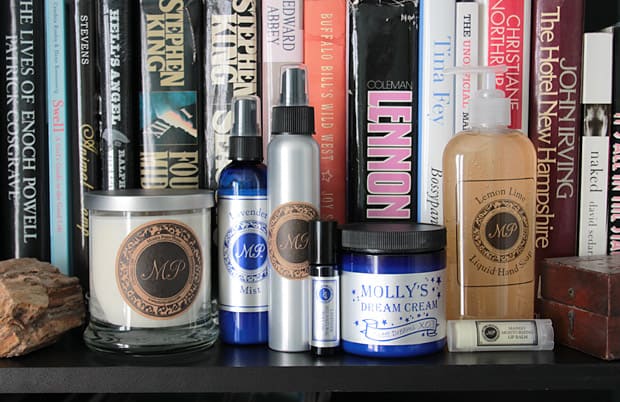 Running into Monica recently, she was anxious to have me sample some of the products of her most recent endeavor. After sampling them, I was even more anxious to tell you all about them, as well as the story behind these products.
Monica Potter Home was launched in 2012 when Monica returned to her hometown of Cleveland, Ohio to work with local artisans and craftspeople in order to produce a line of simple, honest home and beauty goods that would provide jobs for the great people of Northeast Ohio. Inspired by her hard-working, creative, late father and the loving, laughing, comfortable home and family she is a part of, Monica wants to help make your home equally as enriching. And knowing her as I do, she means it.
I received a generous box of goods, direct from Cleveland, from which I was forced to claim favorites. That list, in no particular order is as follows…
Molly's Dream Cream ($18) — This cream is named for Monica's daughter who loves using it at bedtime. Fluffy, rich and scented with relaxing lavender oil, it lives up to its name. My husband loves it for his feet. I love it everywhere. Sweet dreams, for sure.
Dreamy!
Lavender Mist ($12) —It should be noted that lavender is one of Monica's favorite scents and pops up in a lot of her products. This one is to die for. As a big fan of a famous French beauty elixir, I'm used to spending around fifty bucks for a mist with essential oils to spritz on my face. This one is just as good, containing rosemary and tea tree oils in addition to the lavender. This mist can be used on the face and body, but it can also be used as a room and fabric freshener. A huge bargain, buy it now before I buy the whole lot. Seriously.
Mango Lip Balm ($4) — Yummy! This is a buttery balm that melts on the lips. The Mango scent is quite natural and gratifying. There are other flavors including Cherry, Coconut, Spearmint, Strawberry and Vanilla. I'm dying to try the Coconut for a truly tropical experience.
Peppermint Vanilla Whipped Soap ($16) —I have never seen whipped soap before. I don't know if this is the first of its kind, but it is genius. The texture of buttercream frosting, this is like heaven in the bath. The Peppermint Vanilla scent is at once comforting and invigorating, while the soap itself leaves skin velvety soft. Also available in Sugar Cookie scent, my only complaint is that this doesn't come in gallon vats.
This is soap people, SOAP!
While those listed above were my favorites, I have to give an honorable mention to the Lavender Hand Aid ($14). I don't usually use hand creams, but this would be the one I used if I did. It's got these little crystals that exfoliate as they dissolve and moisturize. It's not at all greasy and a tiny bit goes a very long way.
All of the products I received were quite lovely. The simple, apothecary-like packaging of them all is as appropriate as it is beautiful. Also included in my sampling was the Crimson Sugar Scrub ($18) with its sweet musky scent, and the Lilac Room Spray ($10) with a true floral scent.
There was also the Lavender Lotion ($15), quite light and made with essential oils, as well as the Lemon-Lime Liquid Hand Soap ($12), also made with essential oils, bright and citrusy. I liked the Lavender Roll-On Perfume ($12), made with only essential oils and a rice bran carrier oil for a truly natural scent.
The Sea Buckthorn Balm ($15) contains coconut oil and sweet orange oil and was great for my small patch of eczema. Lastly, there was the Basil and Fennel Essential Oil Soy Candle ($24) that has such a wonderful, earthy scent—like an Italian garden. Bellissima!
All of Monica Potter Home products are available online, or at her brick and mortar flagship store in Cleveland. Due to the handmade, artisanal nature of the products, quantities may be limited.
Monica was absolutely right: Our family, our couch, our home.
Isn't it refreshing to know that there are down-to-earth celebrities who are willing to take their blessings and give back to the community that launched their dreams? And aren't we lucky to be able to share that dream?
we heart this team – what did you think of the items you got to try?
Latest posts by sherrishera
(see all)