This post may contain affiliate links, which means I may receive a small commission, at no cost to you, if you make a purchase.
Get a FREE Lip Macaron with a $20 purchase and our code!
photos: we heart this
If you're anything like me, you still have a long list of loved ones to buy extraordinary gifts for, but little time and an even littler budget to get the job done. Or, I hope you at least have one more person to gift and if not, make it for yourself! Because MOR Cosmetics, one of our most beloved brands, has put out gift sets for 2011 that are exquisite and completely affordable. We're giving you a closer look at three of them…
MOR is one of those guaranteed to please lines, with gorgeous packaging, effective yet gentle formulas, and delightfully pure scents. Every item I've tried from MOR is completely pleasing to wear on my body and display on my countertops!
Best of all, MOR Cosmetics is giving everyone a chance to test their latest little tins of joy – sweet and shiny lip balms – by offering we heart this readers a FREE Lip Macaron with each $20 purchase. Details and code at the end of the post! And trust me, the low $20 purchase requirement will be a joy to spend.
Christmas came early, and I think I actually squealed, when I opened my review box to discover the Essentially Yours gift set ($22). This set includes a generously sized body lotion in a pump bottle and soap bar with a decorative tin in the intoxicating scent of Basil & Grape.
I tried this amazing scent in a body butter last year, and my husband and I still talk about what a great product that was. He would actually hide it from me so he could use it on his dry skin, but there was no mistaking that lovely scent as it wafted by me at night! The scent bursts with sweet, ripe summer grapes that are tempered with fresh basil and a whisper of soft violet.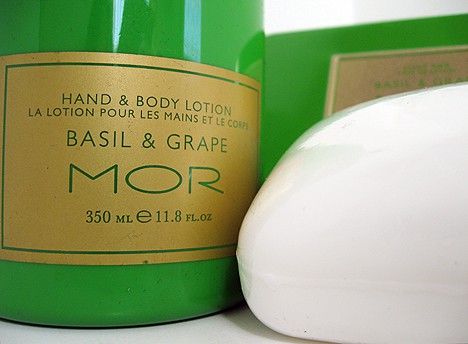 This light lotion in this set contains vitamin E and shea butter. It spreads and soaks in quickly. It's not as thick as the body butter of course, but it is weightless and moisturizes well. It lasts at least a few hours depending on the dryness of the day.
When I use the lotion on my hands and arms at night, I think I actually sleep more peacefully! When I use the soap and lotion together, the light and sweet scent lingers all day, and I don't even bother with perfume.
The soap is housed in a great, rectangular tin and contains coconut oil and glycerin. It has that same fantastic scent and is a very effective, yet gentle cleanser. I've even used it on my face, with no sensitivity.
This set is a top-shelf product at an amazing price, and I would be proud to gift it to even the most discriminating person on my list. You'll find similar $22 packages (just enough for that Lip Macaron), like the Essentially Sweet Set (Honey Nectar scented products) over at Mor.
Next, for the very good girls on your list, we have the most luxurious Queen of Hearts collection:
This luxe set ($40) comes in a large collectible hinged tin that contains a full-sized soap, hand cream, and lip macaron, all in the scent Italian Blood Orange (ruby red Italian Blood Orange infused with soft summer floral notes of Jasmine, Rose, and Lilly of the Valley). Yum! I can't wait to hear what our tester thinks of this scent.
The triple-milled soap is packaged so beautifully, I'm not sure I'd ever open it! But it sure would look exquisite as a decorative piece in the guest bathroom, and I bet I'd be sorry to miss out on the luxury of using it. I could see gifting this by itself or the macaron as the perfect stocking stuffer for Mom!
Speaking of which, the lip macaron is rich in vitamin E and is also a packaging dream – housed in a pretty tin. I was lucky enough to also test one of these macarons and would be so proud to show it off by carrying it in my purse, if I could get it off my nightstand. This sweetly scented gem moisturizes my lips effectively every night. Not to neglect the body cream, that contains shea and cocoa butters, anti-oxidant rich sesame oil and glycerin and is housed in an elegantly capped tube.
Finally, for the smaller, but no less luxurious gift needed on your list, we next have the Sweet Surprise set ($17). This Lychee Flower scented duo contains a body lotion in a squeeze tube and a soapette housed in a collectible tin – and just look at that sweet panettone box this set arrives in!
This scent is described as sparkling, sweet lychee flower combined with ripe berries, soft powdery florals and the slightest hint of green forest woods. These items are rich with vitamin E, sweet almond, grape, sesame seed and sunflower seed oils. This is an absolutely adorable-looking set and I could see reusing that tin easily! What a great gift idea for a favorite teacher, hair stylist or anyone you want to gift a "little something".
Overall, MOR has outdone themselves with this collection of holiday goodies. Luxurious products in beautiful packaging at affordable prices – what's not to love? I know I was thrilled to receive my MOR package and bet anyone on your list would be too!
We heart this readers get a FREE Lip Macaron with purchase of $20.00 or more at MOR Cosmetics. Use code WEHEARTMOR at checkout. Lip Macaron flavor chosen at random. Valid through midnight December 31, 2011.
So, what do you think? Will you save room for one MOR gift on your list?
Disclosure: This review includes products that were provided by the manufacturer/PR firm for our consideration. For more info, or any questions, please see our disclosure policy.