This post may contain affiliate links, which means I may receive a small commission, at no cost to you, if you make a purchase.
10% of proceeds donated to City of Hope breast cancer research
photos: we heart this
There's a nip in the air, ghosts and goblins roam the street and the grocery aisles are packed with mini chocolate treats. With the month of October, the fall is truly here and that means one thing; my normal to oily skin is about to become normal to dry (and possibly just plain old dry).
October also happens to be a significant month for many women as Breast Cancer Awareness Month continues to grow in scope and size. Long time wht fave, Murad is joining the fight against breast cancer – while helping you to fight dry skin. This month Murad is offering a great deal and a good deed all in one with a limited edition set of their super hydrating Hydro-Dynamic Ultimate Moisture.
That's right, you can pick up two of these pink capped jars for a steal of deal ($85 for the $134 value) knowing that 10% will go towards the City of Hope for breast and women's cancers research, treatment and education. This research, treatment and education center, founded in 1913, has helped patients and their families manage and conquer challenging diseases, including breast cancer, through tireless research and compassionate care.
As if that wasn't reason enough to add this duo to your cart, the Hydro-Dynamic Ultimate Moisture is a real lifesaver for tired, dry, stressed skin. I've used this firming, plumping and so soothing cream since Dr. Murad himself recommended it for my sometimes dry/sometimes oily skin during a trip to his Inclusive Health Spa.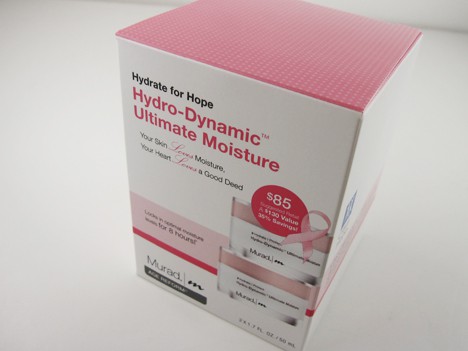 The super concentrated cream is the most hydrating moisturizer Murad has ever offered, yet still great for all skin types. The lush cream feels so rich that at first I assumed it would be too heavy for my skin. But Dr. Murad knows best and as soon as I rub it in on, the cream absorbs into my skin – leaving my face feeling dewy, but never oily.
Since I discovered this gem, I turn to it every fall when my skin begins to feel tight and dry. It instantly calms my skin, pumps it full of moisture and best of all – lasts and lasts. After just a few days of use, my skin feels soft and normal again – so I never get to the dull, parched phase in my normal yearly routine. Hooray.
Whether you are a seasonal dry skin sufferer like me or your face is always parched, I highly recommended the Hydro-Dynamic Ultimate Moisture. And now is the time to buy – get two jars (one for you and one for a friend – or keep them both, it's a long winter) at a great price while supporting women in the fight against breast cancer.
Click here for more information on City of Hope and to purchase the Limited Edition Hydro-Dynamic Ultimate Moisture Duo.
Disclosure: This review includes products that were provided by the manufacturer/PR firm for our consideration. For more info, or any questions, please see our disclosure policy.