This post may contain affiliate links, which means I may receive a small commission, at no cost to you, if you make a purchase.
Work away fine lines and wrinkles with this at-home treatment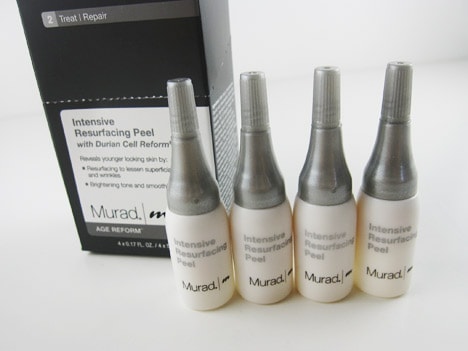 photos: we heart this
I always thought the word 'resurfacing' in terms of cosmetics is a bit strange as it always made me think of a road being resurfaced. But when you see how much work goes into resurfacing a road, and think about how much of a difference it makes; a bumpy, rough road full of potholes, magically transforms into a smooth, sleek new road! Much like the skin resurfacing abilities of the Murad Intensive Resurfacing Peel from Murad's Age Reform line.
As I get older, I rely more on peels to give my skin the glow that my own skin once provided. I love an at home peel for its convenience, ease and results! I have been a fan of Murad for some time due, in part, to my acne prone skin. Peels like the Intensive Resurfacing are ideal for me because they use ingredients such as salicylic and glycolic acids target fine lines AND acne.
The Intensive Resurfacing Peel ($45) claims to have the "brightening and smoothing benefits like a chemical peel". Using powerful yet gentle acids such as, glycolic and salicylic acids to stimulate new cell production while gentle Bamboo Bead Extract microdermabrasion sweeps dead cells away making room for fresh, new skin.
Dr. Murad also includes some natural antioxidants like Super Fruit Durian, providing hydration and penetration of ingredients, Dried Plum Extract and a healthy dose of vitamin C.
I think I have somewhat sensitive skin, but this peel did not tingle or itch my skin at all. I left it on for more than the required 10 minutes, but still no sting. Once the clear peel was washed away, I was left with baby smooth skin. The texture felt great and the glow factor was there, but it was not as noticeable as the amazing texture. Murad gets a few bonus points as I felt as though the peel also helped with my breakouts due to the acne fighting acid duo.
One note: The peel is different from others I have tried due to the method of delivery. The packet consists of 4 opaque plastic vials. They are single treatment packets, so I squirted out the contents of one vial into my hand and massaged it onto my cleansed skin. I thought I had way too much product on my skin and realized there could have been 2 or 3 doses in one vial. The opaqueness of the vials does not let one see how much product is left, and the product can be difficult to get completely out. (I am one to cut a tube in order to get the last drop of product). I will store these upside down so I get every iota of peel the next time!)
Packaging aside, overall I think this is a great at-home peel, especially for those with skin texture issues – and you know it can be trusted due to the Murad name.
Pros:
• Murad is a trusted name in skincare
• Peel is effective and gentle for sensitive skin
• Glycolic and Salicylic acids help fight breakouts as well as aging
• I saw a big improvement in skin texture
Cons:
• The vials are not resealable if you have leftover product
• Hard to determining how much product is left
• Can be pricey for some
we heartsters – have you resurfaced your skin with the help of Murad's Intensive Resurfacing Peel?
Stephanie was born in France and travels there every year to visit her mom and relatives. She now lives Stateside with her fiancee, Bubba and their two kitties, Winston and Shirley. Makeup is her passion (she worked as a makeup artist for Laura Mercier), she also loves to cook, do artsy stuff and garden.
Disclosure: This review includes products that were provided by the manufacturer/PR firm for our consideration. It also contains an affiliate link, a link that gives us a small commission if you purchase the item. For more info, or any questions, please see our disclosure policy.
Latest posts by glamazon56
(see all)