This post may contain affiliate links, which means I may receive a small commission, at no cost to you, if you make a purchase.
A few months ago I was lucky enough to attend Cosmoprof North America, a trade-only show that's legendary around the blogger community. I mean, 1,000 beauty brands from here and abroad all in one convention center? That's the kind of thing that gets us buzzing.
I saw A LOT of products during my three-day trip to Vegas. More than you can even imagine and more than I can even describe! I also took a lot of samples home and have been dutifully testing away. Without further ado, these are the five products that were my absolute favorite, by brands that were all new to me. And it's my honor to share them with you.
tu'el Deep Pore Cleansing System
This product was an absolute revelation for me. When I met with Lori and Lisa, the sisters behind tu'el and heirs of a skincare legacy, I knew instantly that I loved the line. You know when a brand just speaks to you? Yeah, that. I loved the aesthetic, that the products are made in California, and quite frankly, I just loved the sisters; two tattooed, redheaded pistols.
But when they introduced me to one of their hero products, the tu'el Deep Pore Cleansing System, which consists of a Cleansing Oil and Herbal Toner, I had to instantly say "Oh, I have oily skin, my skin really doesn't like oils."
Oh, how the sisters laughed!
See, they knew something that I never figured out: oil attracts oil. So their totally-good-for-your-skin oil blends bind with your yuck-get-this-off-my-face oil, and then gets emulsified by their gel-like Herbal Toner and washed away.
Mind, blown.
I can not say enough good things about the Deep Pore Cleansing System. It leaves my skin feeling extremely clean, but not stripped, super soft and just good. Like, stroke your face kind-of good. And, it's totally affordable! $44 for two 2.5oz products (the Mature Skin Duo is slightly higher priced.)
Determine your skin type (FYI, it's all about your pores) and give it a try. Especially my fellow oily skin folks. I have a feeling you're in for a true treat.
Marin Bee Detox Masque
Another California company I fell for was Marin Bee, a honey-based skincare line developed through love and necessity. Backyard beekeepers Debra and Bill knew the important role that bees play in agriculture and work hard to let everyone else know too. Their nonprofit Planet Bee Foundation is not only dedicated to teaching children the critical role of bees, but nurturing our next generation of do-gooders.
But it was because of their own children that Marin Bee was born. When Debra's kids had skin issues, she decided to forgo harsh prescriptions and develop soothing homemade honey remedies. And they worked! Really, really well.
The small line consists of just five products, but if they work as well as the Marin Bee Detox Masque ($48), I want to try each of them. This calming masque feels like creamy honey (the second ingredient) and adds clay, pumpkin and oatmeal to draw toxins from skin and remove excess oil. Plus, it reduces redness, which my rosacea-prone skin loves .
I love that this masque doesn't dry on the skin. And I LOVE how soothing it is. It's like a hug from a bee!
One Little Parrot Plumeria + Yucca Leave In Conditioner
One of the best thing about Cosmoprof is being introduced to indie brands that you might not otherwise get the chance to know. Such was the case with One Little Parrot. During a cocktail party, I saw a woman with the most luxurious head of hair from across the room. It turned out to be DeQunda Smith, founder of the line. She showed me her haircare products, but I'll be honest, that evening it was her story that grabbed me more.
DeQunda is a champion for the mental health community; distributing basic hygiene care packages to those in need, educating school groups on bullying and suicide prevention and teaching the importance of treating those affected with mental disorders with love and respect.
Her haircare is just as lovely as she is! One Little Parrot Plumeria + Yucca Leave In Conditioner ($15) is a lightweight detangler loaded with a blend of oils that my hair adores.
The Sage Lifestyle Garnet Perfume Oil
I'm actually kind of embarrassed that I just found out about Sage Machado and her beyond fab line The Sage Lifestyle. I feel like my membership in the Boho California girl club was at risk of being revoked. But just in the knick of time, I meet Sage, I flip for her line and all is good again.
Jewelry designer, perfumer and artist, her pieces all make sense together and weave a rich tapestry. Herbs and florals fill her gemstone-inspired candles and perfumes, all wrapped in gorgeous Japanese paper.
It would be easy to say I was drawn to The Sage Lifestyle Garnet Perfume Oil ($45, 1/8 oz) because it's my birthstone. But the blend; a watermelon top note, followed by the middle of gardenia and Moroccan red rose, and the bottom notes of amber, vanilla and musk; are just so up my alley. But are they up my alley because Garnet is my birthstone and Sage is just being…well, a sage?
What I do know? I need to make one of her Turquoise and gold rings mine very soon!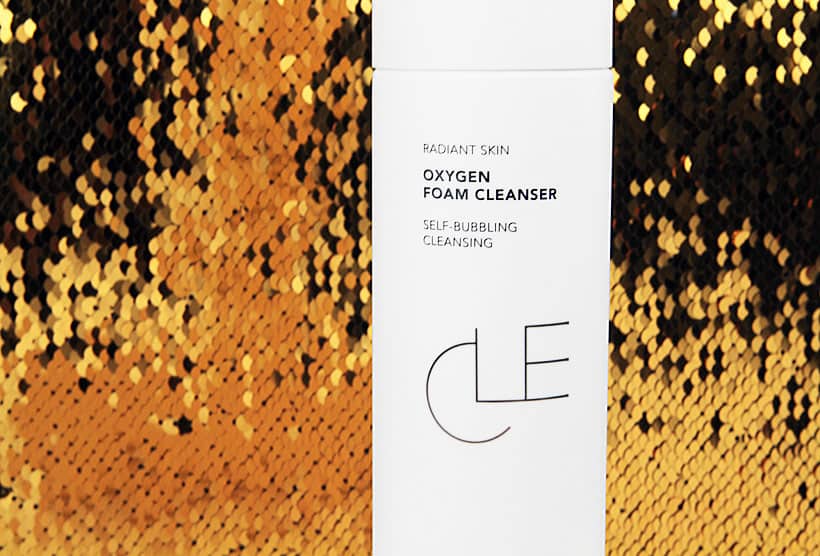 Cle Cosmetics Oxygen Foam Cleanser
On the other end of the spectrum with it's stark, less is more aesthetic is Cle Cosmetics. Korean influenced, but California based, they offer what K-Beauty fans love; products that put skin in the forefront in an almost sensual way. Tell me words like melting, cushion and essence don't make you a little excited to do your face!
Cle Cosmetics Oxygen Foam Cleanser ($28, 4 oz) is one satisfying cleanser. A mask, makeup remover and cleanser in one, after you massage the silky liquid into your skin wait 30 seconds and watch the magic as it majestically foams. Lovers of bubbles, this one's for you.
I can't wait to get my hands on their Essence Moonlighter Cushion in Copper Rose, a light as air highlighter with illumination pearl pigment. I swatched it at Cosmoprof and almost needed a cigarette afterwards. And I don't smoke!
I already can't wait to see what treasures I'll find at Cosmoprof 2018! Until then, you can't go wrong with any of the products, or brands.