This post may contain affiliate links, which means I may receive a small commission, at no cost to you, if you make a purchase.
photos: we heart this
Have you tired of hearing about our NYC adventures? There's a reason it's been labeled "the city that never sleeps" and when you're visiting, it's easy to be caught up in the excitement and just go, go, go. While Stef and I had a schedule that kept us busy from early morning to late at night, we made sure to squeeze in a visit – our very first! – to the famous New York beauty institution Ricky's.
On a very wet and windy Friday morning, Stef and I gladly braved the storm to see this mecca of beauty in person. We were greeted with a sunny smile from the adorable Kirsten who gave us a guided tour of the huge store and all things Ricky.
Faced with aisle after aisle of make up, tools, hair care, bath and body products, candles and more, Stef and I were like kids in a candy store ~ and quickly filled up a basket of "things we needed."
Behold – my haul:
Squee!
After two decades in the New York area, Ricky's is a must stop shop for every beauty junkie to stock up on cosmetics and hair and beauty supplies. Packed with options for every style and budget, Ricky's colorful and organized riot of products brings the fun back to beauty shopping.
A few of my picks: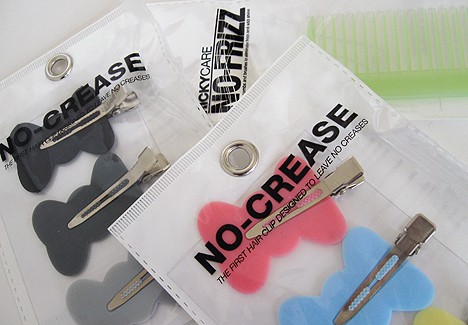 At the top of my list was a product that (on the day of my makeover) the entire John Frieda styling team could not stop raving about, the Rickycare No-Crease Bow Clips.
These brilliant little clips ($5.99 for a pack of 3) keep hair in place without creasing! Use them to sweep back bangs while applying make up, or to hold sections in place while blow drying or flat ironing hair – without getting bumps or lumps. Of course they are so cute and colorful (and available in a variety of styles) you could wear the clip all day too.
The entire Ricky's store is a wonderland for a beauty addict like me, and I was especially drawn to the RickyCare line and the abundance of quality tools. Ricky's has a way of re-inventing and tweaking the classics, making them even better.
I was seriously in need of a good pair of scissors for trimming bangs and quickly grabbed the black handled pair seen above. I love the retro look, comfortable grip and super sharp shears. This pair should last me a long time.
Above the scissors, you can see the most amazing comb ever. Remember when I mentioned tweaking and upgrading classic tools? This bright lime gem is the No-Frizz Large Dressing Comb ($6.99) – it has olive oil baked into the plastic of the comb and helps to speed drying time, smooth static and eliminate frizz and fly-ways! So far this comb has been a blessing as the dry winter air kicks in…
Another addictive line, exclusive to Ricky's, is their own cosmetics collection Mattese Elite. I picked up a must have for precise eye liner application, the Taklon Bent Liner Brush. The angle of this nifty brush ($6) makes every type of liner – gels, creams, anything in a pot – so much easier. I can't believe this was my first bent angle brush – so very recommended!
Of course, I had to make a few make up selections. The affordability of all the Mattese Elite products, coupled with the on trend, ever updated shades makes it hard to resist! I snagged a Lip Gel Tube in Quickie which is so aptly named, as I use this sheer nude gloss ($10) on the go when I need a bit of moisture and shine. The sweet vanilla scent is a nice bonus.
I also had to pick up a bottle of nail polish; no trip to a beauty store is complete without one. Choosing just one hue was hard, but I finally went with a pale opal pink from Mattese Elite's latest, the Zombie Collection. Entitled Undead Pink ($5.99), the creamy pink, almost nude polish reads more lady-like than monster and it's great for an everyday, minimal chip manicure.
After four days of nonstop NYC fun, I was tired from the tips of my toes to the top of my head. This pretty blue Eye Gel Mask soothed my puffy eyes and relaxed my mind (being forced to close my eyes helped) at the end of my trip. This comfortable, adjustable mask ($6.99) stays in place and can be used heated or cooled to sooth sinuses, head colds and headaches, as well as tired eyes.
If you're a beauty buff and making the trip to New York City, I suggest a visit to Ricky's for a few hours of affordable shopping fun. If you don't see NYC in your future, good news – Ricky's is going national. Look for Ricky's to arrive in Florida, Texas and California in the next year – and many more locations to come. I'm already drawing up a list for my first visit!
we heartsters – have you spent hours (and hours) shopping the goods at Ricky's NYC? Meet me in the comments to talk all things Ricky!
Disclosure: This review includes products that were provided by the manufacturer/PR firm for our consideration. For more info, or any questions, please see our disclosure policy.