Nail Art 101, It's So Easy!
This post may contain affiliate links, which means I may receive a small commission, at no cost to you, if you make a purchase.
It's So Easy Stripe Rite, Glitter Powder and Cracked Ice review
photos: we heart this
I must apologize to anyone who has been trying to get a hold of me the past couple of months. You see, a box of It's So Easy nail art products landed on my doorstep, and well, I've been a little preoccupied. With the neon tribal look shown above….
A gold glitter French manicure…
Diagonal Dots…
And the glitter…
Oh…the GLITTER!
To say I've spent a bit of time on my nails lately would be putting it mildly. I'm spending every free moment (and I don't have many) dreaming about combos. The good part? I'm able to make them all come to life with products from It's So Easy. And true to name, they are indeed rather easy!
To achieve the neon tribal, gold French and diagonal dots manicure I used Stripe Rite ($3.99), which is available in close to 100 shades and textures (paints, glitters and metallics). That's right 100 variations!
Yellow, Hot Green, Black, Hot Orange, Hot Pink, White, Hot Purple
A bevy of glitters and metallics
The long and skinny brush allows for precise application. The $3.99 price tag allows for lots and lots of experimenting!
Here are the Stripe Rites I used with the looks above:
• Neon tribal is OCC's Wasabi base with Yellow, White and Hot Orange
• Gold French Sally Hansen Orange you Cute? base with Gold Holographic glitter
• Diagonal Dots is Organic Glam Aqua base with Hot Purple, White and Yellow
I also used the dotting side of the Double Up Detailing/Dotting Nail Brush ($5.49). This little unassuming tool makes polka dots so easy. If you at all enjoy nail art, this will be the best 5 bucks you've ever spent!
And then there's the glitter…
Silver Holographic Cracked Ice
Gold Holographic Cracked Ice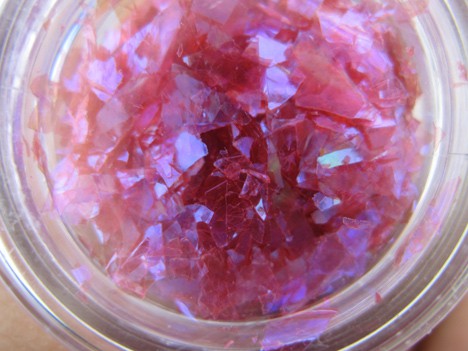 Fuchsia Green Cracked Ice
Mother of Pearl Cracked Ice
Gold Holographic and White Glitter Powder
I've got a lot of to learn with the loose powders. Luckily it's fun to practice! With the Glitter Powder, I apply a top coat and dip my metal file tip into the powder and lightly flicking it on while it's still wet (make sure you're doing it over paper, it's a sparkly mess.)
The Cracked Ice is more difficult to apply. Shaking it on can lead to the shards standing straight up, and wow, are they sharp! Dipping your whole wet nail in the tub leads to the Liberace nail shown above. Polishistas – I'd love to know the best way to work with these, so if you have any suggestions, do tell.
we heartsters, are you feeling any nail inspiration? And if you have any tips for this budding nail artist – let me hear them!
It's So Easy products can be found at Sally Hansen Beauty (in store and online).
Disclosure: This review includes products that were provided by the manufacturer/PR firm for our consideration. For more info, or any questions, please see our disclosure policy.