This post may contain affiliate links, which means I may receive a small commission, at no cost to you, if you make a purchase.
I am dreaming of fall. You'd think that the reason is the 100⁰ summer temperature of my California desert home. You'd think that…but you'd be wrong. The reason I can't seem to get fall off my mind is solely due to the NARS fall 2015 collection. It's the first fall launch to cross my vanity this year, and I have to say, they have set the fall bar VERY high.
Lush unique colors + creamy pigmented formulas = a rich, sophisticated collection that I've absolutely flipped for.
Here's what NARS says about the launch:
The Fall 2015 Color Collection, created by NARS Founder and Creative Director François Nars, stars a lush and lavish mix of shades for eyes, lips, and cheeks. The look begins with natural sculpting of the face. Eyes dramatize in smoky shimmering brown and golden ombré. Lips captivate in tones of iconic red. Making its official launch is the Velvet Shadow Stick, a silky, velvety shadow in a range of sumptuous shades for layering under and over, blending and setting, creating looks that are modern, sophisticated and always tempting.
Here are the items I got a closer look at….
Velvet Shadow Sticks ($28) are a twist-up cream shadow that you can use as a base or an overlay, or just by its beautiful self. They blend well, and once they're set, they're set – I got six hours before they showed signs of creasing on my oily lids. You have a few minutes before they're fully set too, so you can layer and blend (relatively) stress-free.
The shades released for fall 2015 are:
Aigle Noir – Black infused with gold shimmer
Glenan – Navy
Goddess – Pink champagne
Sukhothai – Shimmering peacock
Filbuste – Black
Reykjavik – Grey
Hollywoodland – Pale gold
Oaxaca – Quartz
Hollywoodland and Oaxaca Velvet Shadow Sticks
I got to check out Hollywoodland, a light buttery gold and Oaxaca, which is pretty much the baby bear of taupe; neither too grey or too plum. Both are packed with shimmer and work well with a countless combos of colors.
Pasiphae and Telesto Dual-Intensity Eyeshadow
This was my first time using Dual-Intensity Eyeshadow ($29). I love Dual-Intensity Blush, so I had high hopes. Hopes that were met, and then some! Like the blush, Dual-Intensity Eyeshadow can be applied dry for a more sheer finish, or wet for a more intense, pigmented finish. I have to say, I was so pleased with these dry I haven't even tried them wet yet…
There were two shades released for fall 2015:
Telesto – Brown with gold shimmer
Pasiphae – Shimmering peacock burgundy
And I HAD to check both of them out. I mean really, will you look at those colors?! Both shades are named after Greek goddesses.
Check out that duochrome effect in the mirror!
Pasiphae, the daughter of the sun-god Helios, possessed the powers of witchcraft. Just like this eye shadow – what else but sorcery could get this shadow so beautiful? The shade reads as a duochrome, with a dirty plum base with an emerald shimmer overlay. I am not exaggerating when I say it is everything. Seriously, I want a nail polish in this shade, I want to paint my car with it, I need a pair of boots that match it. Officially obsessed.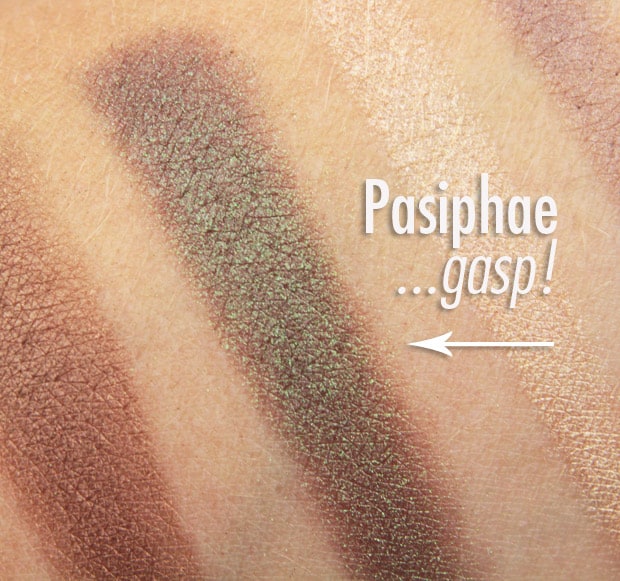 Telesto is no slouch either. She was a sea goddess who has a moon of Saturn named after her. The shade is a golden, bronzy brown shimmer.
Finally, there's Tribulation Blush ($30) described as shimmery rosy sand. Tribulation, by definition, can be a cause of great trouble or suffering, but I'm feeling just fine with this blush. Except for one tiny thing…it's not really a blush. This is a highlighter if I ever seen one. BUT, perhaps the loveliest highlighter ever! It produces a subtle kiss of shimmery color that I've been reaching for daily.
Tribulation Blush, Telesto and Pasiphae Dual-Intensity Shadow, Hollywoodland and Oaxaca Velvet Shadow Sticks
we heartsters – what says you? Does the NARS fall 2015 collection have you dreaming too?
Stef is many things. Amongst them: co-editor of we heart this, photographer, condiment connoisseur, Philly girl in the California desert, borderline hoarder and a hardcore beauty junkie.
skin tone: NC 25/30
skin type: oily with a fear of rosacea
favorite beauty product: high end skincare and lip products