This post may contain affiliate links, which means I may receive a small commission, at no cost to you, if you make a purchase.
NARS Smokey Eye Kit Swatches and Review
Many people cite the cat eye as the trickiest eye makeup maneuver. But I'm going to go ahead and give that moniker to the smokey eye. Is it smokey enough? Too smokey? Wait, does this look like I slept in it?! Those are just some of the things I've wondered during my attempts for the perfect smokey eye.
But (as with most things) if you have the right tools it's A LOT easier. Dear readers, I present to you the right tools: NARS Smokey Eye Kit ($59) The limited edition kit, part of their NARSissist line, pairs three NARS eyeshadows, black eyeliner and a brush. The only thing to make it any easier would be for François to come to your house and apply it for you!
The shadows are…
Madrague 1 – light cream-nude (matte)
Bali – medium brown-based cooler taupe (matte)
Mekong – practically black brown with bronze micro glitter (shimmer)
Mekong makes me dizzy with love!
All three shades are buttery soft, finely milled and provide fabulous color payoff. And I do mean fabulous. Mekong and Bali can be bought singly, and Madrague is sold in a duo where it's paired with a caramel brown. So with the kit, you're getting 3 shadows for just a bit more than the prize of 2 singles (which are $25 each). For that extra $9 you're not only getting a 3rd shadow, you're getting…
Wide Contour Eyeshadow Travel Brush #43 – flat angled brush with a pointed tip
The #43 brush is great for applying a wide sweep of color, perfect for the Madrague 1 base shade. Personally, I prefer getting a bit more fine-tuned when it comes to blending so I use a smaller, denser brush too.
Via Veneto Mini Larger Than Life eyeliner – a creamy, rich inky black
For those unfamiliar with Larger Than Life liner, it's a goodie. It's blendable when first applied, then once it's set, it's set to stay. This exact kind of liner is as important, if not more so, than shadows when it comes to a smokey eye.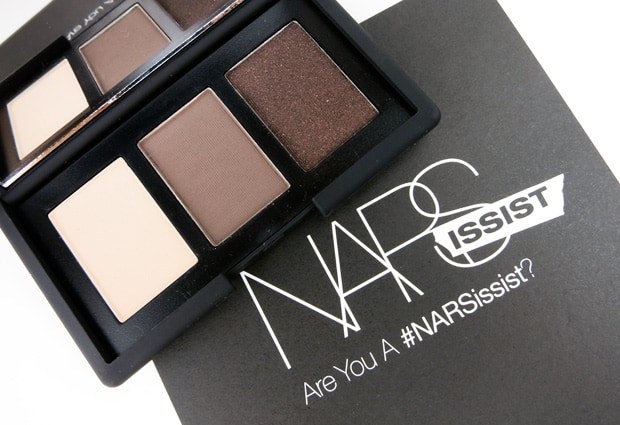 With the NARS Smokey Eye Kit you'll be well on your way to the perfect smokey eye. François can sit this one out, you got this.
we heartsters – are you a smokey eye novice, master or somewhere in between?
Stef is many things. Amongst them: co-editor of we heart this, photographer, condiment connoisseur, Philly girl in the California desert, borderline hoarder and a hardcore beauty junkie.
skin tone: NC 25/30
skin type: oily with a fear of rosacea
favorite beauty product: high-end skincare and lip products