NARS Steven Klein review and swatches
This post may contain affiliate links, which means I may receive a small commission, at no cost to you, if you make a purchase.
A fabulously un-holiday holiday launch
The NARS Steven Klein Holiday collection is not what you'd typically imagine for a holiday launch. There's not a snowflake or red nail polish to be seen. But, that's what makes it so utterly fabulous. It's kind of dark, very unexpected and sexy as hell.
The 23 products (a 13-piece single color collection and 10-piece gifting collection) is collaboration of cutting edge; Klein's gorgeous goth-tinged photography meets François Nars' innovative use of color. And we got a look at six items that grabbed our eye.
Killer Shine lipstick in Besame Mucho and No Shame
This collection sees the launch of two new limited edition formulas. First up is Killer Shine lipstick ($29), billed as having "daring color and dramatic luster." I definitely noticed a glossy finish and creamier than usual consistency. The two shades I tried also felt rather hydrating too, without compromising wear time too much. Killer, indeed!
NARS Besame Mucho is a light to medium warm caramel with a semi sheer finish. Sounds yummy, right? It is. I think it would be especially fabulous on a fair or dark skintone, as it gets a bit lost on me and my medium neutral skin. But it's a great "go-with-everything" for anyone.
NARS No Shame is a bright berry plum.
I do love a new lipgloss formula! NARS delivers with Killer Shine lipgloss ($28). Just as the name would suggest, these have a vinyl-like, super pigmented and super shiny finish. But can I be honest with you? I don't love NARS' tiny brush applicators. Give me a doe-foot any day. Teensy brushes do not deter me from a great gloss though and I do love this formula. It's a true gloss lover's gloss (complete with a bit of tackiness for a longer wear time.)
NARS Fast Life is an uber-shimmery medium mauve.
NARS Provoke is a dark grape cream with bright purple micro glitter.
Killer Shine lipgloss in Fast Life and Provoke
Never Too Late and Stud
As beautiful as the lipsticks and lipglosses are though, I am totally here for the eye shadows ($25) in this collection. Ok, specifically – I'm here for the taupe. Not just any taupe either. The sparkliest, most shimmering taupe ever!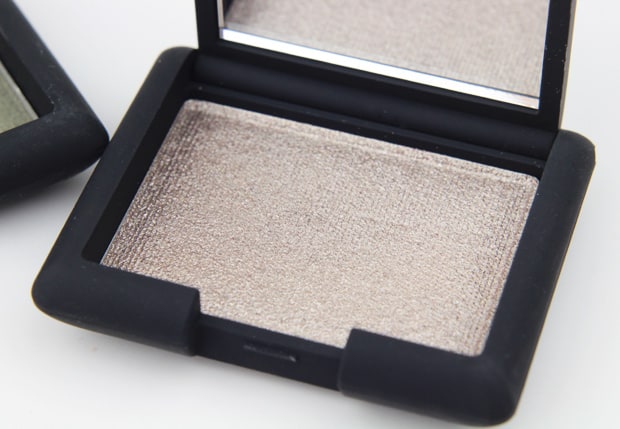 NARS Stud is brown-based taupe with a touch of bronze, pewter and silver all rolled in one. Taupe lovers, listen to me: you NEED this. I get Erika F. type feelings when I look at this. Yes, that good. (And if you know of which I speak, you are indeed a taupe lover.) The color is sumptuous; warm and shimmering. And it's the kind of shade that looks as good on its own as it does paired with other shades. You can even use it to transform other colors.
Taupe lovers, listen to me: you NEED this.
Take NARS Never Too Late, for instance. It's a pretty shade on its own, a medium olive green with an ever-so-slight dusting of gold shimmer. But the shimmer is very hard to see once applied and the shade is pretty stiff to apply and doesn't deliver a lot of pigment.
Stud, Never Too Late, Stud applied over Never Too Late
BUT, check it out with Stud applied on top! Instant depth.
lipgloss: Fast Life and Provoke, lipstick: Besame Mucho and No Shame, eye shadow: Stud, Never Too Late, Stud applied over Never Too Late
If you're looking for an unconventional holiday launch, look no further than NARS Steven Klein. And if you breath taupe…I lost you two paragraphs ago when you ran off to buy Stud.
we heartsters – what's your must have from this launch?
Stef is many things. Amongst them: editor and co-founder of we heart this, photographer, condiment connoisseur, Philly girl in the California desert, borderline hoarder and a hardcore beauty junkie.
skin tone: NC 25/30
skin type: oily with a fear of rosacea
favorite beauty product: high end skincare and lip products