This post may contain affiliate links, which means I may receive a small commission, at no cost to you, if you make a purchase.
The Beauty Scientists Have Done It Again!
There are skincare lines that lure us in with pretty packaging, and there are others that hook us with technology. And then there is the rare line that offers both. NeoCutis is packed full of so much scientific power, they almost could have skipped the gorgeous containers… but I'm glad they didn't.
The cool blue oval bottles with their futuristic silver lids look like something beamed from the future to save humanity – or at least my skin.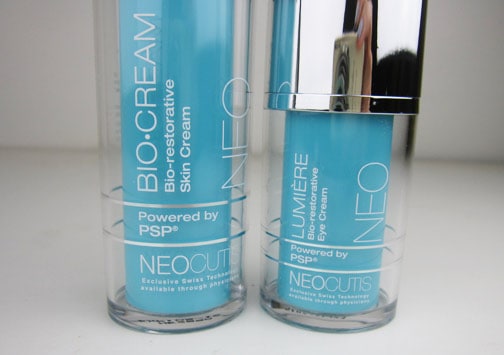 Just like the bottles, the stunning science behind NeoCutis seems not of this world. Medical researchers at the University Hospital of Lausanne, Switzerland, having noted that fetal skin could heal without scarring, extracted powerful proteins from a single donated biopsy of fetal skin.
The resulting cell bank was originally used for wound healing and burn treatments; eventually, this cell bank provided a supply of fibroblasts used to produce PSP (Processed Skin Cell Proteins), NeoCutis' proprietary skincare ingredient.
We received two of NeoCutis' Bio-restorative products featuring PSP, a patented ingredient the company describes as "the most complete combination of growth factors, cytokines and interleukins" designed to reduce signs of aging and enhance results of cosmetic procedures. While I have yet to undergo the latter, I'm a little obsessed with the former, and couldn't wait to dive in to testing.
First up, let's talk about the Bio-cream Bio-restorative Skin Cream with PSP ($98). Just a tiny pump of this rich, white cream was enough to completely cover my face and neck. Despite its rich formula, it sinks right in, plumping skin for immediate improvement.
NeoCutis says results should be seen within two months of daily use, but after just two weeks, my skin looks and feels smoother and younger. The crinkly smile lines around my eyes, for instance – they're softer and less noticeable.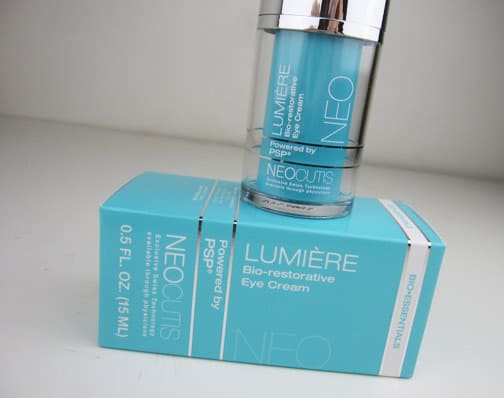 Next let's delve into the Lumiere Bio-restorative Eye Cream with PSP ($85). This light cream contains PSP and hyaluronic acid to help rejuvenate the delicate skin around the eye, and – most exciting to me – caffeine, which has an instant effect on puffiness.
The eye cream also diminishes the appearance of under eye darkness. While the advertised anti-aging benefits will take time, I can actually see my puffiness diminish after I dab this cream on, and believe me, I would pay for that any day!
Pros:
• PSP revitalizes aging skin and may help enhance the skin's natural healing abilities
• Free of fragrance and color additives
• Non-comedogenic; dermatologist and ophthalmologist tested
• Beautiful, ice blue packaging
• Products are concentrated, so only a tiny amount is necessary per application
Cons:
• Expensive (but based on the anti-puffiness effect and smoothness of my skin, well worth the splurge)
• "Extracted powerful proteins from a single donated biopsy of fetal skin" – Sorry, that ooks me out a little bit ~Stef
we heartsters – Have you discovered the science – and cool blue packaging – of NeoCurtis?
photos: we heart this
Latest posts by turboterp
(see all)