This post may contain affiliate links, which means I may receive a small commission, at no cost to you, if you make a purchase.
Love Burts Bees? Then you've got to check out this Burt's Bees Tinted Lip Balm Review.
I was running an errand at my local drugstore, determined not to even enter the beauty section, when I saw a display tucked close to the registers…could it be?
My heart pounded as I inched closer – yes, it was!
A full on display of the brand new Burt's Bees Tinted Lip Balms!
Ever since our drugstore diva, Gianna at Nouveau Cheap first spied these new balms I've been fruitlessly searching for them.
My absolutely, most favorite lip balm ever is the classic Burt's Bees Beeswax Lip Balm – it's super smooth, minty fresh, a great prep coat for any lip product and has kept my lips flake-free for years.
So I was beside myself to get my hands on a few of these new sheer tinted balms from my trusted Burt.
And I'm not the only one!
The Tinted Lip Balms ($7) were nationally launched in February and are still rolling out onto your local shelves…and being snatched up just as quickly!
The latest balms from Burt's Bees offer "a hint of color" is six, super sheer, super smooth shades.
Burts Bees Tinted Lip Balm Shades
Hibiscus – a sheer warm pink (with coral hints)
Honeysuckle – a sheer peachy nude
Tiger Lily – a sheer peachy orange
Pink Blossom – a sheer true pink
Red Dahlia – a sheer burgundy red
Rose – a sheer rosy red
Happily, the display I stumbled over still had four lip balms left (it's Hollywood, you've got to be fast!) – and in three different shades. I grabbed all three without hesitation, barely reading the names and hightailed it to the checkout.
Burt's Bees Tinted Lip Balm Swatches
(Burt's Bees Tinted Lip Balms: Pink Blossom, Red Dahlia, Rose)
As you can see from the Burt's Bees Tinted Lip Balm swatches, these tinted balms give a sheer touch of color and shine to lips without a speck of shimmer.
Burt's Bees Tinted Lip Balm Review
The shades are true to the packaging, so there's no guessing when picking out your favorite shade. And since the color is so very sheer, these shades (even the reds) are flattering for any skin tone.
In fact, ladies with darker skin may find the light shades more of a clear balm than a tinted balm, and should check out the darker hues.
These balms provide a "natural but better" color to lips in an incredibly creamy formula that just glides onto lips.
I really love the way this leaves my lips feeling smooth and hydrated for hours. And since it's Burt's Bees, the creamy formula comes from natural ingredients including coconut oil, shea butter and beeswax.
One word of warning: if you are expecting that Burt's Bees rush of tingly, minty goodness, you won't find it in the tinted balms. Instead, the balms have a subtle fruity scent.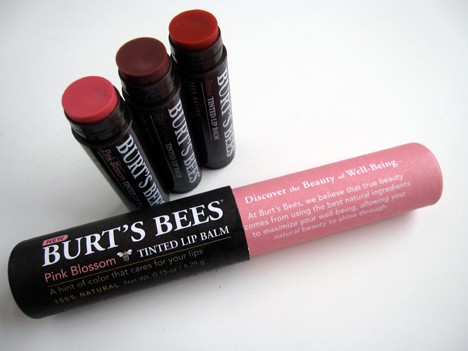 Burt's Bees Tinted Lip Balm Pros & Cons
Pros:
• Super sheer hues are great for on-the-go color (no mirror needed!)
• A soothing, creamy formula you'll look forward to applying
• Provides long lasting hydration to protect against chapped lips
• Subtle fruit scent and tingle free for those with sensitivities
Greens:
• All Burt's Bees products are free of parabens, phtalates, sodium lauryl sulfates (SLS) and petrochemicals
• The Tinted Lip Balms are made with 100% natural ingredients, like coconut oil and shea butter
• All Burt's Bees products and ingredients are never tested on animals
• Burt's Bees is a member of the Sustainable Packaging Coalition and use the highest approved levels of Post Consumer Recycled (PCR) and recyclable materials.
Cons:
• Cheers for going shrink wrap free – but the chubby brown cardboard tube, with an inner pink cardboard tube is a lot of packaging.
• These tinted lip balms do not have sunscreen
All in all, I love the latest from Burt!
If you are a fellow lip balm addict, here's a great way to add a subtle touch of color with long lasting moisture and chapped lip protection all rolled into one – five stars!
Do you have a Burt's Bees Tinted Lip Balm review to share?
Let us know in the comments below!
Disclosure: This post contains an affiliate link, a link that gives us a small commission if you purchase the item. For more info, or any questions, please see our disclosure policy.