This post may contain affiliate links, which means I may receive a small commission, at no cost to you, if you make a purchase.
Window shopping for Dad with the owner of the NYC landmark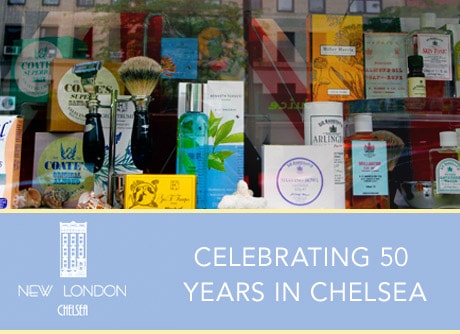 Father's Day is right around the corner and with so many beauty obsessed readers, we have a feeling the apple may not have fallen far from the tree. For those of us with Dad's that are manly enough to feel secure in appreciating the finer things in life – bath and beauty products to be precise – we asked the experts at New London Pharmacy to share their top picks for Dad.
New London Pharmacy, a beauty mecca for denizens in NYC has been operating out of their quaint Chelsea locale since 1960. Happily for us non locals, their online boutique offers everyone the chance to shop their carefully curated aisles.
Beauty lovers will find an abundance of brands from A (including the likes of Annick Goutal, Aubrey Organics and and Archipelago Botnicals) to Z (like manly line ZIRH skin care). Plus in between all of those known and loved brands are hidden a number of up and coming gems, as well as coveted and hard to find European brands.
The lovingly operated shop is owned by the husband-and-wife team of John and Abby Fazio, a couple of knowledgeable beauty lovers and licensed pharmacists. Together with their multi-lingual staff, including a full-time nutritionist, they are available to help you make the best shopping decisions. For online shoppers, help is just a toll-free phone call (1 800 941-0490) or email away!
For our Father's Day gift guide we turned to owner Abby Fazio for four picks that any Dad will love:
1. Kyoku for Men Daily Facial Cleanser ($29) This energizing, regenerating and soothing wash is inspired by classic Japanese herbal skin remedies. Ginseng and peppermint leaf revive the skin and soul, while camellia seed extract and sunflower oil adds moisture and soothes rough, chapped areas. According to Abby this gentle yet effective cleanser is guaranteed to "take off the day's dirt and grime".
2. D.S. & Durga Burning Barbershop Cologne ($96) This company was founded in the Brooklyn home of another husband and wife team, who turned their hobby of crafting artisinal perfumes into a successful business. Abby says their most loved blend is a "manly, modern musk" that smells just like it's name; a smoky mix of shaving tonic, spearmint, lime and vanilla.
3. Blind Barber Wild Watermint Gin Shavecream ($24) Treat Dad with this luxury shaving cream that Abby describes as "mmm, mmm good!" Blind Barber's cream forms a protective lather that "acts as a cushion between razor blade and skin" helping to preventing razor burn and irritation and leaving a delicious minty scent in its wake.
4. Molton Brown Re-charge Black Pepper Bodywash ($30) Abby went with one of wht's most beloved brands, Molton Brown for her final pick. This luxurious bath and body company makes goods that work and smell like no other. This unique body wash is "virile and refreshing" and infused with Madagascan black peppercorn oil to recharge the body while it cleans and softens skin.
Did one of Abby's picks spike your interest? Enter our New London Pharmacy giveaway and a chance to win a $100 Gift Card (it begins at 8am pst on 6/5/12) – then stroll the online aisles of this bath and beauty boutique for a gift for Dad..and maybe a little something for yourself!
we heartsters – do you have a man in your life that is a bath and beauty lover too? Share his favorites in the comments.
Disclosure: This review includes products that were provided by the manufacturer/PR firm for our consideration. For more info, or any questions, please see our disclosure policy.