This post may contain affiliate links, which means I may receive a small commission, at no cost to you, if you make a purchase.
Get the latest from tarte, on sale July 13th only
photos: we heart this
What has your makeup done for you lately? A valid question. A question that drove Maureen Kelly to start tarte way back in 1999. They continue to ask it today, and it's the reason why they keep bringing us products with ingredients that are cutting edge yet natural, not a combo usually found in makeup! But this is tarte we're talking about…
And it's a question that they're asking again with their latest QVC kit
which will be on sale July 13th for ONE DAY ONLY for $49.98. It's a six piece kit filled with products that just may make you answer "quite a lot, actually."
Smitten LipSurgence
Ah LipSurgence, always a good choice! If you don't already know its super minty scent and gloss/lipstick hybrid formula that gives shiny/creamy coverage; it's time you get to know it. They made a change to the packaging. Rather than the previous twist up, it now has a built-in sharpener in the cap. I'm not sure what I prefer; a sharper tip is nice, a smaller pencil not so much. What I do know is that Smitten is a raspberry pink creme that will look good on everyone.
modernEYES creaseless shadow/liner in plumberry (shadow side)
modernEYES creaseless shadow liner duo is a product that's easy like Sunday morning. A bronzey plum cream shadow side, plumberry, paired with a blackened plum liner, called plum brown. The shadow applies smoothly with no tugging, and blends best with the warmth from your fingers. Once you line your eyes with plum brown, you get this sultry yet simple smoky look that's fabulous.
modernEYES creaseless shadow/liner in plum brown (liner side)
I found this wore well most of the day (in its defense, it is 115 in the desert right now!) I'd say I got a solid 6 hours before I noticed light creasing.

swatch: shadow, liner, Smitten LipSurgence
I'll be honest, I know a lot of people love Lights, Camera, Lashes; but it's never been one of my favorites. Gifted Amazonian Clay Mascara on the other hand, in it's beautiful bamboo package, is right up my mascara alley. It's a Baby Bear kind of formula; not too thick that it clumps, not too thin that you can't get substantial coverage. It's just right!
I wouldn't have thought that clay would be an ingredient that would work in a mascara. I think clay and I think drying. But then this isn't any ordinary clay. Amazonian clay is not dry at all. It's rich in plant and fruit extracts from traveling the 4,000 mile journey along the Amazon River. And as a matter of fact, the clay helps absorb excess oil to help keep your eye makeup in place. There's good reason this is one of tarte's star ingredients!
Tyna and I listened to founder Maureen Kelly talk passionately about Amazonian clay a year ago when it was being first introduced to their products. It's exciting to see more and more items released that have this wonder clay in it, as they're so proud of it. And I love using it!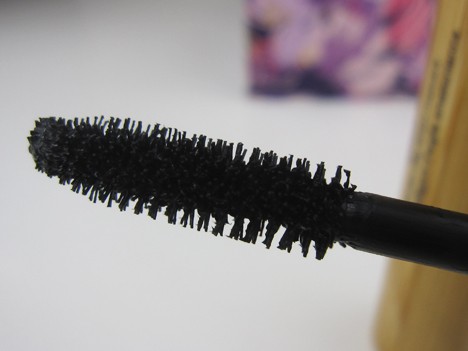 As for Gifted, my only wish is that it had a different style of brush. It's very traditional as you can see in the above photo and I'm more of a plastic bristle gal myself. But it's the only thing I'd change about a near flawless mascara.
The collection also contains two full size face products (and a bonus sneak peek item) that have tarte's other star ingredient – marcuja oil, aka nature's "pure milagro" or pure miracle. And I do believe they will have normal to dry girls singing hallelujah.
marcuja 12 hour foundation in medium and tan
marcuja 12 hour foundation has a light, silky feeling but offers substantial coverage. The bonus is a SPF 15 sunscreen that doesn't have the typical sunscreen scent. I tested Medium and Tan. Medium just about worked on my NC25 skin (which is probably tanned to NC30 at the moment). Check out the full range of five shades over at Beauty Junkies Unite. As an oilier gal and a tinted moisturizer fiend, I found this formula to be a little too rich for me.
Remember the foundation brush from the 8th World Wonder kit that we flipped for? Meet it's kid sister. And shhh, I think I like the lil' doppelganger even better. Its smaller size makes it a bit easier to work into smaller spaces.
If you want a direct dose, there's the marjuca oil rollerball. It's an updated version of their eye dropper bottle. It makes it so easy to swipe wherever your skin needs a bit of extra moisture or TLC, and creates a smooth base for products.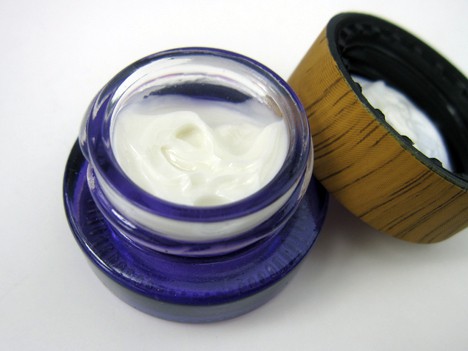 As for the sneak peek, there's a little jar of marcuja c-brightener eye treatment. This eye cream diffuses dark circles and brightens skin with maracuja, vitamin C, and something I can only describe as fairy dust…
Seriously, look how it sparkles! I can't wait to get to know it a bit better.
Finally, because this is tarte, do-gooders in every sense of the word, they're donating 10K of the proceeds of the kit to the Sustainable Amazon Partnership, which helps promote lasting sustainable management of the Brazilian Amazon Rainforest.
tartelettes, we know how you love their QVC sets. Let me tell you, you will love this one as well. Get it here.
we heartsters – what's your all time favorite tarte product?
Disclosure: This review includes products that were provided by the manufacturer/PR firm for our consideration. It also may contain an affiliate link, a link that gives us a small commission if you purchase the item. For more info, or any questions, please see our disclosure policy.