This post may contain affiliate links, which means I may receive a small commission, at no cost to you, if you make a purchase.
Jiggles; cute on jello, not so cute on you. That's why when the fine folks at Nivea asked if I wanted to be a part of the Dare to Bare challenge, I was all in. So what's the Dare to Bare challenge, you ask?
Nivea Skin Firming Hydration Body Lotion ($9.99 for 13.5 oz) is said to give you firmer, more toned skin within two weeks. All I needed to do was use it instead of my usual lotion, and once I did, buy something with a provided Shopbop gift card to show off the results. I love a good challenge, especially one that includes a new beauty product, shopping and posing!
Plus, if there's one thing I could use more of as a desert dweller; it's moisture. And who couldn't use extra firming?
That's me feeling rather firm above! Now, don't think you can use the Nivea Skin Firming Body Lotion instead of working out, but my skin really did feel more toned after my 2 weeks trial period, along with looking noticeably more moisturized.
It's got a light old school scent that my fussy nose had no problems with at all (and it dissipates quickly.) It also has a very light feel. So light that I honestly doubted it was going to provide any serious amount of moisture. But I was happy to be wrong!
The lotion absorbs quickly, doesn't leave a greasy feeling and instantly moisturizes. Best of all? You stay moisturized. There's nothing worse than applying lotion only to look dry again in an hour. This visibly affected my skin and the results lasted all day. Nivea calls this technology Hydra-IQ.
It's also formulated with Co-Enzyme Q10 Complex. Made by your body, Co-Enzyme Q10 acts not only as an antioxidant, but it produces energy for cell growth and maintenance. The older you get, the less you produce, which leads to a lesser ability to produce collagen and elastin. Making it an ideal ingredient for a firming body lotion, no?
I'm incredibly pleased with the results. My skin is soft and smooth, full of moisture despite my desert climate and yes, I feel firmer.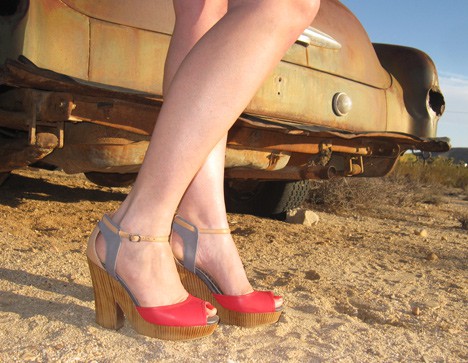 And to celebrate I bought shoes to show off my legs! I chose a pair of color-blocked Splendid wedges from Shopbop that I will wear with shorts and skirts all summer long.
Grab Nivea Skin Firming Hydration Body Lotion and see if it also gives you the confidence to bare, even without a dare!
Disclosure: This review includes products that were provided by the manufacturer/PR firm for our consideration. It also may contain an affiliate link, a link that gives us a small commission if you purchase the item. For more info, or any questions, please see our disclosure policy.