This post may contain affiliate links, which means I may receive a small commission, at no cost to you, if you make a purchase.
The reason:
We love a fabulous (and affordable) drugstore beauty line. Recently Stef and I got an up-close look at the huge range of products from Nuance Salma Hayek (which just celebrated one year on the market) and were so wowed by the quality and selection that the good people at CVS – where the line is sold exclusively – asked if we were interested in spreading the word and sharing the Nuance Salma Hayek love with a few of our beauty blogging friends.
As if we EVER need a reason to throw a party!?
The set up:
Sassafras Saloon
We held our Nuance Salma Hayek celebration at the Sassafras Salon in Hollywood, California – it's a moody and mysterious Savannah Townhouse inspired salon that serves up ginger beer and intricate, barrel aged cocktails. We recommend the Pimm's No. 1933 with macerated strawberries and salted cucumber – yum!
The menu also features a selection of Southern home-styled nibbles and our bevy of beauty bloggers noshed on Coca Cola-glazed short rib sliders, Cajun cheese medallions and sweet potato fries.
Georgetown Cupcake
And because every party needs a little something sweet, we rounded out the evening with a platter of freshly baked treats from Georgetown Cupcake. The Red Velvet and Chocolate Hazelnut cupcakes are divine, but it was the Caramel Praline Crunch (which I ate for breakfast the next day) that has me planing another trip to Georgetown as soon as possible.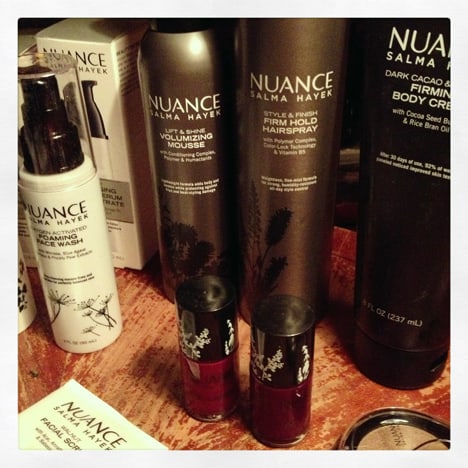 A table of Nuance for sampling
Of course, the true star of the party was the plethora of products available for testing from the Nuance Salma Hayek line. Inspired by her Grandmother, an esthetician who dedicated her life to skin care, Salma crafted the line to incorporate natural and age-old Native American and Mayan ingredients (think prickly-pear cactus and mamey-tree fruit) into its skin care, hair care and cosmetics collections.
We'll be back in the coming weeks with a closer look at this effective and economical line, but the stand out products of the party included the Oxygen Activated Foaming Face Wash, the Lift & Shine Volumizing Mousse and the Flawless Finish Liquid Foundation.
The very sweet Rachel aka the Beauty Professor (who came with her even sweeter Mom) found the Liquid Foundation to be very promising – we can't wait to find out what she thinks of it after a few test runs!
The Guests:
As IMATS was in town, so were a number of our favorite beauty bloggers. We were thrilled to meet a few of our blogging buddies in person and to share the Nuance love. Ever the good hostesses, Stef designed printed placecards for introductions and easy tweeting. (Hey, we're bloggers – that's what we do!)
It was a hoot to finally meet some of our most respected fellow beauty bloggers in person! We were thrilled to welcome one of our first guests, the amazing and knowledgeable Marcia of Beauty Info Zone, who was able to carve out some time in her LA trip to check out the line and catch up with blogging friends. And we were happy to spend some time with fellow Lipstick League member, Phyrra visiting all the way from Florida (and maybe get some dying tips from the flame-haired blogger). Here she is enjoying some time with a long time wht friend and social-media maven Jen of My Beauty Bunny .
Our very own Sherri, sipping her first (second? third?) Pimm's No. 1933 of the night.
Stef, Phyrra and Safia from Lipstick Mixtapes (how much do you love that blog name?)
The last of the party goers all got heart-shaped face tattoos and formed a beauty gang (this is LA)! From right to left, Meg from Meg's Makeup, Dawn from Beauty Frosting, Stef from we heart this, E! Online Beauty Editor Jennifer Chan, and Bren from OMGBren.
The Gift Bag:
A party isn't a party without the party favors. Our guests each left with a swag bag full of Nuance Salma Hayek products for further 'research' at home.
Stuffed inside the cute canvas bag, each guest received the Nuance Salma Hayek Argan Oil Glossing Shampoo and Argan Oil Glossing Conditioner for shiny, happy hair.
Party guests also found some skin care goodies like the AM/PM Anti-Aging Super Eye Treatment, AM/PM Anti-Aging Super Serum Concentrate and the AM/PM Anti-Aging Super Lotion.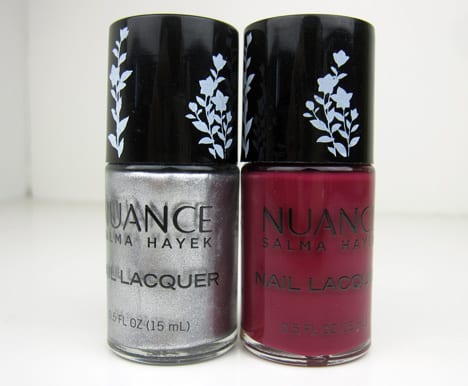 Not to mention, a few bottles of the newest item to join the makeup line, Nail Lacquer.
Want your own swag bag of Nuance goodies? We've got one to GIVEAWAY (along with a $50 CVS gift card) – click here to enter!
Thanks to CVS and Nuance Salma Hayek for asking us to host such a fabulous get together! And a shout out to our beauty blogger guests – we hope you had as much fun as we did!
we heartsters – have you tried any products from the Nuance Salma Hayek for CVS line?
Disclosure: This post includes products that were provided by the manufacturer/PR firm for our consideration. For more info, or any questions, please see our disclosure policy.