This post may contain affiliate links, which means I may receive a small commission, at no cost to you, if you make a purchase.
"Go nude, but better." – Ally & Taylor
Nudestix sounds like they might be NSFW, but the products and the brand are totally rated G. I'd even go so far as to say the products and concept are quite wholesome: it's all about embracing our natural beauty. The line was created by two sisters, Ally and Taylor, who wanted fun and easy to use products that added just the right amount of color or coverage. They even have their mom doing a tutorial on how to highlight and contour (which makes total sense, Stef learned straight from Ally at a QVC event that their mom was one of the founders of Cover FX!) It makes me feel all warm and fuzzy inside–it's an awesome concept, like something I would have dreamed about doing when I was a kid.
There are tons of different types of Nudestix makeup crayons: concealer, contour and highlighter, lip color, eyeshadow, brow wax, bronzer and even moisturizer. Each product comes in an environmentally-friendly reusable tin, which has a large mirror inside of the lid, a sharpener and friendly tips on how to use the product.
Top: Concealer Pencil in Medium 4, bottom: Sculpting Pencil in Medium/Deep
The Nudestix Concealer Pencil ($24, available in eight shades) is a fantastic matte concealer that can be used anywhere on the face–under eye circles, discolorations, etc. The pigmentation is pretty good, and it does seem to have pretty good staying power for a cream product. The texture is really smooth and fairly easy to blend, and the formula contains shea butter and vitamin E to treat your skin to a little bit of TLC. This product would be especially good for those with drier skin that only needs concealer on a few spots. While I have oily/combination skin, I used a little primer and tinted moisturizer, followed by the Nudestix concealer pencil as needed with good results. The product is also great for touch ups. I tried this in Medium 4, which was a good match for me.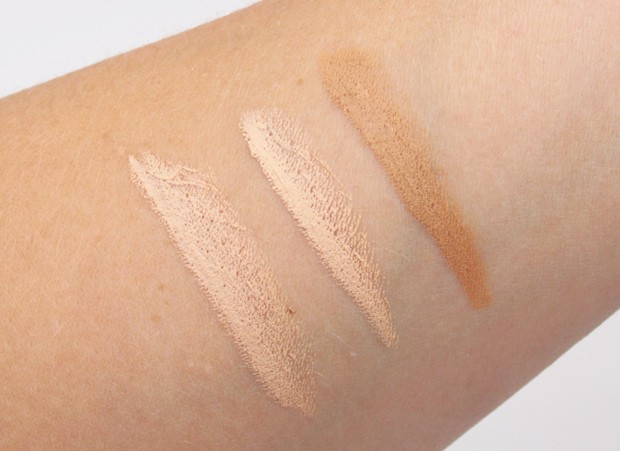 Concealer Pencil in Medium 4, Sculpting Pencil in Medium and Deep
Concealer Pencil in Medium 4, Sculpting Pencil in Medium and Deep, blended
The Nudestix Sculpting Pencil ($24, available in Light/Medium or Medium/Deep) is a dual ended crayon with a matte contour shade and a matte highlighting shade. It's a WHOLE LOT OF FUN to use, drawing lines and dots all over your face! Use as much or as little product as you need to achieve your desired effect. I tried this in Medium/Deep. I have NC25-ish skin at the moment, and felt that the Medium/Deep provided a subtle amount of highlighting and contour. I did feel like I was going through a whole lot of product quickly in terms of concealer and contour/highlighter. And with a $24 price point, it just seemed like it wasn't a particularly amazing value for the amount of product.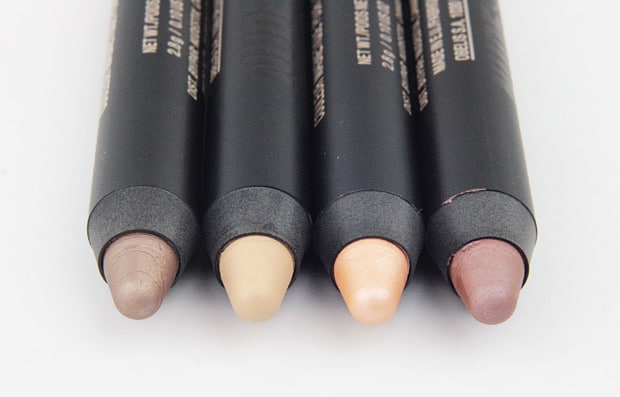 Magnetic Eye Color: Twilight, Lilith, Angel and Spirit
The Nudestix Magnetic Eye Color Duo ($29, available in two duos as a QVC exclusive) is a pair of beautiful satin-y shades that are so easy to use either as a base for powder eyeshadow, or on their own. They apply so smoothly, without any tugging on eyelids, and yet the formula manages to stay on all day without creasing on me. I tried out Angel (a gorgeous shimmery champagne with a pink sheen) and Spirit (a glam neutral mauve-taupe). Those two colors paired nicely together, with Angel used as a browbone highlighter and allover lid color, and Spirit in the crease and lower lashline. Angel is a really great product that could also be used on its own as a quick way to brighten the eye area, or as a shimmery highlighter on the cheekbones. Be sure to blend fairly quickly, as once these colors set, they really stay put.
Our team also got to try the duo of Twilight, a grey-based taupe, and Lilith, a light buttery gold.
The QVC duo is a great deal, as the shades retail for $24 each. So, you're getting a second shade for just $5 more.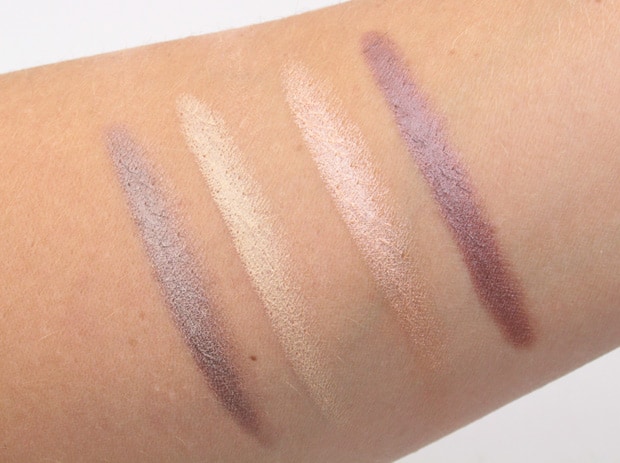 Magnetic Eye Color: Twilight, Lilith, Angel and Spirit
Take a look at all the products in action…
Before
During: Magnetic Eye Color in Sprit and Angel, Sculpting Pencil in Medium/Deep and Concealer Pencil in Medium 4 applied
After: blended and ready to go!
My overall impression of Nudestix is that they're definitely super fun to use, and perfect for quick and simple hints of color, a smidge of definition, or just a bit of coverage. Depending on the amount of color you want, you can either pat or dab the color to blend (for more color/coverage), or you can use brushes (which is what I prefer.) Nude Stix can easily be paired with other products for those that want a more noticeable look.
How about we heartsters – are you ready to get Nude?
Latest posts by lipglossandspandex
(see all)