This post may contain affiliate links, which means I may receive a small commission, at no cost to you, if you make a purchase.

Photo credit: Frazer Harrison/Nanette Lepore Spring 2012 Mercedes-Benz Fashion Week/Getty Images
I love fashion week. But a lot of times you see the images, you see the styling, you see the over the top fashion and you think, "this will never translate to me." But it can! I decided to pick a NYFW look by Nanette Lepore that might catch some of you off guard, and show you how to translate runway to reality and do it on a budget.
I am not going to insist you to go out and buy an entire highlighter yellow outfit, I would never do that to you dear we heart this readers. Instead, if the color is too bold, shocking or intimidating, translate that color into accessories. But first, let's talk about the details of the outfit. I've been all about pleated skirts recently, they're so lady like and fresh. I bought this pleated skirt recently from Asos (shown above, $32.93) and it is a perfect addition to my fall/winter wardrobe. It isn't the super light chiffon that you see for spring, it has a bit of weight to it and I think would be perfect to wear with tights as well.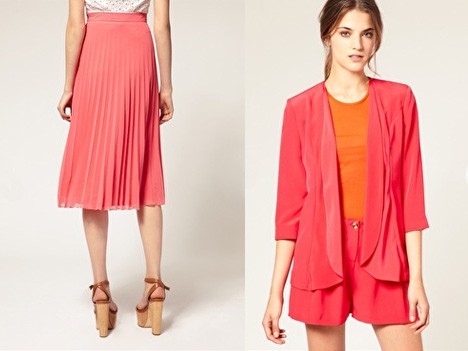 If you are going for the exact look and feel of the skirt pictured above, there are lots of lighter options and I really love this bright coral version from Asos ($43.91). Again, not as intimidating as highlighter yellow, but still a great burst of color.
To go along with the monochromatic look, Asos also has blazers ($45.74) in coral. So you could really do a more toned down version of this look and not break the bank, I'd love this for work!
Now for the neon touches, in the accessories! I love that neon is really popular again but in such cooler and more modern ways than when we saw it in the eighties. A great way to add a neon accessory is through a classic bag, and I'm in love with the Leather Satchel Company leather bags. A classic leather satchel in a loud and bright color, how can you not add that to your neutrals wardrobe? I pair this with everything and I actually really love with neon yellow with shades of blue, like the bright blue pleated skirt we talked about earlier.
And if you're really bold, I'd suggest these fabulous Jeffrey Campbell Darian Sandals ($164.95). I could totally see myself owning these in the neon yellow, green or pink and wearing with a bare leg or with black tights.
Still a bit too bold for you? Try adding a stack of neon bracelets like these Noir bracelets ($25) in a variety of colors Mix it up with yellow, pink and green and you'll still have a splash of neon without being pushed all the way out of your comfort zone.
Now of course, if I could afford the entire Nannette Lepore highlighter yellow outfit I would wear it and then mix and match those pieces on their own. Couldn't you just see that neon blazer with a white scoop neck tee and a pair of dark washed skinny jeans? I can! I think I may have to get 1 or 2 of these pieces for my spring wardrobe…What are you bold enough to wear?
DWJ is an accessories and beauty blogger for The Art of Accessories and is also sharing her love of cooking on Crumbs & Creativity.