This post may contain affiliate links, which means I may receive a small commission, at no cost to you, if you make a purchase.
Obsessive Compulsive Cosmetics returns with another fun and fabulous collection for spring. The OCC Plastic Passion line debuts some new colors that will help you leave those grey days behind and look forward to candy-colored margaritas, flip-flops and lounging by the pool.
I have been a fan of OCC lip tars since I happened upon them and this collection does not disappoint. The Plastic Passion collection says buh-bye to the standard soft pastels of spring collections and ups the color ante with "hyper-saturated hues and technicolor textures." In fact, OCC claims this line offers their most vibrant line of Lip Tars ever!
I mean just check out Pool Boy from the Plastic Passion Lip Tar Collection. While sky blue may not be your first pick for a lip color, this Lip Tar actually looks amazing on the face – adding life and a shock of color to the face.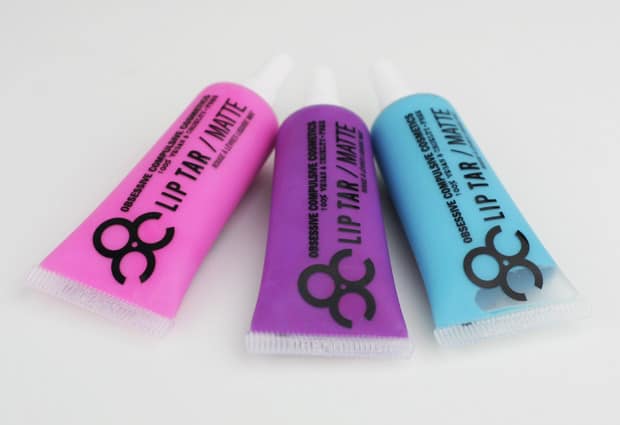 We got our hands on three matte medium vibrant hues from the Plastic Passion collection:
Mannequin – Malibu pink
Rollergirl – Vibrant lavender
Pool Boy – Aquatic blue
Lip Tars ($18 each) last forever, but make sure to apply correctly by using the included #010S Short-Handled Precision Lip Brush to dab a small dot of color and build from there. (Adding too much can end up in bleeding around the lip lines.) I like to be safe and outline my lips with clear liner just to make sure and keep everything in place.
Mannequin comes across as a bright, Barbie pink. Rollergirl adds to my growing collection of purple hues as a bright, magenta purple. But my absolute favorite is Pool Boy, the straight up baby aqua blue! This is what Obsessive Compulsive Cosmetics is known for; colorful opaque Crayola-like shade.
While Plastic Passion is a mixture of matte and metallic finishes, the result is never chalky like some matte lip looks. These hues blend like paints to make a unique custom look. I played a little and combined Pool Boy with Rollergirl to make a tie-dye lip look.
Comedian and YouTube celeb Deven Green is the spokesmodel for this campaign, and Tyna was lucky enough to see this beauty perform at the Hollywood and Highland Sephora. The event highlighted one of the gems of the OCC Plastic Passion line, a beautiful neon green nail lacquer appropriately titled Deven Green.
The OCC Plastic Passion lip tars are accompanied by six Nail Lacquers ($10 each) to round out the collection. The stand out of course being the namesake Deven Green that you have been seeing around the we heart this site the last few weeks (we couldn't wait to share it!) This vivid green cream reminds me of the same neon green that blares on 80's horror movie posters. It's a perfect kitschy neon!
If you are looking to incorporate some bright shades into your spring/summer wardrobe, grab up some Plastic Passion from Obsessive Compulsive Cosmetics.
we heartsters – What is the most unusual shade you have ever worn on your lips?
photos: we heart this, swatches shown on NC25/30 skin tone
Latest posts by lucylemonade
(see all)