This post may contain affiliate links, which means I may receive a small commission, at no cost to you, if you make a purchase.
The Midwest is a brutal place to live this time of the year. Every winter the snow, cold, and dry air does a number on my skin, especially my hands.
Additionally, since I'm a big believer in diligent hand washing during cold and flu season, sometimes it seems like no matter how much I moisturize, my skin is always cracked, dry, and itchy.
So, trust me when I say, O'Keeffe's Working Hands moisturizer (available here) has been the absolute skin savior this winter!
And if you're like me and also suffer from dry, cracked feet, luckily, O'Keeffe's makes a Healthy Feet moisturizer (available here) as well.
O'Keefe's Working Hands Review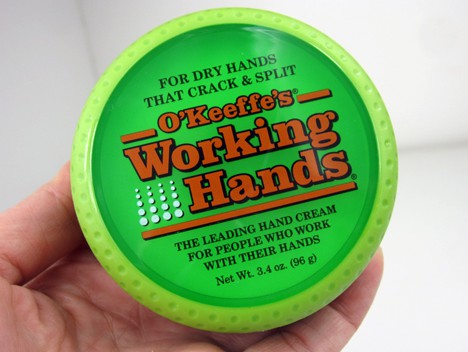 Created over 25 years ago in the kitchen of pharmacist Tara O'Keeffe, the Working Hands cream ($7.99) was originally designed as a solution for her rancher father's severe dry skin.
Now, this amazing hand cream is available at hardware stores and pharmacies everywhere.
While it seems a bit odd to purchase your skin moisturizer at the hardware store, once you try it you'll understand why.
This product is seriously effective and aimed at people who work with their hands, but gentle enough for all skin types, so even if you aren't rough on your hands, you'll still love how great this product is.
I used the Working Hands moisturizer in the morning and at night, usually after a shower when my skin was most absorbent, and the results were swift and astounding!
In just a few days my skin had completely transitioned from horribly dry and cracked to smooth and soft again.
Because the formula uses glycerin as a way to draw moisture rather than oil-based ingredients that can actually repel moisturizer, O'Keeffe's is very lightweight and works easily into the skin without leaving a heavy greasy residue. Plus, it's really concentrated so a little goes a long way.
Bonus: you can totally use it on other parts of your body as well; face, elbows, and legs…it works great all over.
O'Keefe's Healthy Feet Review
Even though the Working Hands moisturizer worked so well, I was still a bit skeptical of the Healthy Feet ($7.99) since I've tried many foot products with very little results. But this stuff did not disappoint!
Just like the Working Hands, after only a few days I saw terrific results.
I followed the suggested directions of applying on my feet after exfoliating, and at night after a shower, and now my feet are baby soft.
The Healthy Feet formula contains a bit more Allantoin in order to absorb into the thicker skin of the feet, and did a superb job of fixing my cracked heels.
No more feeling embarrassed about my feet – hooray.
O'Keefe's Healthy Feet Ingredients
So the next time you stop by the hardware store to pick up some paint or a new drill bit, grab a tub of O'Keeffe's Working Hands and Healthy Feet for some serious skin salvation!
we heartsters – have you discovered the miracle O'Keefe's creams while strolling the hardware aisles?
Disclosure: This review includes products that were provided by the manufacturer/PR firm for our consideration. It also contains an affiliate link, a link that gives us a small commission if you purchase the item. For more info, or any questions, please see our disclosure policy.