This post may contain affiliate links, which means I may receive a small commission, at no cost to you, if you make a purchase.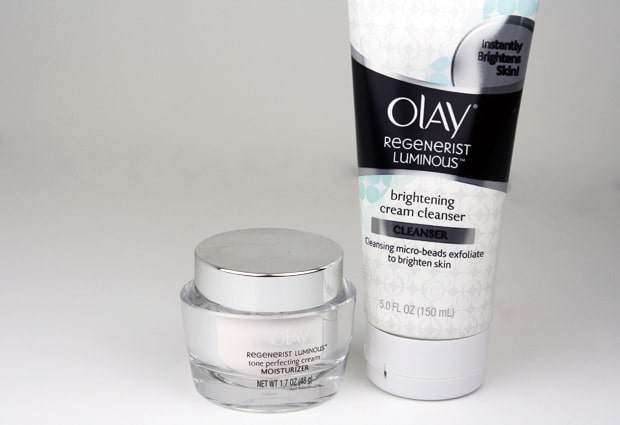 Regenerate your face in just a few weeks
If there's one thing that always gets put on hold when I'm pinching pennies, sadly it's skin care. When I don't have an extra $100 to put towards a luxury cream or mask, it's nice to have affordable options available at my local drugstore like Olay and their latest collection, the Olay Regenerist Luminous line.
That Olay name has been around for a long time. I remember my Mom using it as a child, and now I use it as an adult. Their products have staying power because they work and they've mastered the art of keeping the face young!
Olay's latest Regenerist Luminous Collection, which includes a cleanser, moisturizer and eye serum, promises you healthier looking skin in two weeks, and fading of dark spots in eight weeks. I gave the cleanser and cream moisturizer a try and, while I haven't been using it for eight weeks, I can definitely attest to the fact that my skin looks more supple and smooth.
Olay Regenerist Luminous Brightening Cream Cleanser ($9.99), comes in a hefty 5 oz tube and is very rich and creamy. It has cleansing micro beads to help exfoliate, leaving brighter, healthier skin. Gotta love those little micro beads… especially in the fall and winter! It's been so dry, I literally can't make it more than a couple days without my face building up dead skin, so the extra boost of exfoliation in this helps.
The Brightening Cream Cleanser is also a really soft cream and feels quite luxurious when applying. It rinses off easily with warm water and while I can't tell yet if my dark spots are fading, it has helped keep my skin softer and smoother.
The cream moisturizer, Olay Regenerist Luminous Tone Perfecting Cream ($28.99), is a full 1.7 oz of cream and take a look at that pot!
This could seriously pass for a very expensive cream. It's ultra rich, creamy, and soaks right in. It's also packed with all sorts of goodness… Vitamin B3, B5, and E, green tea, aloe vera, and amino peptides, which we all know by now is a key anti aging ingredient.
I will say I felt a little bit of a firming effect from this cream, and no drying. Quite the opposite actually, it really leaves my face soft and supple, even hours later when I check on it in the mirror! I am continuing to use it regularly and have started to see a small amount of fading of dark spots, but mostly it just gives me a nice dewy complexion that I am completely happy about.
Olay never disappoints and they have so many great products, at affordable prices, it's hard not to find one you'll love. They are one of those trusted brands that I can always count on to help me out in the skin care (and budget) department.
we heartsters – What Olay products have you used and which one's are your favorites?
photos: we heart this
Erin is a secondary science teacher who adores makeup and fashion. She spends her free time pursuing her other passions which include cooking, antiquing, and decorating.
skin tone: NC30
skin type: oily to normal
favorite beauty product: lipglosses and bronzers
Latest posts by spitfire77
(see all)