This post may contain affiliate links, which means I may receive a small commission, at no cost to you, if you make a purchase.
The latest from Ole Henriksen makes us say "Ooh la la"!
Any skin care junkie or budding enthusiast has heard of or tried a few of the luxurious and effective products from Ole Henriksen
. Born and raised in the Danish countryside, Mr. Henriksen eventually found his way to Beverly Hills ( after stops in Indonesia, London and San Fransisco collecting skin care knowledge) where he opened his world-renowned spa. The buzz and hype surrounding his eponymous spa are true: the very best facial I ever experienced was in this lush yet tranquil space.
Happily, you do not need to live in Southern California to experience the wonder of Ole. You can drop by your local Sephora
or click on their website to explore this extraordinary brand. You can also check out our reviews of the Truth collection and the African Red Tea collection to get an idea of what you can expect from Ole. Today, we've got a look at another wonder; the Ultimate Lift collection.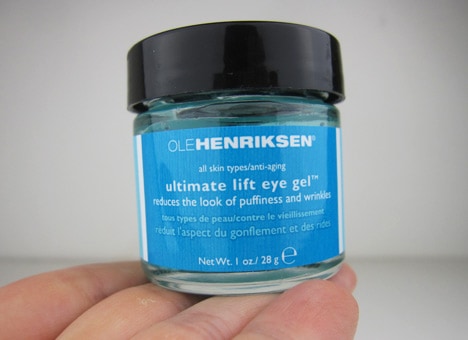 As an eye cream aficionado, I was thrilled to get my hands on the Ultimate Lift Eye Gel
($38), a "dual-action cooling gel to visibly firm and de-puff fatigued eyes". I've been burning the candle at both ends lately, and my eyes are showing the signs. I often wake to puffy, tired eyes – and despite the swelling the fines lines around the area seem to be more pronounced. How does THAT happen?
The soothing Ultimate Lift Eye Gel is packed with ingredients to fight both problems, including arginine for wrinkle resistance and peptides to tone and improve skin elasticity. Plus, calendula and cucumber extracts that softens skin, tighten pores, and even decongestants the area. It's all topped off with Ole's "eyebright extract" which helps calm, soothe and constrict the capillaries around the eye area.
All of these natural ingredients work together to give your eyes a little lift overnight. I've been applying this super soothing and cooling eye gel before bed and the results are a dream. After dabbing it on around my eyes, the entire area instantly feels refreshed. While I am sleeping, the get sinks into the skin and I awake with de-puffed eyes and a nice decrease in the appearance of fine lines.
This nighttime gel can also be used during the days, and if you suffer from smudged eye makeup and mascara, Ultimate Lift can be your ultimate savior. The lush, heavy eye creams on the market do not work with my makeup, leading to pools of color under my eyes. The Ultimate Lift Eye Gel provides just the right amount of hydration to my eyes, while its lighter formula helps keep my makeup in its right place.
Brand new to the line is the Ultimate Lift Neck Creme ($40). We all know that the neck area is one of the first to show the drooping and sagging of aging, and this creme is here to stop the droops in their tracks.
The Ultimate Lift Neck Creme is formulated to target the special needs of the neck and decollete. Crafted with a "gravity defying complex of copper tripeptide infused with botanical boosters" this creme works to firm and tighten skin.
While I have just begun to test this lush creme, I'm convinced it is already doing its job. For now, my skin gets a mini lift upon application – looking and feeling plumper. Over time studies show that regular use of this neck creme helps improve fine lines and wrinkles and provided a visible improvment in sagging in over 80% of users. I can't wait to see a more sculpted, sleek neck area once I reach the bottom of this jar!
All in all, I am happy to welcome the Ultimate Lift products to my beauty routine. Once again, Ole Henriksen has kept the promises made on the labels and wowed me with the results.
we heartsters – Are you an Ole fan too? What is your favorite product?
photos: we heart this