This post may contain affiliate links, which means I may receive a small commission, at no cost to you, if you make a purchase.
Simplify your life with one great and green line!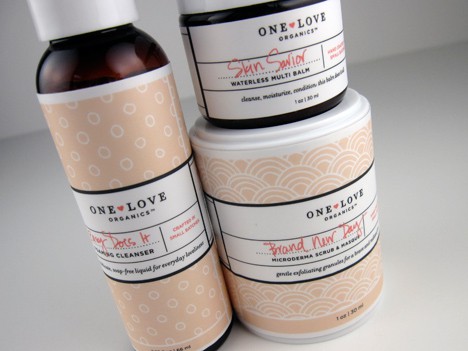 photos: we heart this
Is it just me or does life always find a way of being just a bit chaotic, tossing in stresses and messes every chance it gets. With that much clutter, why should our skincare products be just as complicated? Luckily, One Love Organics, a little company that exemplifies Green Monday ideals, is devoted to spreading their message of simplicity and love, through every one of their products that's been hand crafted and hand packaged with lots of love.
Created by Suzanne Leroux, One Love Organics was the result of Leroux's appreciation and study of holistic, alternative forms of healing. Using her training, Leroux designed her line on the belief that less is more. By leaving out all the unnecessary and often SCARY ingredients found in many products, One Love Organics focuses on a handful of simple, natural components that are ethically sourced, multipurpose, and safe for everyone; men and women, babies to grannies!
Offering a simple line of four products, as well as special skin shammies and silver scoop to aid in the use of these products, this company has swiftly found its way into my heart!
The Easy Does It Foaming Cleanser ($29) with glycerin, organic quillaja bark extract, apple extracts and apple seed oil, not only cleanses the face, but also can be used for hair and body!
There is nothing as awesome as being able to jump in the shower and use one product from head to toe! My skin felt supple and rejuvenated, while my hair was easier to comb and had extra shine. Plus, the apple extract gives this cleanser the most delicious apple scent without the use of perfumes!
The Love Springs Eternal Youth Preservation Serum ($98), with various essential oils like watermelon seed, neroli, rose and frankincense, plus vitamin E, makes this a great nightly treatment that is anti-aging, anti-wrinkle, anti-inflammatory, repairs damage and hydrates the skin.
While I can't vouch for any anti-wrinkle effects just yet, I can say my skin is softer and has a more even tone. And like the cleanser, the serum can be used on other areas like the lips, eye area, neck, décolleté and back of the hands.
But the star for me was the Skin Savior Waterless Multi-Balm ($68). Organic virgin coconut oil, organic soybean oil, oat extract, chia seed, pure unrefined beeswax, orange peel wax and vitamin e combine to make this magical balm that smells like oranges and pretty much does it all!
A couple of scoops warmed in the palm, applied to the face, wiped clean and you've cleansed your skin of makeup and dirt. But guess what? You can use the same balm to moisturize your face and rest of your skin as well.
Wait, there's more! Need a protective, conditioning treatment for the hair? Yep, it does that too. A little applied to the ends of my hair helped protect them from daily styling.
And if that wasn't enough, you can mix this with mineral powder to create a nourishing foundation (awesome tutorials are offered online for the balm and all the products). This is oil based though so just remember it works best in small amounts.
I also got to test the "My New Best Friend" skin shammy ($24), and while you don't need the shammy, it totally aided in the use of these products, especially the Multi-Balm. Made from 100% dermalogical grade microfiber, it's great for wiping away product, dirt, and make-up. It's good for up to 200 washes and used by itself removed the oily mid-day shine from my skin!
A few of our wht ladies got to test, not only the cleanser and the waterless multi-balm, but the Brand New Day Microderma Scrub and Masque ($39), an everyday exfoliator that uses the power of silk peptide, milk powder, and fresh pineapple enzymes. Make sure to check the comments for thier thoughts!
Pros:
• Multipurpose
• Safe and great for everyone!
Greens:
• Natural ingredients
• Animal friendly
• Certified by PETA and part of The Compact for Safe Cosmetics
Cons:
• Price – but worth the cost for multi-purpose products and especially for the quality.
Finally, I found these products are super concentrated so a little goes a long way. So if I calculated the cost of all the various products I use that do the same things, I would easily spend just as much (or more) money. And only increase the clutter in my bathroom.
So simplify – show yourself some love by using these fantastic, natural and simple products.
we heartsters and testers – did you and your skin find a new true love in One Love organics?
Disclosure: This review includes products that were provided by the manufacturer/PR firm for our consideration. For more info, or any questions, please see our disclosure policy.