This post may contain affiliate links, which means I may receive a small commission, at no cost to you, if you make a purchase.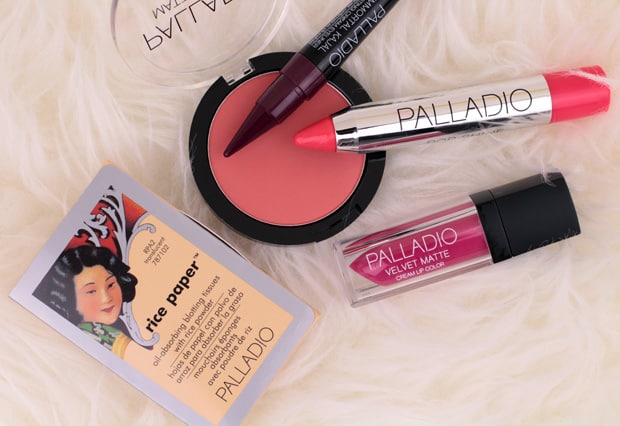 sponsored post
Are you a fan of Palladio? I bet you are, even if your first reaction is "I've never heard of them." Because if you've been a long time user of rice paper blotting sheets, chances are this is the first brand you ever tried.
Looks totally familiar, right? Palladio Rice Paper Tissues ($3.99) were the brand that introduced me to this type of product. I remember being impressed at their magical ability to absorb EVERY drop of oil from my face. I still am impressed by this.
What I didn't know is that they have an entire line of products; cosmetics, tools, even skincare; that are just as affordable and equally as fabulous as their Rice Paper sheets. Palladio has been around for over 25 years, creating budget-friendly items that rival high end brands in quality and uniqueness, with skin loving botanicals like Ginseng, Green Tea, Aloe Vera and Chamomile.
Budget-friendly items that rival high end brands
I recently got to try four other products to see if I'd feel the same kind of love…
My absolute favorite product was Palladio Matte Blush ($7). "Favorite" as in I'm buying each of the other three shades pronto. The pigment in this is incredible, color as rich as it is in the pan with just one light swipe. I checked out Toasted Apricot which is a rich and warm dark coral. It's finely milled and silky smooth. Such a great blush!
I also really loved the Palladio Velvet Matte cream lip color ($7). This has the greatest packaging. What looks like a lipstick bullet in a clear tube is actually the housing for a liquid product and doe foot applicator; not a tradition bullet at all.
Tromp l'oeil aside, it's the formula that really shines. The concentrated color goes on opaque in just one coat, and the velvety finish doesn't feel dry or look cakey. Once set, I wouldn't call it budge-proof, but it's pretty darn close. I ate a peach with it applied, and while there was transfer to the napkin, I didn't need to reapply. Available in 12 colors, I tried Brocade, a bright berry pink.
Palladio Velvet Matte cream lip color in Brocade
With a lighter formula, Palladio Pop Shine Brilliant Lip Balm ($7) is very summery. The chubby pencil shape makes it easy to apply (you don't even need a mirror) and the bright shiny color looks great against sun-kissed skin. I tried Socialite, a vivid watermelon pink, but check out all six beautiful shades.
The Palladio Immortal Kajal lasting cream eyeliner ($6) took me a bit longer to get the hang of. The formula reminds me more of a creamy lipstick than an eyeliner or even a cream shadow. You can't overwork it either, if you try to blend it too much it disappears. The best way to apply it is in short strokes, then dab shadow on top of it to set it as much as possible. Even with the work, this transferred to my upper lid almost immediately. (But I do have oily lids, so I'm sure that doesn't help.) Royalty is a gorgeous rich, dark plum (one of five shades). At $6, I'd say it's worth it to take it for a spin and see if it works for you.
Palladio Immortal Kajal lasting cream eyeliner in Royalty
Brocade Velvet Matte, Socialite Pop Shine, Royalty Immortal Kajal eyeliner, Toasted Apricot Matte Blush
High end quality botanical beauty at drugstore prices, you have to love that! You can find Palladio at Ulta, Sally Beauty and their own website Palladio.
You can get 15% off at their website through August 31, 2016 with the code: weheartthis
Take advantage of this deal! I think you'll be as impressed as I am.