This post may contain affiliate links, which means I may receive a small commission, at no cost to you, if you make a purchase.
First off, it's going to sound like I live in a cave (I live in the wilds of New Hampshire and nobody wears makeup to the local Agway), but I'd never heard of Dulce Candy before writing this post!
After a smidge of research, I learned that she's a veteran, wife, mother, author, and influencer with two YouTube channels and with over 2.5 million followers. In other words: a no-brainer for Pixi to collaborate with her.
As part of their Pixi Pretties campaign, where Pixi has joined forces with several beauty and lifestyle gurus, Pixi and Dulce Candy offer up two of my new favorite palettes: Pixi + Dulce Candy Café con Dulce (available here) and Pixi + Dulce Candy Dulce's Lip Candy (available here).
Pixi Dulce Candy Palette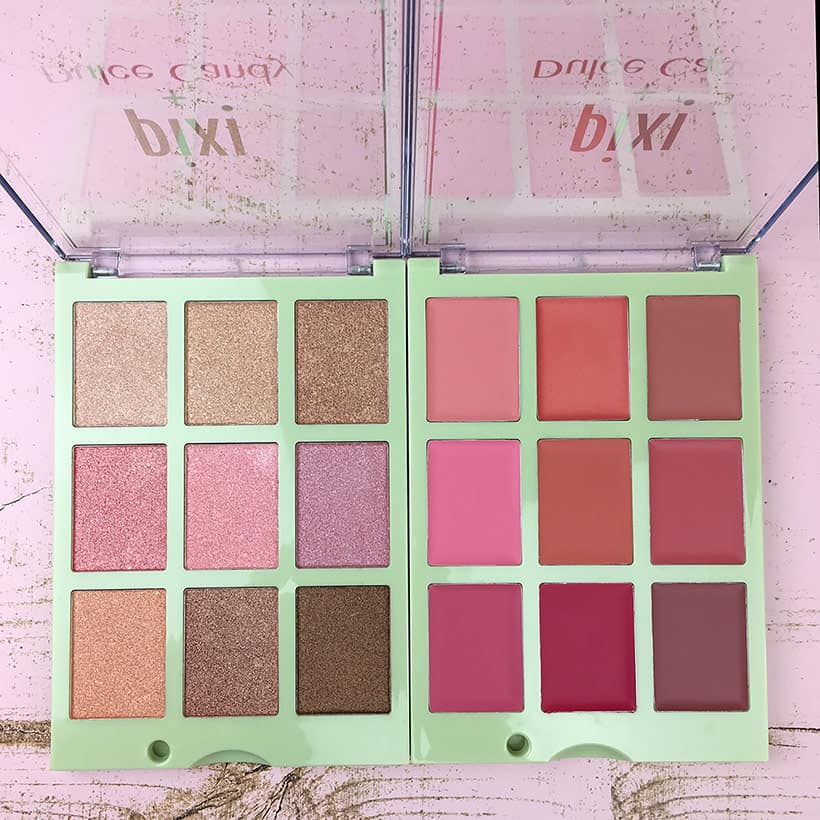 I've established that I am a lover of all things multi-tasking when it comes to beauty and how I tend to lean towards cream shadows and blushes. Both of these palettes tick the multi-use box.
Plus, Café con Dulce is an innovative powder to cream formula, while the Dulce's Lip Candy is a powdery cream formulation that lends itself to both lips and cheeks.
Each palette contains nine generous pans of gorgeous color that can be paired and blended with each other to create an endless supply of beauty.
Café con Dulce Multi-use palette in Sweet Glow
The Café con Dulce Multi-use palette in Sweet Glow contains shimmering color in the following shades:
Brilliante
–pale champagne shimmer
Dulce
–pale gold shimmer
Caramelo
–rose gold shimmer
Piruli
–coral shimmer
Pan Dulce
–pinky peach shimmer
Estrella
–rose shimmer
Bon-Bon
–peachy bronze shimmer
Tamarindo
–coppery bronze shimmer
Morenita
–aged bronze shimmer
Pixi Dulce Candy Palette Swatches
Pixi Dulce Candy Palette Review
For those of you wary of shimmer, you'll be happy to know that these deliver more of a glowing sheen, which is unbelievably flattering.
The top row of three shades; Brilliante, Dulce and Caramelo; are perfect highlighting shades. You can highlight your brow bones, your cheeks or even your body with these. Individually or blended together, these pans are foolproof for adding gleam to your beauty routine.
The middle three shades; Piruli, Pan Dulce and Estrella; are perfect as blushes or to enhance one of the cream lip/cheek shades from the Lip Candy palette when using as blush or to transform a lip color on lips.
The bottom 3 shades; Bon-Bon, Tamarindo and Morenita; are the shades I prefer most as eye shadow, but darker skin tones might find they love them as a highlighting shade.
There is literally no wrong way to work this palette.
And as someone who loves to "finger paint" makeup, this palette is perfect for that. You can apply the product with brushes or fingers and the blendability is off the charts. I have so much love for this palette!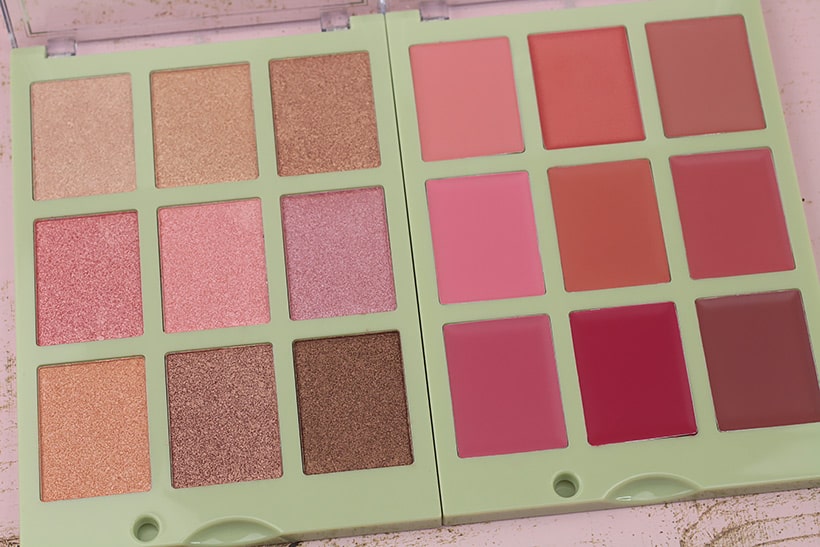 Dulce's Lip Candy palette in Sugar & Spice
The Dulce's Lip Candy palette in Sugar & Spice for lips and cheeks contains satiny color in the following shades:
Fresa–pale peachy pink (that somehow went bright pink in Stef's swatch!)
Sirena–gleaming coral
Alma–nude
Flor–cool pink
Pasion–rosy coral
Enamorada–rose
Corazon–berry pink
Beso–pinked red
Canela–mauve
Dulce's Lip Candy palette in Sugar & Spice Swatches
While this palette is called "Dulce's Lip Candy" and states it is for lips, this palette is actually a multi-purpose palette that works well for lips AND cheeks.
The formula has a powdery finish to it, which lends itself extremely well to a cream blush. These dry to a satiny matte, with the exception of Sirena, which has some shimmer to it.
I found that every color in this palette worked well on lips and cheeks for me, but Beso is a favorite of mine when my dark-haired/pale self wants to live out her Snow White fantasies.
You can kick all of these up a notch by topping these with the middle row of Café con Dulce's Sweet Glow palette, even on lips!
Overall, I will admit that while I can be skeptical about some of the beauty collaborations some brands do with influencers, this one really impressed me.
The formulations are unique and you're getting so many color options for a relatively affordable price tag ($24/each). You can be a beauty beginner or a pro and I think you'd find something to love about each palette.
we heartsters, have you tried any of Pixi Dulce Candy palettes yet? What was your favorite beauty brand/influencer collaboration? Let's chat in the comments!
Shop The Post