This post may contain affiliate links, which means I may receive a small commission, at no cost to you, if you make a purchase.
Years ago, I had an artist friend who lived in a giant, decrepit warehouse in downtown Baltimore. There was no air conditioning, so during the brutal summer months, this guy would sit in front of a big industrial fan with a spray bottle full of water, and squirt the water towards the fan. I thought this was a little crazy but also a little clever, because there was no denying that the mist felt so good!
The way Pixi by Petra approaches mist is much less cumbersome and whole lot more fun! Pixi Skintreats offers a range of mists that target specific needs. I got to test four, including the newest addition to the line, all of which sells for $15 for a 2.7 oz bottle.
Let's start with the new kid on the block…

Pixi Vitamin Wakeup Mist
This "Boosting Treatment Toner mist" is like a wakeup call for the complexion! I love citrus scents, and the subtle orange fragrance of this lightly moisturizing mist starts my day with a smile. I've even used this one over bare skin, and it really does have a visible toning effect. Orange blossom water, citrus fruit extracts, lavender and arginine combine to make this energizing cocktail.

Pixi Makeup Fixing Mist
If you're looking to extend the wear time of your makeup, this all-over setting spray is just the ticket. Tread lightly, though– this mist has a powerful spray. A very gentle spritz of this rose water and green tea mixture will lock makeup in place while adding what Pixi calls a "soft-focus finish"—a bit of a blurring effect. It can also be used to refresh your look throughout the day.

Pixi Hydrating Milky Mist
Don't be scared by Pixi's "deeply hydrating" description; this mist provides a light, invisible layer of moisture. Dry complexions might need some extra help, but normal-to-oily gals will love this mist. The light fragrance is floral. Black oat, provitamin A and linoleic acid are combined with plumping hyaluronic acid to create the Milky Mist.
Check out those healthy oils!
Pixi Glow Mist
Just a light spritz of this mist really does impart an "all-over glow." If you're looking for a dewy effect, a heavier spritz does the trick. I was a little wary of this one because it contains oil that you can actually see moving around in the bottle, and that can mean an easily-clogged spray tip, but I had no problems at all. This mist consists of a combination of 13 natural oils, plus propolis, aloe vera and fruit extracts. Besides giving your skin a glow, Glow Mist works overtime by setting makeup and hydrating, too.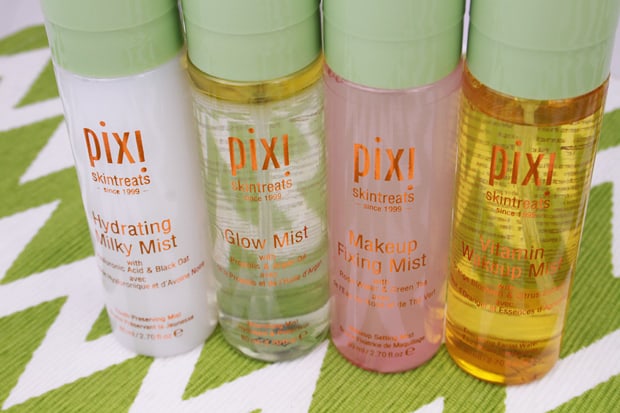 None of these products are tested on animals, another reason to enjoy spritzing the day away with cooling, refreshing Pixi Skintreats mists!
we heartsters – are you a mister? Share your faves in the comments…
Latest posts by turboterp
(see all)