This post may contain affiliate links, which means I may receive a small commission, at no cost to you, if you make a purchase.
Whenever beauty talk turns to eyebrows, I usually break out the following anecdote: in junior high shop class, I had to sit across from a male classmate. He'd stare at me for prolonged periods of time, for no apparent reason other than he was working on his creep game, I guess. One day, after his usual staring session, he said "You know, one of your eyebrows is way higher than the other." Say what? I'm not sure what my biting rejoinder was—probably a super classy "shut up, whatever."
Here's the thing though—homeboy was right. Rude, but right. Somehow, I had never noticed the asymmetry there before. We've all heard the "sisters, not twins" motto for eyebrows, but mine are more like your cousin's girlfriend's stepmother's boyfriend. That's okay, though, because I've learned to shape and shade my wonky brow to match my "good" brow. I'm always on the hunt for great brow products to aid me in my quest, which is where PUR Cosmetics Browder ($22) comes in.
We've all heard the "sisters, not twins" motto for eyebrows, but mine are more like your cousin's girlfriend's stepmother's boyfriend.
This cruelty-free perfecting brow powder (available in Medium, Blonde and Brunette) comes in a slim, portable tube with a flocked applicator and is tailored for bold brow lovers. It's a fiber formula, and the fibers are dense but silky and workable; once you start working with it, you have a small window of time before they set. The applicator is slender enough to carve out arches and add definition, but it also works well to fill in those little sparse spots and add overall fullness and dimension. The Medium shade is a good middle of the road color, while the Brunette is quite dark; on my fair skin, the Brunette shade requires a light hand.
Between the fiber formula and the flocked applicator, I'm able to attain the height I need to make my brows more like twins. I love how smooth the Browder goes on, and how easily I can tweak the arch and shape. The staying power is also great—I've worn this to the gym several times and my brows remained perfect, with no smearing or smudging in sight. (Once this stuff is set, it's set, so if you mess up during application you'll want to quickly adjust your lines). As an added bonus, PUR recommends trying Browder to create a smoky eye, and the applicator lends itself well to doing just that; I've used this as eyeliner and smoked it out nicely.
Blonde, Medium Brown, Brunette
Due to the intensity of the formula, Browder will work wonderfully if you like your brows to be the centerpiece of your face. If you want a lighter look and aren't as into creating shape and arch, you could dip a spoolie into the fibers and apply that way, or do a light brush application. I've tried both ways—on a BB cream and lip stain kind of day, a lighter application is great, but if I need precision and polish, I go whole hog with the applicator.
Take that, shop class boy.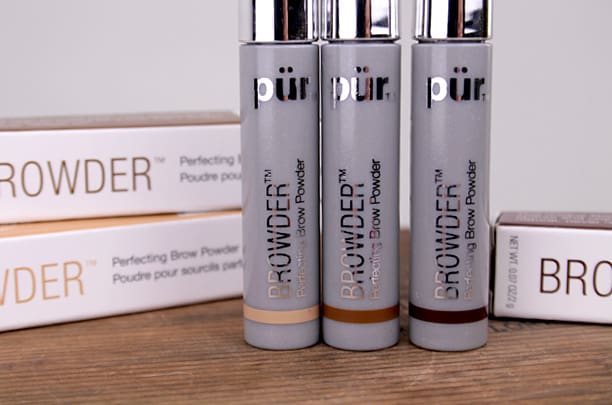 we heartsers: Have you tried any other PUR products? Do you go bold or natural with your brow situation?
Amity writes and teaches in Central PA. Her obsessions include: Rodarte (she can't afford any Rodarte, mind you, but a girl can dream), espresso, books, vintage/thrift fashion and fountain pens. She thinks you should dress like a weirdo once in a while, just to shake things up.