A standout in a sea of beauty abbreviations and acronyms
Do you ever feel bombarded in a world of beauty abbreviations? I feel like wherever I go there is a new acronym. Is it because we do not have enough time or is it something more? This month I got to test Pur Minerals CC Cream Broad Spectrum SPF 40
($38), a product I'm putting this in this "something more" category.
For those of you that may not know, CC stands for color correction. However, I feel like that is the understatement of the year for this product. I found the Pur Minerals CC Cream to be so much more than color correction.
First and one of the most important qualities is that PUR Mineral CC cream contains broad spectrum SPF 40. Sunscreen is one of the most important ingredients for skincare and anti-aging. It also contains DERMAPUR HP, which is a clarifying corrective ingredient and CLARISKIN II, a brightening ingredient created from wheat germ.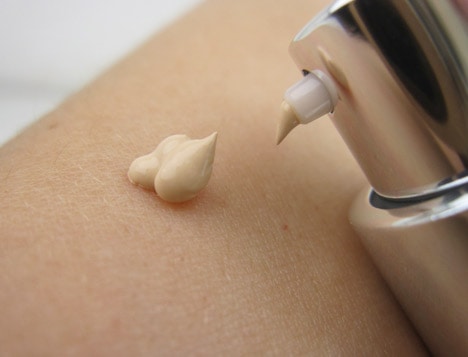 The packaging is simple and functional in a plastic pump. It is easy to pump out exactly what you need and minimizes wasted product. I prefer this over other bottles and packaging that often are challenging to get all product out. (I like to use every single drop of what I pay for.)
Available in four shades, Light, Medium, Dark and Tan, I tested light. This worked just fine on my NW 20 skin which is still sporting a summer glow. Overall I think the colors run a bit dark, so it may be a little too much on my winter pale skin – I can't wait to find out!
Pur Minerals CC Cream Broad Spectrum SPF 40 in Light – swatched
This CC cream has the feel of a high end foundation that glides on my face. Yet surprisingly, there is not any silicone in this cream. This is a huge deal for me and my skin. Silicone makes my skin feel oily and clogged within a half hour of application.
Pur Minerals CC Cream Broad Spectrum SPF 40 in Light – blended
A moisturizer, brightener, primer, concealer and foundation all in one. What more could you want? My fickle sensitive skin even approved with no protests. I love that I can get everything in one product and my makeup bag is streamlined.
Pros:
• Moderate coverage but, buildable
• Blurs imperfections
• Blends easily
• No silicone
Cons:
• Limited colors
All in all, I declare this product a multi-tasking bargain. My skin is happy and makeup bag is lighter because I only need one product for four tasks. Pur Minerals CC Cream is truly a win-win beauty.
we heartsters – What is your favorite multitasking product?
Holly is a Midwestern gal living in the beautiful Pacific Northwest. She loves gardening, animals and is a skin care junkie. Holly is always on the quest to try something new or old and live the best life possible.
skin tone: NW 20
skin type: a true combo; normal, dry and oily
favorite beauty product: skincare
photos: we heart this, swatches shown on NC25/30 skin tone