This post may contain affiliate links, which means I may receive a small commission, at no cost to you, if you make a purchase.
Fall into Sephora's COLOR VISION for the season's hottest hues
A rich, red lip – it's elegant, refined and undeniably fabulous. And when the temperature starts to drop, there's nothing better than a velvety crimson to keep things heated. This week, we're bringing you the hottest reds of the season in the most innovative formulas around (with a few tips throw in for good measure.)
New for fall: Hourglass Opaque Rouge Liquid Lipstick in Icon, MUFE Aqua Rouge in #9, tarte Glamazon Lipstick in Wild, Stila Liquid Lipstick in Beso
Today we're looking at two of the purest reds around. Shown above on the right, they're from Stila and tarte (and their dark counterparts from MUFE and Hourglass will be up tomorrow).
Be still your red-loving hearts – Stila Stay All Day Liquid Lipstick in Beso
($22) may just be the reddest shade I've ever seen. Like, if an alien came to earth and asked "what is red?" you'd shown them this! Bright, bold and incredibly pigmented, it's a pin-up sort of red that has me in an absolute tizzy.
3 things to know about Stila Liquid Lipstick…
1. The vitamin E and avocado oil packed liquid formula applies like a dream; you barely feel it. Honestly, I don't think I've ever felt a more lightweight formula. Once dry, you have a velvety, matte finish.
2. Beso lasted the promised 6 hours of wear before I felt the need to wash it off and reapply. And it had no transferring or bleeding, not even onto my napkin at lunch.
3. Hooray for the flattened doe foot applicator and the minimal vanilla scent.
(TIP: but if you really want perfect application, use a lip brush.)
tarte Glamazon Lipstick in Wild
Another pure red that's new for fall comes from the beauty gurus at tarte. And though it's in a tube (a beautiful bamboo one, at that) you'll find a lot more than a traditional lipstick. tarte Glamazon Lipstick in Wild
($26) is infused with one their signature powerhouse ingredients; Amazonian clay, producing a pigmented, shiny lipstick that has a bit of everything going for it.
3 things to know about tarte Glamazon Lipstick…
1. This is one buttery formula! Mango, avocado and shea make for a creamy, cushiony formula that feels as fabulous dry as it does going on. (But as you can see from my smooshed tip, it's not the sturdiest of lipsticks.)
2. It is very stain-like, yet still feels moisturizing. tarte says you can get 12 hours of wear from this. Neither I or the lipstick lasted quite that long! I got about half that, but it wears away evenly and comfortably.
3. As a company, tarte is a green gal's dream: eco-friendly and cruelty free.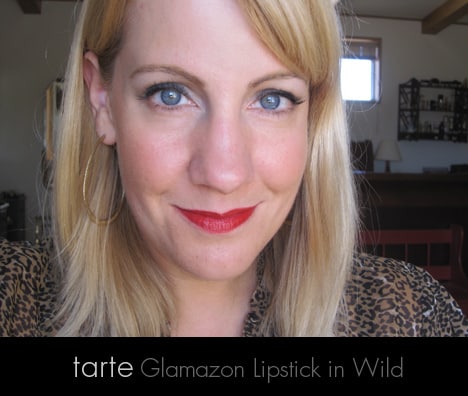 we heartsters, will you be trying either of these beautiful pure reds? And how do you feel about the arrival of Sephora's crimson velvets for fall?
Scoop up Stila Stay All Day Liquid Lipstick HERE

Buy tarte Glamazon Lipstick HERE
(a Sephora exclusive)
Or shop all of Sephora's fall COLOR VISION selections HERE
photos: we heart this
Disclosure: This review includes products that were provided by the manufacturer/PR firm for our consideration. It also may contain an affiliate link, a link that gives us a small commission if you purchase the item. For more info, or any questions, please see our disclosure policy.