This post may contain affiliate links, which means I may receive a small commission, at no cost to you, if you make a purchase.
Can this 3-step system claim victory in the fight against acne?
photos: we heart this
When you have skin issues, there's no shortage of people telling you what products you should use, or what you're doing wrong. Ads for acne products try to convince you that if you just use their product, your acne will magically disappear (just check out the before and after photos!) And EVERYONE and their mother has an opinion on why you have acne – whether it's "science" or an old wives tale, they're going to put in their two (million) cents.
I've heard it all and honestly, I'm a little frustrated and a little jaded. I've tried DOZENS of products at all price ranges, both prescription and non-prescription. I tried "gentle" products, I tried melt-your-face off products. I even tried eating bittermelon soup, which my Vietnamese grandma promised would help (it didn't, and I'm pretty sure she says that about everything that tastes bad).
I'm basically stuck at square one in figuring out what will solve my skin care issues; continuing to try tons of products in hope of finding something that will treat my acne now, since my skin issues aren't quite the same as when I was a teen. It's a rollercoaster ride of hope and disappointment. But, after trying the Relogy Acne Treatment System ($49.95), I'm actually thinking I might be able to get off this ride.
The Relogy system features a trio of products that combat acne from different angles, using a variety of different natural, gentle, and very effective ingredients. Honestly, it sounded like just another acne skin care system, but with an eco-friendly twist to it – but I was wrong. It is ACTUALLY a legitimate acne treatment system, and it ACTUALLY has a plethora of natural ingredients that target acne issues! Let's take a look at them:
Rinse-Free Foam Acne Treatment
Active ingredients:
Bergamot – is calming and also has anti-septic and anti-inflammatory properties
Meadowfoam Seed Oil – an anti-oxidant that moisturizes skin, helping it heal
Salicylic Acid – an exfoliant that helps to aid skin turnover, also reduces oil
The directions say you can use a quarter-sized amount of the Rinse-Free Foam as a leave on treatment, or you can use it as a regular face cleanser. In either case, you definitely need to use a good makeup remover before using this treatment. I preferred using this as a regular cleanser. Although it didn't feel like it rinsed off completely, my skin seemed to improve quickly after I started to use this product twice a day.
Skin Balancing Lotion with Coconut Milk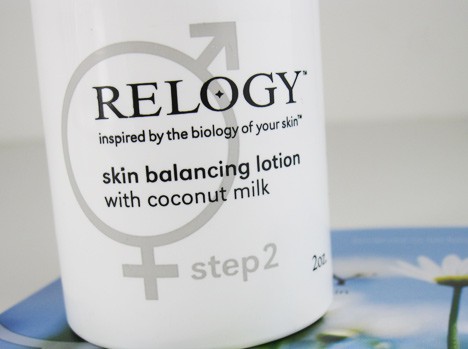 Active ingredients:
Coconut Milk – gentle and easily absorbed, moisturizing
Jojoba – healing, anti-microbial
As directed, use just a pea-sized amount of the Skin Balancing Lotion for your entire face – and be careful, because one pump's worth of product is WAY too much. This lotion is very moisturizing, but not heavy or greasy at all. It's a good product, but since the other products weren't overly drying, I didn't really need to use this. For those with drier skin, it can be used at bedtime for nighttime moisturizing and the non-greasy formula makes it nice under foundation.
Targeted Spot Treatment with Seaweed Extract
Active ingredients:
Seaweed Extract – exfoliant
Lactobacillus/Bean Seed Extract – anti-inflammatory
Rosemary Leaf Extract – fights signs of aging and dark spots
Tea Tree Oil – a natural anti-septic
Salicylic Acid – an exfoliant that helps to aid skin turnover, also reduces oil
This liquid rollerball pen applies the Targeted Spot Treatment just where you need it. The clear liquid is applied in a thin layer – you can barely see it. You're supposed to use it just on the spots you need it, but I have a LOT of acne, in large patches, so I went a little roller-crazy.
Even when rolling it ALL over my cheeks, it didn't dry out or irritate my skin. I used this at night primarily, but didn't have any issues when I applied it under my makeup. This stuff is pretty effective.
Pros:
• Natural, cruelty free and vegan
• My acne improved very rapidly
• No side effects (no flaky skin or sensitivity, although please note that my skin is not sensitive at all)
Cons:
• It's only available online from RelogyNow and products are available only as a set
• The website and information are a little hokey
The Relogy Acne Treatment System is one that I actually feel is effective on my acne. I've been using this for about a month, and I have fewer and smaller breakouts, although there's still quite a bit of hyper pigmentation and scarring. I'm hoping that continued use of this will make my skin even clearer! I don't want to promise that it'll do the same for your acne, but I'm pretty impressed.
we heartsters – have you tried the Relogy Acne Treatment System in the battle against blemishes?
Marilyn is a makeup maniac and slow but stubborn runner. She loves color coding her day planner, reading celebrity gossip and drinking good wine. Marilyn blogs about makeup and fitness over at her blog, Lipgloss and Spandex.
Disclosure: This review includes products that were provided by the manufacturer/PR firm for our consideration. For more info, or any questions, please see our disclosure policy.
Latest posts by lipglossandspandex
(see all)