This post may contain affiliate links, which means I may receive a small commission, at no cost to you, if you make a purchase.
Anti-aging French skincare at drugstore prices? Oui!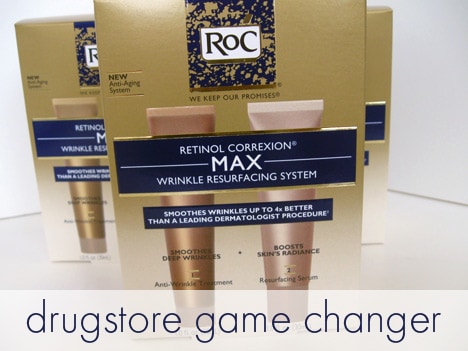 photos: we heart this
Recently I returned from my annual trip to France to see my family. For me, the plane landing at the Baltimore-Washington Airport means going back to work, having to clean my house again and the beginning of the dry winter season. Which means it's time to get serious about repairing my skin from the summer's evil ways. That is why I was thrilled to get my latest WHT box filled with RoC products, including the RoC Retinol Correxion Max Wrinkle Resurfacing System
.
Being a French woman, my 'maman' and I have long known the values of the RoC brand. The French brand is known for their anti-aging products, and more recently for their effective use of over the counter Retinol in their new RoC MAX Correxion line of products. In the past, retinol was only reserved for very tolerant skin types, but thanks to RoC, even sensitive gals can be wrinkle free thanks to RoC's sensitive skin retinol line.
RoC's new Max Wrinkle Resurfacing System ($26.99) is a two-step system combining a lotion and a serum to combat wrinkles and sagging, lifeless skin. While the products feel light as air on the skin, this system is a real power house in the anti-aging fight!
Step 1, the Anti-Wrinkle Treatment with RoC Retinol smooths deep wrinkles, while Step 2, the Resurfacing Serum with E-Pulse Technology, boosts radiance. The company claims that this system has been proven to be 4 times more effective than a series of three peels at the dermatologist's office. Sign me up!
Both products should be applied in order in equal amounts evenly to the entire face, so that they can get to work on fine lines, sun damage, crow's feet and uneven skin tone. I have been a RoC fan for years, but I was a little nervous to use these powerful products, sure that redness and itching would occur. (I would not call myself very sensitive, but have been known to get red from some retinol products.) However, these products are very effective in smoothing skin and evening its texture AND yet have not irritated my skin in any way.
I can't say enough about these products. I have seen a big difference in my skin from these products and will always turn to them when I need some serious turnaround. I would put the RoC Retinol Correxion Max Wrinkle Resurfacing System
up against any high priced system on the market.
Overall, RoC products have a proven track record, are affordable and available almost everywhere. So if you're looking for some serious anti-aging skin care, join 'La Revolution Francaise' on wrinkles!
we heartsters and Testers – Does this two step wrinkle fighting system have you doing a two step dance of joy?
Disclosure: This review includes products that were provided by the manufacturer/PR firm for our consideration. It also contains an affiliate link, a link that gives us a small commission if you purchase the item. For more info, or any questions, please see our disclosure policy.
Latest posts by glamazon56
(see all)