This post may contain affiliate links, which means I may receive a small commission, at no cost to you, if you make a purchase.
I love roses, I really do. But for Valentine's Day, I think they're a little…cheesy. Besides being totally expected, they're always overpriced. And neither of those things make my heart warm or fuzzy. It took me years to convince my husband of this, I think he thought I was setting some sort of trap. "Honey, REALLY – I do not want roses."
If you're in the same mind set (love roses but hate a boring and pricey bouquet) you're in luck. Because I rounded up 4 rose scented Valentine's Day gift ideas that will make you warm AND fuzzy.
Feel free to send this list straight to your beau. You're welcome.
1. Fekkai Hair Fragrance Mist in Rose Fraîche ($16.99, 1.7oz) – Fekkai has some of the best smelling hair products around (I could literally bath in his Glossing line!) and this Hair Fragrance Mist is no exception. It adds shine and a light rosy scent so every hair flip is like a pretty lil' bouquet. The scent reminds me of rose meets baby aspirin, which is a very good thing. Added bonus: it helps with static, which is perfect for this time of year.
2. Mario Badescu Facial Spray With Aloe, Herb and Rosewater ($7, 4oz) – I didn't get on the facial spray bandwagon until I tried this product. James Vincent sang its praises at The Makeup Show last year, explaining that rose is a natural antibacterial. So, while you're giving yourself a hydrating pick-me-up or setting your makeup, you're also fighting any germs you picked up throughout the day (I'm looking at you, face touchers.) It certainly helps that it smells divine too.
3. Kusmi Tea Rose Green Tea ($17, 4.4oz) – If you've never tried Kusmi Tea, you need to fix that. The company has been making tea for 150 years and the teas themselves are as beautiful as their packaging. Take this tin of Rose Green Tea, for example. The green tea has flecks of rose petals throughout, giving the brew a light rose scent and a delicious bright flavor. But is it wrong that I can hardly wait to finish it to stash things in tin? These are loose leaves, but you can also purchase Kusmi in pretty individual muslin tea bags. Pair it with a pretty mug (like the one shown here from The Pioneer Woman's Walmart line) and you've got an adorable gift.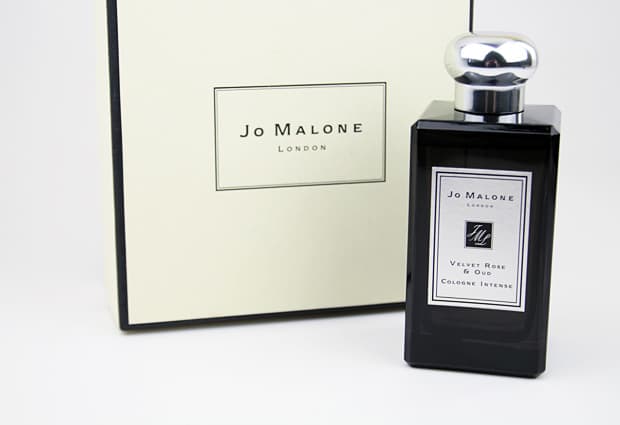 4. Jo Malone Velvet Rose & Oud Cologne Intense ($174) – If you're wanting to really splurge on a V-Day gift, look no further. This Oriental floral is one of the best smelling perfumes I have EVER tried. Dark and rich, the rose is layered with smoky oud, spicy clove and a dash of sweet praline that lingers in the background. If there was a scratch-and-sniff sticker for "sensual" it would smell like this. It layers beautifully with other Jo Malone scents too. I totally would not tell if you just bought this for yourself…
Like these ideas? Pin this image for later!
Stef is many things. Amongst them: editor-in-chief and co-founder of we heart this, photographer, condiment connoisseur, Philly girl in the California desert, borderline hoarder and a hardcore beauty junkie.
skin tone: NC 25/30
skin type: oily with a fear of rosacea
favorite beauty product: high end skincare and lip products