This post may contain affiliate links, which means I may receive a small commission, at no cost to you, if you make a purchase.
This regal set is fit for a queen
As someone who likes to spend the least amount of money possible on makeup brushes, I have spent the last few years lovingly admiring Royal & Langnickel brushes from afar. If you are unfamiliar with Royal & Langnickel, they got their start making art brushes
(which they still make) and later branched out into brushes for the makeup industry.
In fact, their homepage royalbrush.com is divided into two sections. You can view their vast array of art brushes and supplies on one side, with their extensive collection of makeup brushes on the other.
When I first opened the Silk Synthetic Hair 12 Piece Set (retail: $119.99), I literally gasped at the array of gorgeous brushes splashed against a vivid red interior.
Before I get into specifics, let me take a moment to share some of the details about Royal & Langnickel's Silk Pro line of brushes. All of the brushes in this line have have quality chrome-plated brass ferrules, kiln-dried hardwood barrel handles and this set features "synthetic hair that mimic[s] the look, feel and performance of natural hair brushes."
I understand that, for some of you, $119.99 might seem steep for a set of brushes, but this set breaks down to $9.99 per brush, which I think is a great value. And considering the quality and performance of these brushes, the value becomes even better.
This kit contains every brush you could ever possibly conceive of needing for makeup application with the exception of a kabuki and stippler (R&L do make several varieties of kabukis and stipplers though, which you can purchase separately). The 12 brushes in this set are as follows: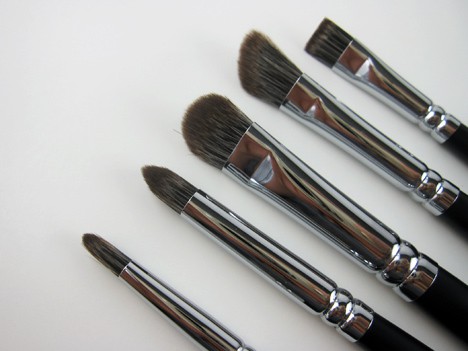 Liner, Smudger, Medium eye shader, Angle fluff, Flat eyeliner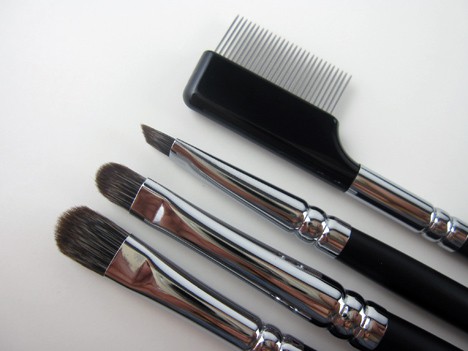 Concealer, Lip, Angled Brow, Brow/lash groomer
Powder, Foundation, Blush
I have been using these brushes for several weeks now and I can tell you that these brushes are incredibly soft yet sturdy. The brushes that need to be firm (the flat eyeliner brush, foundation brush, etc.) are perfect for their specific uses, while the brushes that need to be more flexible (the powder and blush blushes for example) are soft and work wonderfully with the contours of my face.
The standout brushes for me are the smudger, angle fluff and blush brush. The smudger brush is firm, narrow and tapered, which makes it absolutely ideal for creating a smoky eye look. The angle fluff brush is firm and precise enough to get down into your crease, but soft and big enough to blend your crease shade with ease. The blush brush is silky-soft and I find it to be the perfect size for applying color to the apples of my cheeks.
I'd also like to add that the brow/lash groomer contains a lash comb with metal teeth (fancy!) on one end, with a spoolie on the other end.
Like I said at the top of this review, I tend to spend the least amount possible on my makeup brushes, but please don't let the price of this set deter you. If you're looking for a thoughtfully-edited set of super-soft, quality brushes, I don't think you can go wrong with the Royal & Langnickel Silk Synthetic Hair 12 Piece Set.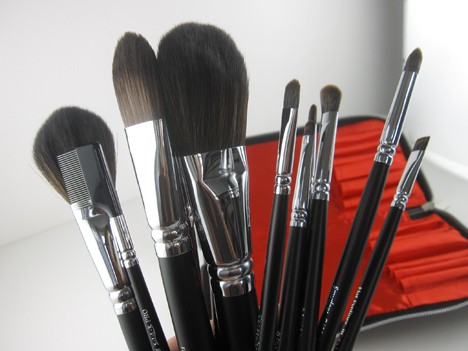 If you're already happy with most of your brushes and just need some specific tools to add to your collection, I would certainly take a look at their website – I'm positive you'll find exactly what you're looking for (and then some).
Pros:
• A carefully-edited set with brushes for most every need.
• High-quality, well-crafted, very soft synthetic brushes.
• Handy case zipper to keep brushes safe and clean.
Cons:
• Expensive initial investment (though each brush breaks down to a reasonable $9.99 each).
• No kabuki or stippler in this set.
we heartsters – Do you own any Royal & Langnickel makeup or art brushes?
Testers – are you loving your Silk Synthetic Hair 12 Piece Set?
Disclosure: This review includes products that were provided by the manufacturer/PR firm for our consideration. For more info, or any questions, please see our disclosure policy.
Latest posts by nouveaucheap
(see all)