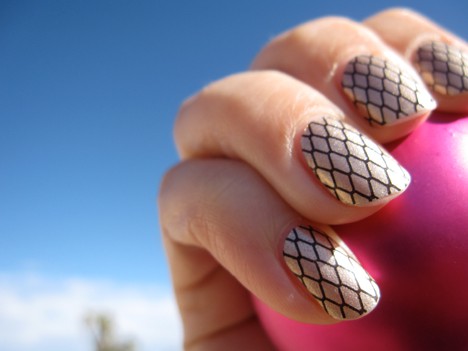 photos: we heart this
I am fancy! Why? Just look at those nails! Courtesy of Sally Hansen Salon Effects. This new product from the drugstore brand is placing them in a position to rival the big wigs (with the help of Tracy Reese of course!)
Salon Effects are real nail polish strips with adhesive backing that allows you to peel, lay them on your nails, file off the excess and go. If you are thinking of Minx, you're right. The differences being that you can apply these yourself, no heat is needed and you'll have about 40 bucks more in your pocket with Sally's (I paid $8.50 for mine at Walgreens).
I definitely was most drawn to my chosen pattern; Misbehaved, a black fishnet design overlaid on a nude metallic. I found the printing on some of the other patterns to be kind of shoddy. But my next purchase will be the neons; bright, pure, streakless neons. Imagine!
The set comes with 16 polish strips (2 each of 8 sizes), plus a mini cuticle stick and file/buffer duo. What does it not come with? DBP, toluene or formaldehyde.
The pros outweigh the cons on these…
PROS:
–No waiting for nails to dry. A big pro for me, I'm a habitual smudger!
–Easy to apply. There is some flexibility with placement. Get them crooked? They're easy to peel up again and re -do (prior to pressing them and filing off the excess). Plus, they're strectchy so you feel like you're getting a really snug fit (careful when stretching patterns or you'll distort them).
–A long wear time. Chips were almost non-existent (way less that with polish).
–Wicked cool! They are really eye-catching. I don't think I've ever gotten so many compliments on a manicure before.
CONS:
–They're expensive. Nine dollars isn't a lot of money, but compared to how many applications you get from a bottle of polish, versus these one-time strips, they're not cheap. I'm hoping in the future they may sell them with the strips only for a bit less. Because as cute as the mini tools are, most nail addicts won't need them.
–The sizes are a bit off . I know everyone has different sized nails, but there seemed to be a bit too many on the large end of the scale. Check out my thumb versus the largest option in the set. I guess it's for a big toe! But it's un-usable for a finger. (My thumb also shows the strips on day 10, grown out more from the bottom then chipped from the top)
Here's the whole range…
photo: Sally Hansen
So readers, what say you? Want to be fancy too?
Stef is a plethora of things. Amongst them: co-founder of we heart this, photographer, condiment connoisseur, Philly girl in the California desert, borderline hoarder and a hardcore beauty junkie. She also has a touch of wanderlust and, arguably,
the cutest dog in the whole world
...
skin tone:
NC 25/30
skin type:
oily with a fear of rosacea
favorite beauty product:
high end skincare and lip products