This post may contain affiliate links, which means I may receive a small commission, at no cost to you, if you make a purchase.
press sample
Salt & Straw first came on to my radar 5 years ago and I still remember the discovery like it was yesterday. It was when I heard that the Portland-based ice cream company had released a Thanksgiving themed collection, and my lil' ice cream loving self went wild. Imagine, your Thanksgiving table in ice cream form. Turkey, stuffing, pumpkin pie…even just the thought of it made me happy. I don't know about you, but I like when my food makes me feel something. This had me delighted, intrigued and kinda horrified.
Flash forward 5 years. Salt & Straw is now in three locations in Portland and four locations in LA (with a location in West Hollywood on Santa Monica Blvd. coming in 2017). And I visit one of those locations once a month to try their limited edition flavors; monthly releases curated around the season or holiday. I've eaten everything from traditional fresh berry based flavors and dill pickle sorbet in summer to the very much not traditional candy brittle bugs and pig's blood creations at Halloween. And this month; I finally got to sit down to the Thanksgiving feast à la ice cream.
And the Salt & Straw Thanksgiving flavors were every bit worth the wait.
Locally sourced ingredients, cleverly
and boldly blended…
Sadly, the flavors seem to have been removed from their site already to make room for December's flavors (Gingerbread Cookie Dough, anyone?) But if you're near a location, I recommend a visit this week to see if you can try them before they're gone. If you miss out, don't worry, they do them every year.
The flavors this year were…
Cranberry Walnut Stuffing – A Portland exclusive flavor, and it is DELICIOUS. Cinnamon raisin bread with walnuts and apples loaded into cranberry flavored ice cream. I worried bread would get weird in ice cream. It does not, it somehow gets better.
Sweet Potato Casserole with Maple Pecans – This was my favorite of the bunch. The maple syrup marshmallow fluff ribboned throughout was incredible. Much better than the sweet potatoes I made this year!
Salted Caramel Thanksgiving Turkey – Another favorite; turkey fat caramel ice cream with buttery turkey brittle. This one gets a lot of buzz for good reason.
Buttered Mashed Potatoes & Gravy – Rest assured, the "gravy" is white chocolate. But these definitely tasted salty and buttery like mashed potatoes.
Spiced Goat Cheese & Pumpkin Pie – Sadly not a fan, though I was sure I would be. The pumpkin pie spice overtook everything.
I also got to try a few classic Portland flavors too…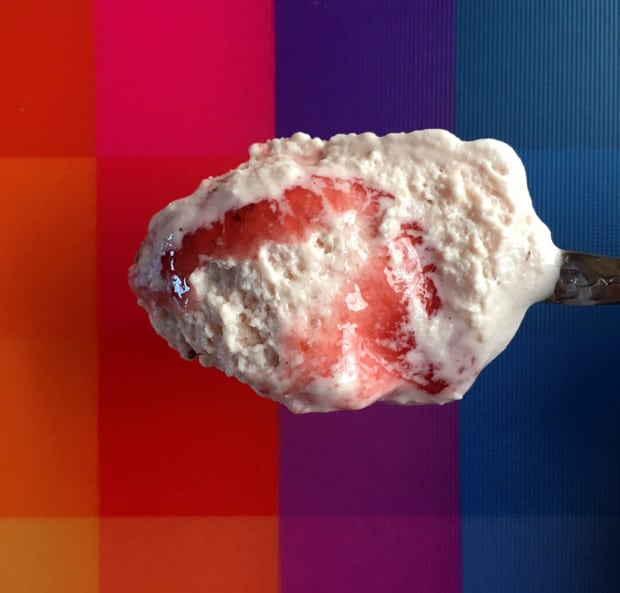 Strawberry Honey Balsamic with Black Pepper – This flavor is everything. And it sums up Salt & Straw so well: locally sourced ingredients, cleverly and boldly blended. They don't skip on the Oregon strawberries, and the honey balsamic and black pepper add such an interesting savory note. I could eat this every day.
Coava Coffee & Cocanú Craque – I'm not usually a coffee ice cream fan, but this is incredible. Cold brewed coffee + sweet cream + handmade flecks of dark chocolate = heaven.
If you're an ice cream fan, get yourself to a Salt & Straw. Or if you're a true ice cream baller, join their Pints Club and get the five seasonal flavors delivered monthly.
we heartsters – have you tried Salt & Straw? Share your favorite flavor in the comments!
Stef is many things. Amongst them: editor-in-chief of we heart this, photographer, condiment connoisseur, Philly girl in the California desert, borderline hoarder and a hardcore beauty junkie.