This post may contain affiliate links, which means I may receive a small commission, at no cost to you, if you make a purchase.
photos: we heart this
If any of you know me, you'll know that I love a good peel. Layering on some kind of chemical, waiting until you can't stand the burning anymore and rinsing to find new, baby soft, albeit red, skin beneath! Ain't suffering for beauty grand?
Well, after a thorough wht review period, I can tell you there is no suffering with this peel ladies! The Instant Peel by Earthen
is truly different. Using natural fruit enzymes to slough off the dead skin (and reveal the new skin that's been hiding beneath), it is free of detergents and colorants, hypoallergenic and oil free (which I always look for, as an acne prone gal).
Plus, this peel is safe for any skin type, and claims to dramatically improve your skins texture, elasticity and firmness (all of which I need!) It's formulated for your face and neck, but it's fine to use it anywhere on the body. Scaly elbows and bumpy arms, beware!
The company's directions for use tell you to take this peel into the shower. Let me say, I just love any product that you can use in the shower – you get to multitask and make a mundane shower more like a spa experience. So, once your skin has had a chance to get nice and steamed and soft, open the single use packet and start peeling. You are to use strong strokes and peel until you no longer feel your own skin peeling off– scary!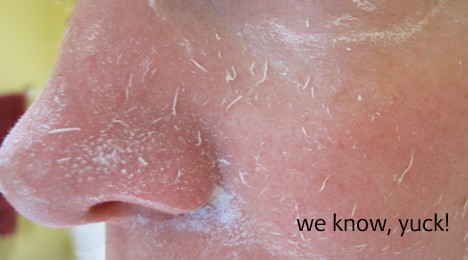 I was a bit nervous when I read the directions. Earthen claims to peel the old skin off and it will manifest itself as rolled up balls of skin (as shown above). Hmm… Would I be left with a red face for days? Would I be able to go to work? This sounds pretty harsh! Well, quite the opposite. After some fumbling in the shower trying to get the packett open (wet hands + packet= trouble for Steph), I took a deep breath and went for it.
The peel is milky in consistency and texture. I started on my forehead first (the area I most need help with). At first nothing was happening, but as I kept rubbing with vigorous strokes….it happened! I felt a few 'skin balls' (gross, I know) lifting from my forehead. I moved onto my cheeks and eventually chin and nose. The skin kept coming off. I began to get nervous that all my skin would be gone, but persevered. I rinsed and my skin felt soft and smooth.
Once out of the shower, I reluctantly looked in the mirror. Success! My skin not only felt great, but looked great as well. Smooth, clear and bright and it was not even a little bit red! I am used to Alpha Hydroxy or glycolic peels, where the skin is red and stingy, but not this one. My skin felt fairly normal, so I smoothed on some basic moisturizer and went about my business.
How easy is that for a busy lady in need of a quick facial or pampering?! A box of Instant Peel Packets
has 6 single-use 1.07 oz. packets and retails for $50, which equals about $8 for a simple, effective mini facial – not bad! I have used this peel a few times now and I give this product a rating of 5 stars!
we heartsters and testers, are you rolling with it too? Share your reviews of the Instant Peel in the comments!
Stephanie was born in France and travels there every year to visit her mom and relatives. She now lives Stateside with her fiancee, and their two-year old kitties; Bubba, Winston and Clementine. Makeup is her passion (she worked as a makeup artist for Laura Mercier), she also loves to cook, do artsy stuff and garden.
Disclosure: This review includes products that were provided by the manufacturer/PR firm for our consideration. It also contains an affiliate link, a link that gives us a small commission if you purchase the item. For more info, or any questions, please see our disclosure policy.
Latest posts by glamazon56
(see all)