This post may contain affiliate links, which means I may receive a small commission, at no cost to you, if you make a purchase.
Press Sample
Get Glowing Skin That Lasts All Day Long
Lately, my focus has been on trying to make healthy choices and use my time as efficiently as possible. No matter who you are – there is only so much time in a day. Frankly, I do not have time to think about my foundation. When Senna Lasting Illusion Satin Matte Foundation arrived with the promise of lasting 16 hours, I could not wait to give it a test drive.
Senna Lasting Illusion Foundation ($48) is housed in a substantial glass bottle with fabulous little pump. I love the packaging because it is not only pretty but, it is efficient. The pump assists with what I call portion control. It is easy to use, even when you just need a little more like a half or a quarter pump. This translates into less waste, mess and keeps everything more sanitary. Overall, I think it extends the life of the product and helps you get your money's worth.
This is a high quality foundation and delivers the best of the satin and matte worlds. I know this sounds confusing but, it truly delivers. It captures and reflects light while diffusing skin imperfections like redness, wrinkles and fine lines. This helps those of us who are constantly negotiating with Mother Time to look a bit younger.
The other great news is that it does not settle into fine lines, pores, or anything else that you don't want to draw attention. It is not exactly a full coverage foundation because I still needed a bit of concealer. Yet, the coverage is very buildable and easy to apply.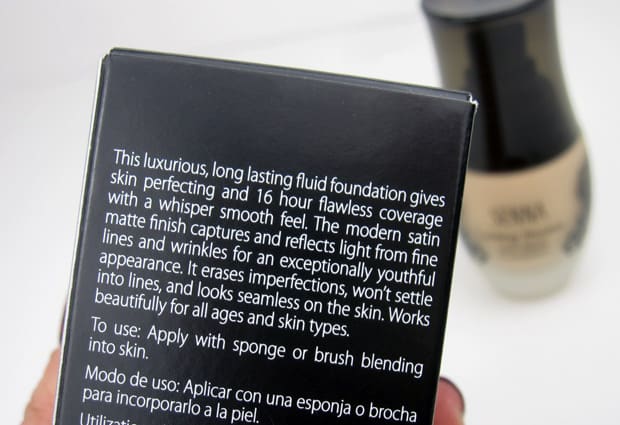 Tip: Senna recommends applying this foundation in the center of your face and blend outward with a sponge. I will confess I am not much of a sponge girl so, I used my fingers. If you can do a good job of blending with fingers it really speaks to what kind of product you are working with. This foundation passed the finger test with flying colors.
The new Senna Lasting Illusion Foundation is available in 7 shades:
Alabaster – pale ivory for fair skin tones
Buff – light beige for light skin tones
Sand – natural beige for medium skin tones
Beige – cool beige for medium/tan skin tones
Golden Beige – warm medium/tan for skin tones
Tan -for medium dark skin tones
Chestnut – dark tan for deeper skin tones
Pros:
• Long Lasting
• Easy to Apply
• Fab packaging
Cons:
• Limited Colors
• Contains dimethicone
All in all, Senna does deliver its promise of a long-lasting foundation. It is very easy to use and with just a tiny bit of setting powder my face looks flawless and younger. Plus it has helped me save some time during busy days as my skin rarely needs a touch-up!
we heartsters – How do you save time in your beauty routine?
photos: we heart this, swatches shown on NC25/30 skin tone
Holly is a Midwestern gal living in the beautiful Pacific Northwest. She loves gardening, animals and is a skin care junkie. Holly is always on the quest to try something new or old and live the best life possible.
skin tone: NW 20
skin type: a true combo; normal, dry and oily
favorite beauty product: skincare