This post may contain affiliate links, which means I may receive a small commission, at no cost to you, if you make a purchase.
In North Carolina, the weather has been gracing us with a glimpse of spring. There are pink buds on the Dogwood trees, the birds are flying in from their winter vacay in Miami, and our local landscapers have been up to their ears in mulch.
It's time to think about preparing for bathing suit season (gasp). And time for me to work off the winter comfort food, that has me a little "fluffy." A great way to kick off your day is with the Shay House Smoothie! It's healthy and filling – and super easy to make on a busy morning.
Shay House Healthy Smoothie Recipe
Ingredients:
Makes two pint-glass sized drinks (a blender full)
• 1 cup of vanilla yogurt
• a handful of fresh spinach
• 1 banana
• 1 cup of frozen blueberries
Directions:
1. Throw the ingredients in the blender and mix until smooth!
Tip: The frozen blueberries not only make the beverage super chilly, but the deep purple color disguises the fact that there is spinach in it. (Great for Moms with picky little ones).
2. Garnish with a thick orange slice to snack on, and your day is off to a great start!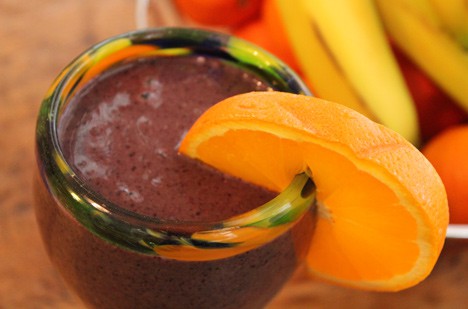 Options: Often I throw in an another fruit to mix things up, a bit. Pineapple, strawberries and mango are excellent additions to this frozen treat!
we heartsters – What are your favorite smoothie combinations?
photos: rachel for we heart this
Rachel is a stay-at-home Mom that never seems to be home. She's a military wife, mother to The Danger Boys and a self-proclaimed craftaholic that enjoys photography, knitting, baking and all things handmade.
Latest posts by rachelshay
(see all)