This post may contain affiliate links, which means I may receive a small commission, at no cost to you, if you make a purchase.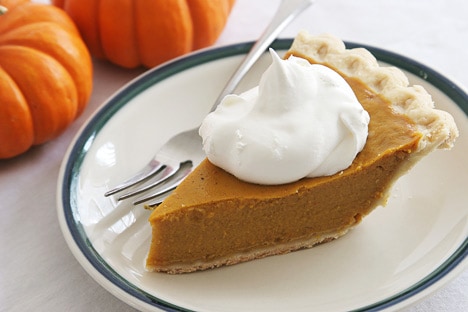 There are few things I am more excited for this time of year then holiday foods, specifically holiday desserts. I'm never really sure what I like more, making them or eating them. That first bite of pumpkin, apple or pecan pie is a beautiful thing, like fall on a fork. But for me it's just as satisfying watching my friends and family enjoy a dessert that I made from scratch for them.
One year after searching for a recipe that didn't use sweetened condensed milk, and came up with something very similar to this. A few years of tweaking it and I'm ready to share it with all of you. When you bake this pie it won't set up like a traditional pumpkin (which is more of a custard pie) but that also means it won't crack. The simplicity of this recipe is a blessing to me during the hectic holiday season.
This pie is best served at room temperature, so I usually bake and serve it the same day. You can also make the filling a day ahead of time and store it in the fridge. I like to serve it with a healthy dollop of fresh whipped cream sweetened with honey and vanilla.

Pumpkin Pie Filling
2 1/4 cups pumpkin puree – I often use Libby brand plain pumpkin puree, but you can also roast your own pumpkin
3/4 cup white sugar
1 rounded teaspoon cinnamon
1/2 teaspoon allspice
1/2 teaspoon ginger
1/4 teaspoon nutmeg
3/4 cup heavy cream
Directions:
1. Heat the oven to 375.
2. Combine all of the ingredients in one bowl, mixing well. I use my Kitchen Aid but I've also made it many times by hand.
3. Pour into an unbaked pie crust in a 9 inch pan, and bake for 1 hour.
Since you can't make pie without a crust, here is my go to recipe. This is enough for a lattice pie, so I end up with a little too much dough for this single crust pie. But it means I can do some decorative work or make myself a mini pie on the side!
Pie crust
3/4 cup cold butter
1 3/4 cup four
1 tablespoon sugar
1/2 teaspoon salt
1 egg yolk – reserve the white to use as an egg wash for the crust.
Up to 6 tablespoons ice water, if needed.
Directions:
1. Blend the butter and dry ingredients together.
2. Add the egg yolk and blend till the dough starts to form together, add ice water 1 tablespoon at a time until the it forms a dough.
3. Turn the dough out onto a floured surface, mix by hand into a disk, wrap in plastic and refrigerate for a half hour.
4. I use a regular rolling pin and roll the dough until it's about an 1/8 of an inch thick. Roll the dough up onto your rolling pin, and then unroll it onto your pie pan. This dough is very forgiving, so don't worry about small tears.
5. Cut the excess off leaving enough to crimp the edges with your fingers. Repair any holes and thin spots with the extra dough, using cold water to wet the edges before pressing a patch into place. I like the homemade look, so I don't worry about getting everything spaced just perfectly.
I hope you enjoy this simply and easy pumpkin pie recipe, my family and friends love it. I'm excited to hear what yours think of it!